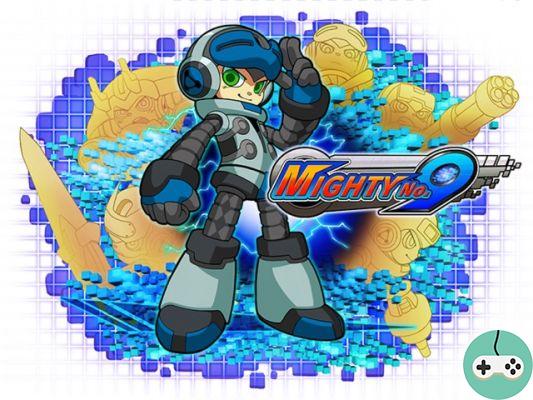 This week I offer you Mighty n°9, a project in the purest spirit of side scrolling games well known from 8 and 16 bit consoles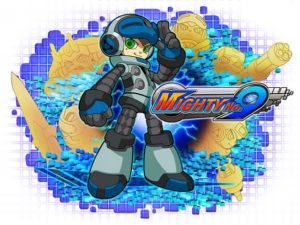 We play as Beck, the ninth in a line of powerful robots, the only one not infected with this mysterious virus, which has driven mechanized creatures around the world mad. Run, jump, shoot and transform, this is what awaits us over the 6 levels (maybe more depending on the funds raised) where we will have to use many weapons and steal techniques from enemies in order to overcome the different robots and the ultimate evil that plagues the planet!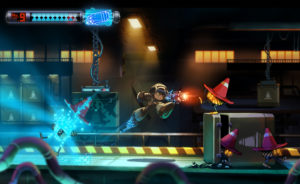 For a long time, we worked side by side with the other acts of the Mighty Robots, but today they have betrayed us, infesting the world by infesting them with their minions. We have no other choice; all other Mightys must be destroyed! But it will not be easy. Even though they were all originally designed for military purposes, all of the Mightys have all grown into fierce warriors, through seasons of the most popular sport of the future: robot versus robot in the Battle of the Colosseum!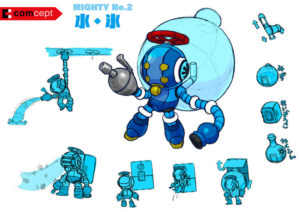 How is Mighty # 9 different? It's simple: his ability to transform! Our hero Beck will gain new weapons according to his victories against the many bosses encountered and his appearance will change with new forms allowing the use of new abilities.
For example, its limbs could become giant magnets, allowing it to walk on walls or annihilate enemy shields ... Or an extendable hand allowing it to activate distant switches or use them as a grappling hook. ... It could have a tank-like body, easily crossing sharp peaks and pushing back obstacles ... This is only a draft, the game is still in the design phase, but we can see the idea and possibilities!
We will not get new powers only by killing bosses but also by taking those of enemies with a certain type of weapon. It will generally be possible by using the weak point of enemies to store energy to be released later via their own skills. We can thus treat ourselves to a double jump, a speed increase for a limited time, release a powerful burst of punches or trigger an explosion that hits all the targets on the screen! Regardless of the final form, this system will add depth and strategy to the action. The goal is to let the player choose how to approach and defeat the enemies.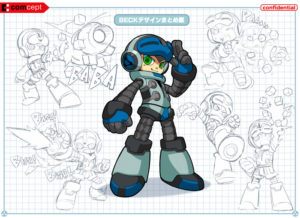 All aspects of development are managed by Japanese veterans who have worked on Megaman, including Keiji Inafune as project manager. The game, slated for Spring 2015, will be available on PC, with controller support, and should be available through Steam and other distribution platforms. If the campaign allows it, the game should also be available on Mac and Linux.
You will be able to acquire a copy of the game starting at $ 20, the biggest reward offering a dinner with Keiji Inafune! The game has already won over 21 people, beating the first goal of $ 000 (by 900%). From now on, we are aiming for support on Mac and Linux!