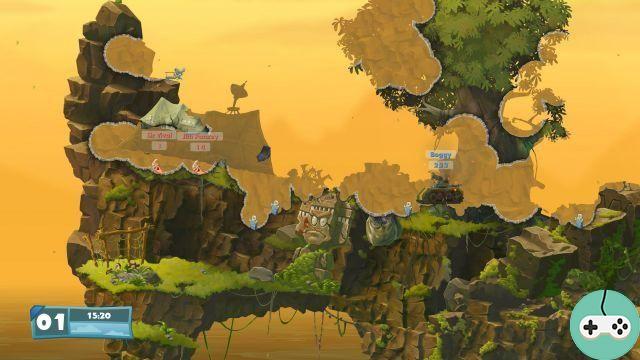 The famous Worms license returns in a new version awaited by all Armageddon fans, Worms WMD I had the opportunity to test a demo, initially scheduled for E3. Only a few levels are currently available but the final version will offer 20 training missions, 30 single player campaign missions, 10 challenges, as well as online and local multiplayer for one to six players.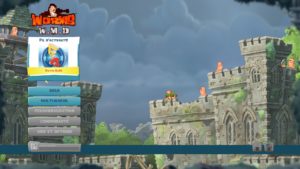 My Orders
[To jump. It is possible to jump twice to go higher. The direction can be chosen with the analog stick.
[B] Open the weapons interface
[RB] Crafting interface
[X] Shoot. Hold to load weapons like Bazooka and Grenade
[Y] Enter vehicles and turrets.
[RB] Change the trigger time or direction of directional weapons.
[Right / Left of the left analog stick or d-pad] Move the worm or the vehicle
[Up / Down of the left analog stick or d-pad] Aim
[Right analog stick] Adjust the camera
[LT / RT] Zoom in and out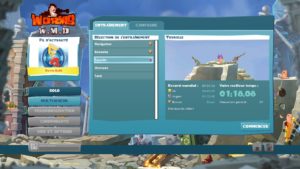 Currently, on this demo, there is only part of the content, so I started by training to be better prepared for combat. With pleasure, I find the operation of the previous opus. Turn-based, each team plays a different worm. The little psychopathic animals move freely around the terrain, still in 2D, and can jump to climb. The double jump allows you to go even higher, and the ninja rope brings the height that could be missing (on the other hand, it consumes the equivalent of a shot so it is better to take it out only as a last resort).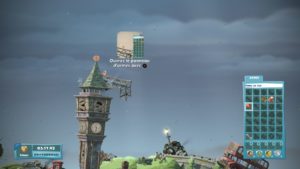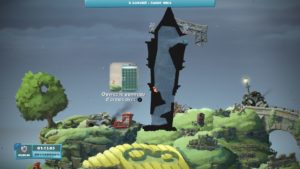 The time is limited to choose his actions, knowing that there is also a time limit for the global part, counted in each turn according to the time taken by each one. Movement is free, but only one shot per turn. To strike, it goes through the weapons panel that opens with B, then you have to choose from a wide choice. The last weapon used remains selected, which allows you to quickly return to action with your favorite weapon. Fortunately, because it is not very easy to navigate quickly.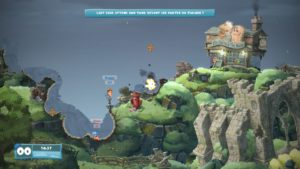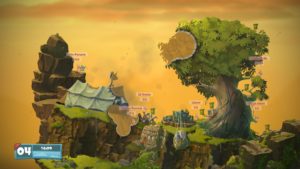 Something that bothers me a bit is the combined use of the left stick to move (right / left) and to aim (up / down). Very quickly, we go to one side, and the worm moves. So we put it back in place, and we try to aim correctly. Perhaps it would be better if aiming was separated from movement, perhaps by combining with one of the triggers.
The trainings present one of the great novelties of the title: the possibility of entering vehicles for even more destruction, such as tanks or turrets which all have very special abilities. This adds a certain dynamism even if it will be necessary to see how they will be used in the final version. The tanks in particular are of a formidable effectiveness, which makes that the parts risk to turn to the exchange of fire between two metal boxes.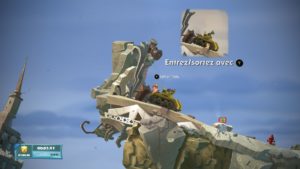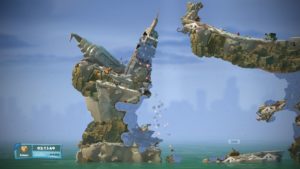 Once the training is over, I move on to the few solo missions. Each comes with its own set of goals to accomplish. In various maps, I have the opportunity here to apply what I have learned, and to really taste pure destruction!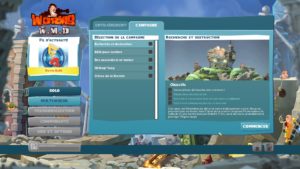 I discovered the second big novelty: crafts! Thanks to this, the amount of weapons and accessories available goes from 35 to 80. Depending on the chosen game mode, each player starts with a given amount of components (knowing that for those who do not like the idea , this can very well be disabled). Then, during the game, other items are to be collected in the craft crates or by dismantling weapons. In single player mode, it is possible to build only during your turn while in multiplayer mode, this is also possible during the opponents' turn, something to take care of intelligently. Will be created in particular: Party Balloon, Luzi, Electric Sheep, Sticky Grenade and Angry Concrete Donkey.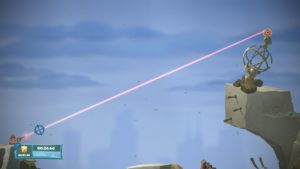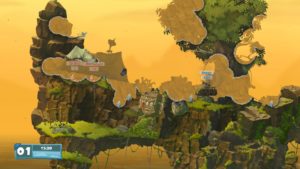 Despite a few small flaws that we quickly forget, Worms remains the extremely pleasant action game that I remember. The worms blast the field happily with humor, not hesitating to make small spades when they die, miss, or when I take too long to shoot.
Worms WMD launches August 23 on Xbox One, PlayStation 4, and PC and is currently available for pre-order on the Xbox, PlayStation, Steam, and GOG stores.