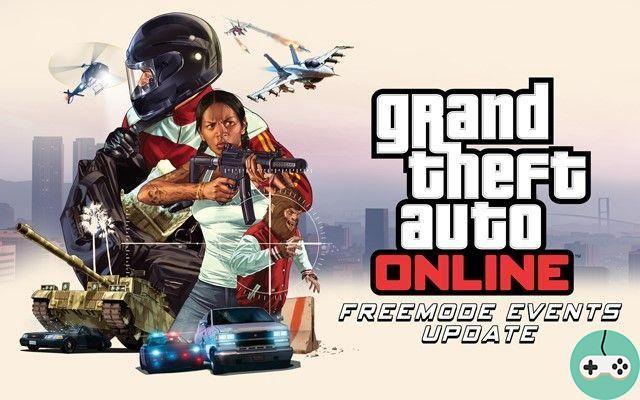 GTA Online Free Mode Events have been available on PlayStation 4, Xbox One and PC since the start of the week. Find all the changes below, including two new rivalry modes, beacon challenges and more ways than ever to destroy everything!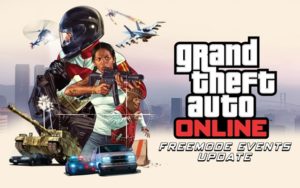 Update Details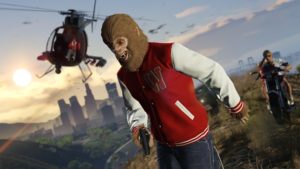 Fatal run
Become the beast - a stronger, faster (and hairier) version of your character - and outrun your pursuers across Los Santos and Blaine County.
Change of Owner
A mode in which you are alone against all and must take possession of a territory, then defend it for as long as possible.
Special case
Collect the briefcase and go! Jump in a car or on a bike, boat, motorbike, aboard the Lazer P-996 or just run for the hills with the coveted case in your hands. Be one of the three players who will keep the briefcase the longest to earn GTA $ and RP bonuses.
Moving target
The first player to board the designated vehicle will become The Moving Target, and will have to deliver the vehicle to a defined destination. The marked vehicle will be more resistant but it will still be necessary to survive the other players who will try to destroy it before the delivery point.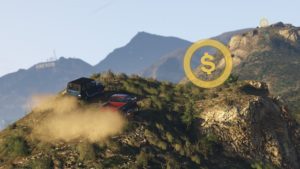 Beacon Challenge
Face off against your free mode enemies in a mad dash through southern San Andreas. Who will be the first to ride or fly through the Beacons for fame, money and reputation?
Blacklist and Competitive Blacklist
Take control of the heavy artillery and do battle with the mercenaries of Merryweather. Collect GTA $ and RP points for each victim.
Urgent delivery
Fight for possession of valuable contraband and see if you can deliver it first in this ruthless race of smugglers.
Transhumance
When you see the huge purple dome appear in the Los Santos skyline, hurry up to it before the timer starts. Then stay inside the dome as it moves and shrinks and kick your rivals outside. Those who come out of the dome for more than 7 seconds will explode. Can you be the only survivor in the end?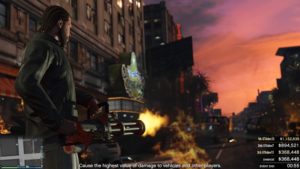 Destruction Lucrative
Whet your appetite for destruction with an all-you-can-eat buffet. Go broke to buy heavy artillery and go on a rampage over time with the clue level turned off. Free destruction is rewarded with every bullet impact and explosion. The player with the biggest damage bill and the most destruction will win.
Last in the Saddle
A Sanchez, Golf Cart, or other modest form of transportation has been transformed into the designated and indestructible vehicle. Take control and avoid the other attacking players and carjackers in your session who will want to get in the back seat before the end of the timer. Try playing it solo to keep all the GTA $ to yourself, or smartly team up with a shooter by your side as you race to protect yourself.
Against the watch
Beat the time record, with a new race to dominate every week to collect GTA $ and RP points if you beat the time goal or your own record - and a league title is up for grabs if you break the record of the world.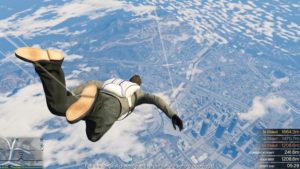 Freemode challenges
Take on 19 unique challenges against your Free Mode friends and foes. Who will be able to jump the longest, ride the longest without an accident, who will be able to fall from the highest distance without dying, who will be able to free fall as long as possible before opening their parachute - and many more ways risk your life trying to be in the top 3 to earn GTA $ and RP points.
TWO NEW RIVAL MODES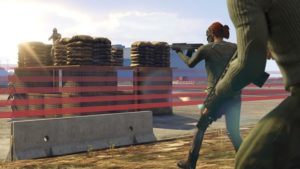 The Free Mode Events update will also include two exciting new Rivalry modes:
High voltage line : teams of four compete in a neutral zone to cross enemy lines - the goal being to strategically force all team members into enemy territory to declare victory ...
Explosive Convoy : you are part of a team tasked with delivering a vehicle that will explode if you drive below a certain speed, while your opponents will seek to destroy you.
ROCKSTAR EDITOR AVAILABLE NOW FOR PS4 & XBOX ONE
The Free Mode Events update also includes the launch of the Rockstar Editor on PS4 and Xbox One - with new features that have been added on all platforms - including a library of ambient tracks and sound effects. , the integration of Snapmatic, updates to Director mode and new fonts.
UPDATES FROM DESIGNER
Today's update also brings new features to the creator of GTA Online, such as the ability to stack and overlap items correctly, as well as the ability to save models that can be reused while creating a activity. Now, more brilliant creators than ever will be able to design amazing ramps, awesome closed courses and awesome parkour races.
GTA $ LIMITED TIME BONUS AND EXCLUSIVE T-SHIRT
Play one of these 5 new GTA Online Free Mode Events between Tuesday September 15 and Sunday September 20 to get a GTA $ 50 in-game bonus as well as an Exclusive Vapid t-shirt (winner known on September 000).