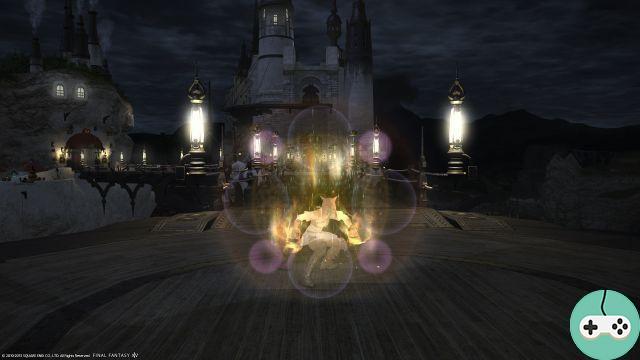 Masters of unarmed combat, they are even more formidable with their melee weapons. Watching them fight, you will notice their ease in moving, countering their enemies and dodging their attacks thanks to many ancient techniques.

Informations
The Pugilist is a damage class
The guild is located in Ul'dah
This class allows you to unlock Monk later.
capacity
Lv. 1: Volley of Blows
Lv. 2: Direct Point Hit
Lv. 4: Light Feet
Lv. 6: Loud Punch
Nv.8: Second Souffle
Nv.10: Haymaker
Lv. 12: Inner Release
Lv. 15: Death Touch
Lv. 18: Twin Serpents
Lv. 22: Fists of Earth
Lv. 26: Destroyer's Strike
Lv.30: Demolition
Lv. 34: Fists of Wind
Lv. 38: Steel Charge
Nv.42: mantra
Lv. 46: Howling Fist
Lv.50: Perfect Balance
Lv.8: Improved Strength I
Lv.14: Improved Light Feet
Lv.16: Improved Strength II
Lv.20: Improved Lightning Speed ​​I
Lv. 24: Improved Strength III
Lv. 28: Improved Twin Snakes
Lv. 32: Improved Second Breath
Lv. 34: Improved Inner Looseness
Lv.40: Improved Lightning Speed ​​II
Lv. 44: Improved Steel Charge
Lv. 48: Improved Mantra
Archer Lv. 2: Straight Shot
Archer Lv. 4: Furious Shot
Archer Nv.6: Poisonous bite
Archer Lv. 26: Falcon Eye
Archer Lv. 34: Silent Strike
Arcanist: Lv. 5: Medicine
Arcaniste Nv. 12: Virus
Arcanist Lv. 34: Guardrail
Elementalist: Lv. 2: Healing
Elementalist Lv.8: Shield
Elementalist Lv. 12: Life
Elementalist Lv. 34: Breastplate
Gladiator Lv4: Savage Blade
Gladiator Lv. 8: Flash
Gladiator Lv. 10: Convalescence
Gladiator Lv. 22: Taunt
Gladiator Lv. 34: Stagecoach
Master of Hast: Lv. 2: Feint
Hastmaster Lv. 6: Defensive Volley
Master of Hast Lv. 8: Impulse
Master of Hast Lv. 22: Motivation
Hastmaster Lv. 34: Thoroughbred
Marauder: Lv. 2: Aguet
Marauder Lv. 4: Skullbreaker
Marauder Lv. 6: Fracture
Marauder Lv. 8: Bloodbath
Marauder Lv. 26: Finishing Blow
Occultist Nv. 8: Stoicism
Occultist Lv. 26: Quick Magic