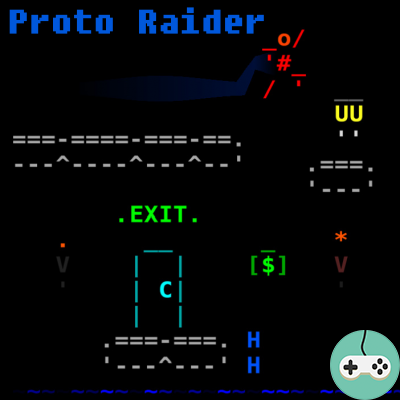 Proto Raider, as its creators say, is an arcade game! To play it, you don't need dozens of keys, just one button is enough: the space bar or your mouse click. Each level is independent and you will have to perform various actions: jumping will be the main one, but also diving, surfing a waterfall, shooting with a crossbow ... In case of failure, various endings will await you: poison, flames, fall in the void ... The developers say that to complete a level you need agility, speed and special items. From what I have been able to try, I would say this is mostly true for agility, less so for speed. But above all, I would add that for certain levels a luck factor is also necessary.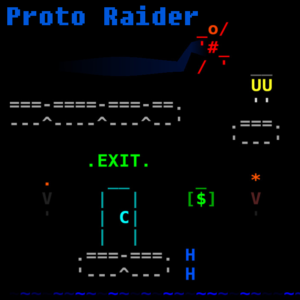 Graphics
Let's move on to the main attraction of this platform game: the graphics! You have already seen it on the previous photo, we have in this game a very particular style made up of ASCII characters. I found it quite pleasant, it gave me the impression of finding a game on Atari, a console that rocked my childhood, without this game appearing old!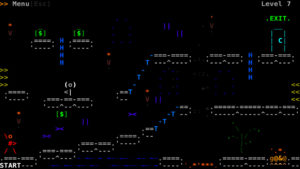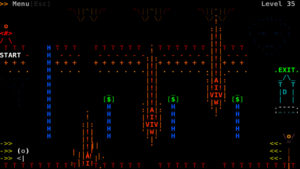 Mechanics
The graphics are the main interest of this game whose mechanics are quite classic: a character who advances alone in the level, it is up to you to decide when to jump, shoot or whatever to go through the right path and arrive at the exit after having collected the key and safes! Despite everything, we quickly discover one or two interesting features: surfing in waterfalls or boating. It is also interesting to learn to manage and use in terms of mechanics, otherwise it is guaranteed drowning! Mechanical level, we regret just a small concern of managing the jump key in the stunts precisely, which means that you can easily die being considered outside the stunt while you are there. Another small downside to the gameplay, it is not possible to stop, which has the effect of determining the success or failure of certain levels depending on when you decide to start it or depending on a luck factor (the enemy projectiles, for example, appear to fire at random intervals). I have to say this is quite a frustrating aspect.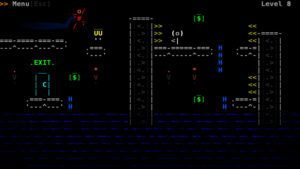 Options
A rather varied aspect is that of the options, they are multiple and allow to vary the pleasures of the game.
Game speed: you have three possible speeds for the movement of your character, go from slow to medium then fast if you want to increase the difficulty a little!
Font: to change the graphic style a bit you can use a normal, pixelated or bold font!
Monochrome: small option that allows you to change the whole game to green characters on a black background! For an even more retro experience,
Of course, you have some additional options like volume of sound, music (not too bad), full screen ...
Finally, you have the possibility to choose several languages! You can choose from: spanish (some would say cool), English, Italian, Spanish, German and ... uh ... something that looks like Russian?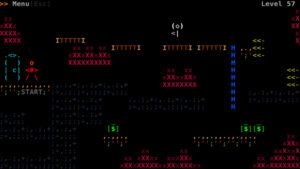 The game is available on several platforms: PC of course, but also Mac and iOS. It is currently available on the AppStore for the small price of $ 1.99 But you can also support them on Steam's Greenlight so that the game is available there too!
Also, by going to the game's Facebook page, you can find links there to download demos for Mac and PC.
Go for a little video of the gameplay before leaving!
Good game everyone in this retro universe, the demo of which is completed quite quickly, but with pleasure!