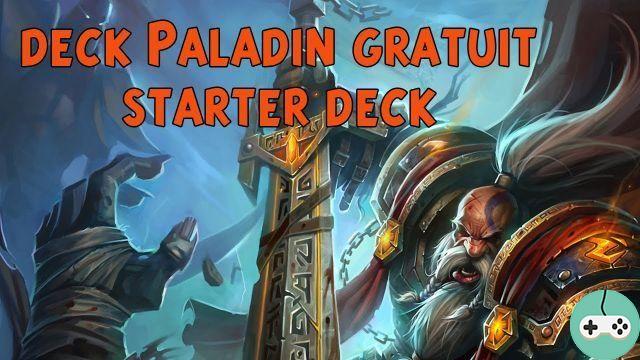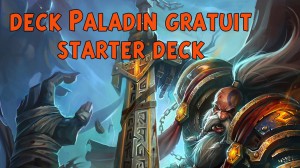 I will now tell you about a deck (your deck of cards in games) f2p (free that can be done with little or no dust). Today we're going to talk about the Paladin!
This free paladin deck is going to be a cloud paladin as I like to call it. Like all "cloud" decks, it will therefore be "mid game" (you have to win in the middle of the game). A swarm deck is a deck that will allow you to take out a lot of creatures, then give them bonuses to manage the table and ensure victory. In the same idea, I also made a low cost cloud shaman (you must already have some cards).
Let's go back to our paladin, the list of cards that make it up:

How to play the deck?
The goal of the deck is to manage the table or even better, to do damage quickly to your opponent. To do this, you will have a lot of creatures.
But in addition to a large number of creatures, you will also have a lot of heals (Holy Light (6), Guardian of Kings x2 (12)), for a total of 18 heals (not counting weapons). You can increase to 24 heals by adding another sacred light.
In the mob you will have four taunts that will allow you to channel the opponent and resist much longer if the game drags on.
To play this deck well, you have to be able to put a lot of creatures in order to take out a Frostwolf Warchief who will be at least 6/6. Remember that you can take out a 1/1 creature on all turns. If you already have 6 creatures in play when you take it out, it can be 10/10, making it your final blow.
Even if you don't have it, having a lot of small creatures with a Raid Leader (+1 attack bonus to your creatures) gives you big table damage, or at least enough to control the opponent's table. .
You have to be careful not to play too many cards and to keep a good amount of creatures in your hand. The reason is simple: your opponent will clean the table one or more times during the game and you must be able to leave quickly. In the same vein, do not play the Consecration too early, it must do at least 6 damage, that is to say that there are at least 3 creatures in front.
To find this article on video, with demonstration matches, it happens here:
I remind you that you can find all of my videos on my channel. See you next time for a new article on HearthStone!