Lifeline is a game initially released on Android and iOS, having just landed on Steam. Not yet having the trailer for the PC version, I bring you the one dating from June 2016 for iOS. But rest assured, it's exactly the same.
I hadn't specifically inquired about the game before launching it, so I was, I admit, quite surprised when this minimalist interface appeared on my screen.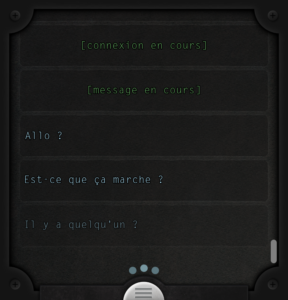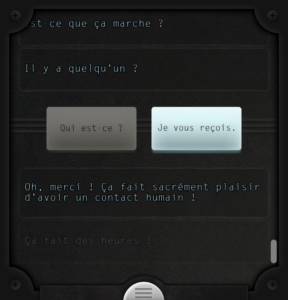 And, believe it if you will, here is the full gameplay of the game: dialogues and tough choices to make to help Taylor, a poor student who was aboard a spaceship that s is overwritten. He finds himself alone, in the middle of nowhere, without any map to help him find his way. Not particularly good at survival, he has no idea what to do, I am the only person who answered his call for help on this line and therefore his only hope of getting out of this mess.
Knowing that I'm not of much help as I have no more information on what's going on, no database to go to or specific knowledge to help poor Taylor, other than a little common sense and the comfort of my office chair allowing me to think better. I have no way of locating him and helping him out in the field.
The first choice arrives fairly quickly: should Taylor go and see the strange peak which is a little closer to him, or on the contrary should he walk to the wreckage of the ship a priori in two pieces of after the columns of smoke he sees on the horizon? I have no other elements in my possession than what he describes to me ... and I have to tell him what to do!
Since he has no idea the reason for the crash and tells me that the great woodpecker looks unnatural, I prefer to send it to the wreckage. There could be non-peaceful civilization on the other side. At least at the wreck, if there are any survivors, they can help him. Not to mention that there must be items to collect to eat, drink and sleep safely.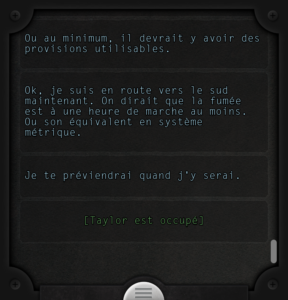 Then I just have to wait. Because the game takes place in real time and Taylor must now walk to the ship. So he's busy and there's nothing else to do but wait for him to arrive. A good half an hour later, he contacted me again, telling me that he was still on his way ... So I wait!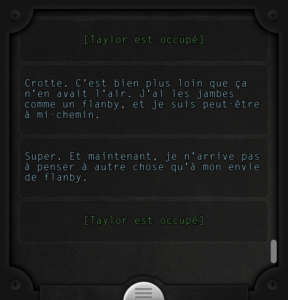 Do 150 rads kill a human?
No ! 150 rads is not enough to kill a human being. This is the correct answer to give Taylor so that he survives his first night. If you decide to put Taylor outside to sleep, he will freeze to death.
I'm going to avoid showing you more screenshots of the game, because that would be revealing parts of the story to you, a bad idea for a game that is all about that. I hope you enjoy reading, because it has 200 pages of a classic novel, or about 7 lines. If there are no more discoveries, there is no more interest. If you're not afraid of English and you're dying to learn, you can watch the developers' Let's Play:
With over 6 million downloads from the Apple App Store and Google Play Store, the app has been number 1 in more than 30 countries, accumulating an average rating of 4,5 stars. It was also in the lists of best applications in prestigious magazines like Time or Polygon. So as much to say to you that the game starts with already a beautiful pedigree and has indeed everything to please. Do not expect a survival game with stunning graphics, but experience a moving story with a lost character who must be helped. The pace is slow, you have to wait often, because everything is almost real time. When Taylor is asleep, or walking, he is absent for several hours, impossible to know when he is going to speak again, exactly when in fact chatting with a friend on Skype. To really enjoy, do not sit idly by staring at the screen while waiting for it to contact you, play something else (Steam allows you to launch several games at the same time), leave the computer running, and you will then be surprised to receive his messages on your return, gradually forging a strange friendship with this student lost in space. We note on this point the clear advantage of the mobile application which makes it easier to manage the waiting phases and to watch the latest communications from Taylor as we do with his emails.
Personally, I let the game run for 42 hours already, reaching one of the possible ends ... Very inglorious, I must admit, as much for Taylor as for the whole galaxy!
The game will be offered at 2,99 as an introductory price, then drop to 3,99 after the first week.