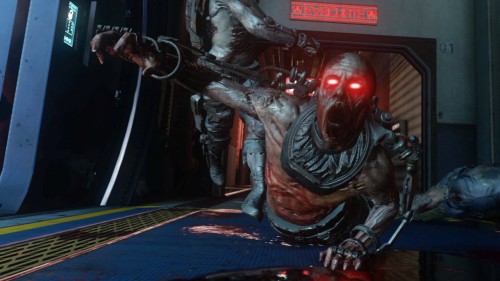 If weariness interferes with your pleasure of playing, it would be high time to watch the video presented below (or to stop CoD). The developers ofAdvanced Warfare recently posted a video detailing the four new multiplayer maps as well as the exo-zombie.
urban seems to be what a lot of players are looking for in this Call of Duty: a scaled-down map with the option to use shotguns. Because, between us, the latter have been gathering dust lately.
Core will provide a desert environment. The fights will be semi-close, the opportunity to take out the machine guns! As in the other maps, elements beyond your control will come to shake up your parts, like, I don't know me ... killer drones coming out of nowhere?
Drift does not seem to have as many secrets (at first glance) as its sisters, even if one can observe a magnificent merry-go-round, which will offer, according to the words of the dear gentlemen of the developers, a very beautiful point of observation and shooting. Personally, I see it as a way to die very quickly.
Sideshow is a parking lot inside a somewhat creepy environment. The developers wanted to embed the darkest nightmares of players. So hey, there are clowns everywhere, they must have underestimated the average age of their customers, but it's the intention that counts. Strategically, the map offers a large field of view, perfect for snipers.
How to talk about the Havoc DLC without bringing up the sweet subject of mode exo-zombie. "Sweet subject", quickly said, because you still have to pay € 14.49 for a mode that has long been free. In short, we do not see much, except the presentation of the characters that we will play as well as the speed of these damn zombies who, when they are equipped with their exoskeleton, run really fast.
You will have to wait until January 27 (on Xbox One and Xbox 360) to have your ass nibbled by a horde of rabid zombies. Owners of PlayStation 3 and 4 will have to wait an additional month. So happy ?