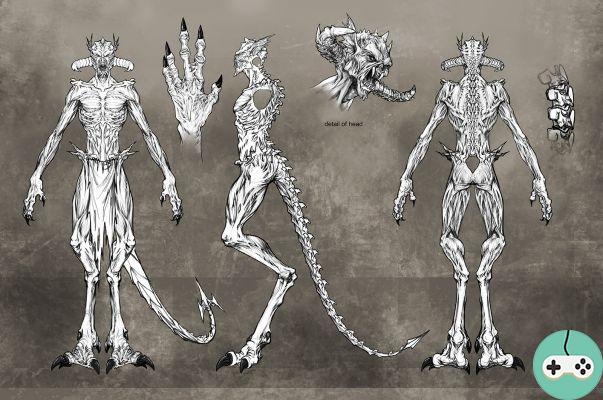 All mortal creatures will come to him. It is the Harvester of Souls.
Yushi, 3E 433
Molag Bal by fire-tbh
As ESO unfolds, Molag Bal represents enemy number one on Tamriel. A disreputable character, the latter reigns supreme over his kingdom called Ice Haven. Particularly evil, he is known to be the prince of rape, slavery and domination ... enough to occupy his days. He notably has many children including a daughter named Molag Grunda.
In order to put this Daedric Prince in the spotlight in the Imperial Edition of ESO, a resin statuette with his effigy has been designed. On this occasion, the official ESO website tells us about the different stages of its design.
Appearance and modeling
The first step was purely artistic. How would Molag Bal be represented in ESO?
To do this, the artistic team was naturally inspired by the representations present in the game but also other references from the solo episodes. In order to illustrate the sinister characteristics of Molag Bal, it was necessary to think through his appearance in great detail.
Indeed, like any good self-respecting villain, his appearance must be as threatening and dark as possible. Claws, horns and other fangs could be modeled accordingly.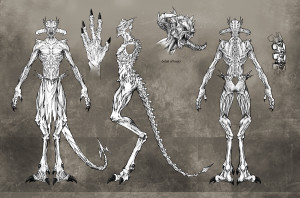 At this stage of the design, Molag Bal's appearance is defined in great detail. Relatively skeletal, our Prince is hardly welcoming!
Statuette design
One of the first issues related to the development of a statue is to think about the best possible posture of the model. The teams then developed several postures, in order to highlight its superiority. However, unless you deliver a 30-meter statue to everyone who pre-ordered the Imperial Edition, how do you represent the immensity of the Prince with a 30cm statuette?
It was then that a Nordic was modeled. Caught between the clutches of Molag Bal, this human makes it possible to better highlight the gigantism of the master of Havreglace.
Subsequently, painting and sculpture were carried out with the greatest care, in order to ensure exemplary quality.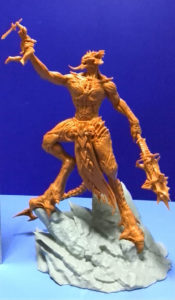 The interest of this work is twofold, since it makes it possible to bring an essential element to a collector's edition, with the added bonus of a character modeled in the smallest details ready to be used in the game in various ways (sets, animations, etc. .). Molag Bal is now ready to enslave all the people of Tamriel!