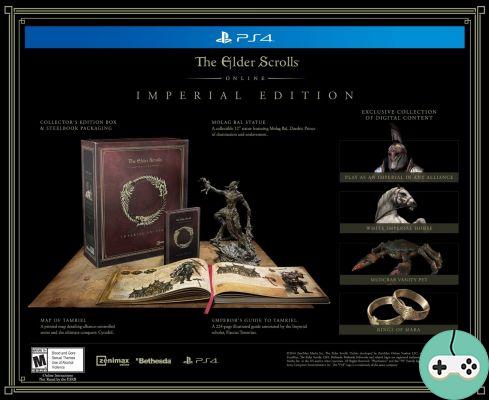 The VentureBeat site informs us about the current sales status of the Imperial Edition of Elder Scrolls Online, including a few perks such as the mount and playable Imperial race. It seems, according to the first figures put forward, that this collector's edition is a real hit with TESO fans.
Here are the most important takeaways from this article:
Dealzone (site specializing in finding the best deals on the web for games and laptops) has informed GamesBeat that it has encouraged TESO sales of around 1.500 digital copies from January 29 to February 2.
Of these sales, more than 1.250 correspond to the Imperial edition, while only 275 represent the standard version. This therefore corresponds to a ratio of 4.6 to 1 ... or five times more pre-orders for the Imperial edition.
Here is a graph illustrating the sales gap between the two versions of TESO by Dealzone: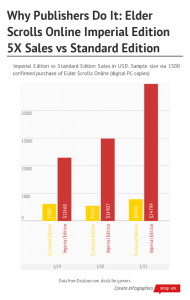 Comparison of Standard and Imperial Edition sales in $. Sample based on purchases of 1500 digital copies from TESO.
The Imperial Edition of TESO visibly brings in a lot more money than the Standard Edition!
Meanwhile, VentureBeat is trying to get closer to Bethesda, to determine whether this trend is widespread or not. They will update their information as soon as they know more about it.
The figures given by Dealzone only cover digital copies for PCs. However, the Standard and Imperial editions will also exist in physical formats, as well on PC, Xbox One and PlayStation 4. It is therefore possible that these versions do not follow the same trend as the digital PC release.
Either way, pre-orders seem to be doing pretty well. So, on Games Managers, are you in the majority to have chosen the Imperial edition?