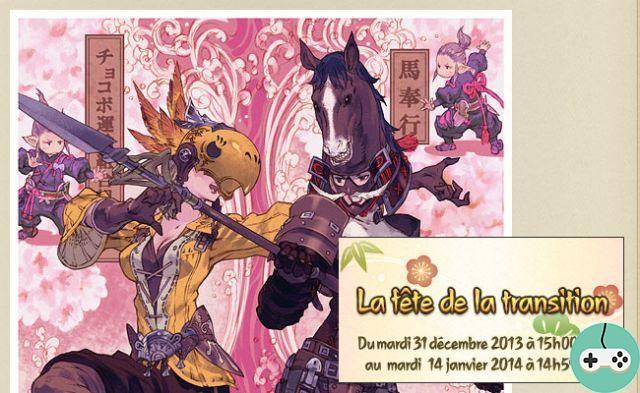 From December 31 at 16 p.m. KST to January 14 at 15:59 p.m. the Transition party.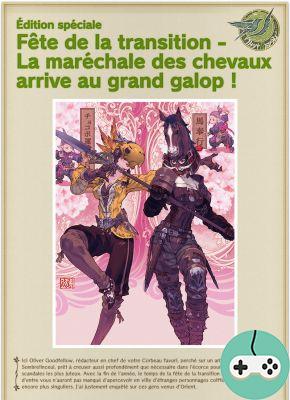 Which mount can you trust?
The feast of the transition marks the time when the Twelve come together to determine which of them will be in custody for the coming year. According to the Oracles, this New Year will be under the aegis of Nophica, an announcement that is no doubt greeted with joy in Gridania, where the Mother is revered as tutelary goddess.
However, what our dear readers may not know is that in the East, an animal is designated as a symbol of the New Year on the feast of the transition, and it seems that this time it is the horse in the spotlight. The Eorzeans not being familiar with this exotic creature, I inquired of our specialist in the living, the naturist Marcette, and she described it to me thus: "the horse is a four-legged and herbivorous beast, with a long stroke and with a narrow head, which is distinguished by a long mane on the nape of the neck but little hair on the rest of the body. To this ugly appearance is added a fiery temperament and an almost nonexistent intelligence ".
One is quite entitled to wonder why such an animal is chosen as the symbol of the year, but what is even more difficult to understand is that a group of people have come all the way since the Orient to promote these horses as mounts with us, and what is more, they are decked out in helmets bearing the effigy of this most strange creature.
Naturally, we already have a magnificent mount in Eorzea, the chocobo, and this horse advertising campaign is not without annoying the union of conveyors-chocobos. There is a great fear that on either side, people will end up riding their high horses, or big chocobos, and the Transition Day celebrations will suffer.
Oliver Goodfellow
You can start the festivities at Vieille Gridania (X10, Y8) by addressing Damaris at the amphitheater.
Strange helmets will be offered to you in reward :
Kabuto cheval
Kabuto ebony black horse
Kabuto golden horse
Kabuto ruddy red horse
Kabuto silver snake
Kabuto dragon
Kabuto ruddy red dragon
Golden dragon kabuto
Kabuto Ebony Black Dragon
Kabuto Usagi
Kabuto usagi en argent
Kabuto usagi noir
And because the party is hollow, you can also collect a Zôni Soup.
Have fun !