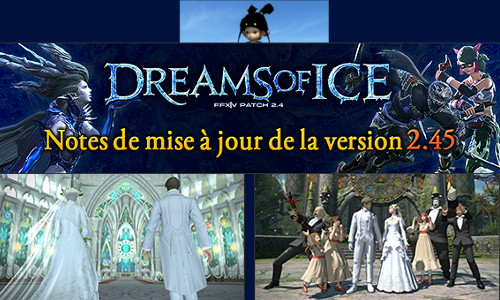 Update 2.45 is live and brings as announced the Eternal Link System, the sequel to the Zodiac Weapons Saga and some changes to a few jobs. Below is a summary of the patch notes and read the full story on The Lodestone.

Contents
You can now participate in the Abyss of Bahamut even if you have already done so. You won't be able to get loot, and your presence reduces the number of chests appearing at the end of the mission.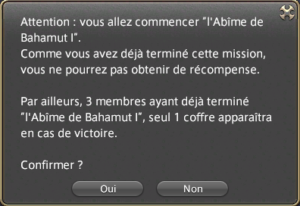 There will always be a weapon in the "Tree of Judgment (Extreme)" challenge loot.
The pinch of diamond dust obtained in loot in "The Amphitheater of Akh Afah (extreme) allows to reinforce the weapons obtained in this same challenge.
New achievements, items and recipes have been added.
New Gathering Points have been added
New items are available in the Mog Kiosk
Several issues were resolved
quests
New quests for the Sage of Zodiac Weapons. Go to the Northern Forest in 29,19 to start them.
New Postman Mog Quests
Eternal Bond Ceremony
Do you love someone? Unite with him with this ceremony. Several formulas are available. Take a look at the dedicated page for any information.

Job Opportunities
Adjustments have been made to the Pole master et Dragon Knight:

Impulse and Powerful Breakthrough no longer have a directional condition to obtain the bonus,
Full Breakthrough and Double Breakthrough deal more damage,
Breath of Life now has a 50 second cooldown with the improved Breath of Life trait,
Blood for Blood: Damage taken is increased to 15%.
Jump: The cooldown is now 30 seconds.
Magic defense on gear is now identical to that of archers, bards, and other melee DPS.

Adjustments have been made to Surineur :

Windblade consumes 60 PT and Shadowfang consumes 70 PT
Wasp Kiss and Viper Kiss now increase physical damage dealt.

At level 50, the Elementalist gains the Extra Breastplate action, an area-of-effect version of the Breastplate spell.