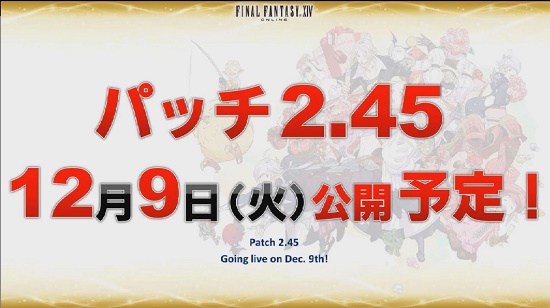 Square-Enix offers us for next week, new content for its flagship MMO. The game will be in maintenance on Tuesday, December 9 between 4 a.m. and 10 a.m. (GMT, i.e. 5 a.m. to 11 a.m. spanish time) so you will have to be patient before you can log in again.

On the menu, therefore, some nice novelties, but also balances.Here is a little recap of what is planned:
Continuation of the chronicles of the zodiac: New quests will be available to improve your weapons. The design of these will change with this new quest. However, the ilvl has not yet been unveiled.
Breastplate spell II for the white mage: It will now be possible to use a Breastplate spell on the whole group. This spell will only be usable out of combat.
Eternal Bond Ceremony: Certainly one of the most popular additions, this ceremony will give you the opportunity to unite with another adventurer. Many options, available on a dedicated site, will allow you to organize this happy event.
Ninja dps balancing: The TP cost of some ninja attacks will be readjusted. Thus, the Windblade will require 60 PT instead of 50 while Shadowfang will use 70 PT instead of 60. The Wasp's Kiss as well as the Viper's Kiss will now increase the physical damage inflicted.
Elimination of the floor limit imposed for Bahamut: players will be able to help others in the Abyss of Bahamut after being "stranded". This has been set up so that players who have already completed the upper floors can help their companions. However, they will not be able to obtain loot again.
Modification of obtaining high-level equipment from craftsmen: High level items should be easier to obtain, in order to make it easier for less regular players to access these items.
Other details should of course be added to all this during the update, we will be sure to share them with you.