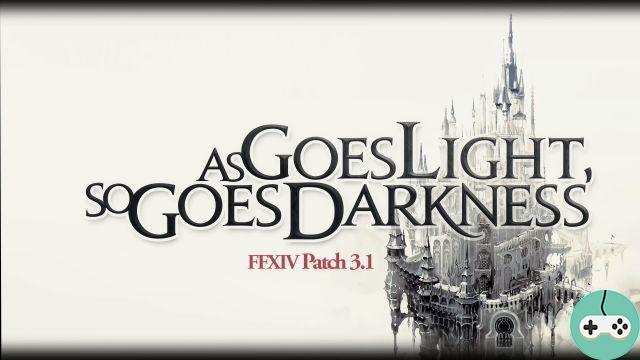 As you probably already know, update 3.1 is just around the corner, November 10 to be precise. Lots of new features, additions and changes are going to be made. Find here a recap of everything you can discover next week.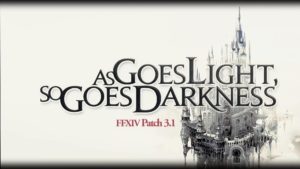 Player vs. Environment
Epic
Mission d'exploration
New dungeon
New Brutal Dungeon
New Tribal Quests
New 8-player encounter
24 player raid
The epic continues at 3.1. Entitled "Between Light and Dark", it will allow you to discover what is happening to the people of Ishgard after the great changes brought about by the Heirs of the Seventh Dawn and their allies.
Exploration missions will allow free companies with one (or more) aircraft to explore areas in groups of 8 players.
A brand new keep will appear, "the Sainte-Mocianne arboretum". The latter is intended for 4 players of 60 and will require a minimum of 170 equipment. You can find the details on our previous article.
The "Sirius Lighthouse" will be given a brutal mode. This 4 player dungeon will be level 60 and will require a minimum gear level of 170. You will also need to have completed the normal "Sirius Lighthouse", accessible from level 50. Find details and information on our dedicated article.
A new barbarian tribe will appear in 3.1. We will therefore find the Zundu tribe of Vanu Vanu. These new quests will allow, among other things, to obtain furniture, pets and mounts that you can find a preview here.
A brand new 8-player encounter will also appear. The latter will allow you to relive an epic battle of the Heavensward epic. For level 60 players, this encounter will require a minimum gear level of 190 and will allow you to obtain brand new weapons. You can find details of the meeting here and one overview of some weapons here.
As if that weren't enough, players will still face danger in a brand new raid requiring 24 players. At level 60, this new raid will require players to have an item level of 175 at a minimum. You can find the history, details and an overview of the equipment on our article.
Gold Saucer
The shock of the mascots
New mini-games
Without doubt one of the biggest expectations of players who are fans of Gold Saucer activities. The Mascot Clash will allow players to compete in epic and strategic battles thanks to their loyal mascots. Find an overview of what this will give on our dedicated article.
Several new games will be appearing at Gold Saucer. Well known to V1 players, these mini-games will allow players to test and experience their harvesting abilities as a miner and botanist.
Diverse
New haircuts
Flying mounts
Housing
Several haircuts for men, women and unisex will make their appearances. Find an overview on our premier et second articles.
3.1 will make frame collectors happy. Indeed, many of our pre-Heavensward mounts will now be able to fly in areas of the expansion. You can find the list on our article.
Undoubtedly the modification which has caused the most virtual ink to flow in recent weeks. In fact, from 3.1 onwards, houses that have had no activity for 45 consecutive days will automatically be sold and put back on sale. However, it will now be possible to share the rights of a house with three other people.
Many other modifications will also be present in 3.1, you can find the details of these on the official site.
And finally, check out the official trailer for the "As Goes Light, So Goes Darkness" update:
Are you excited to browse the new content? What do you think of the changes and additions?