Progress in GTA Online is done via a classic bar, which climbs as the activities progress, earning Reputation Points (RP).
Reputation Points
They can be won by a lot of different means: activities, successes, etc ...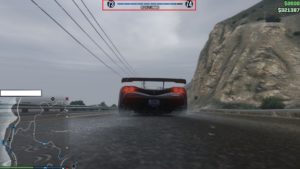 Activities
Research clues
Diverse
1000 - 4000 RP depending on the missions carried out
100 - 500 RP for races
1000 - 10000 RP for multiplayer activities like Extermination, Capture, etc.
50 RP every time you vote for an activity
Every time you escape the police, you gain some RP.
100 RP for 1 Research Star
200 RP for 2 research stars
300 RP for 3 research stars
400 RP for 4 research stars
500 RP for 5 research stars

+100 RP for every minute spent with a research index of 5
25 - 100 RP by killing another player (players who appear in red on the map are worth more)
100 RP for killing a dominant player in a multi activity
1000 - 2000 RP by picking up a dropped crate
25 RP by sniping some NPCs in missions
100 RP for bringing a car to Simeon
25 RP passing by plane or helicopter under bridges
Unlocking
As you earn RP, the reputation bar will rise and you will level up. With each level passed, you will unlock certain things: weapons, missions, upgrades, etc ...
Currently, the highest level that can be reached is rank 8000 (good luck going that far!).
Rang 1:

Weapon: Pistol
Weapon: Shotgun
Checkout release
Improvised race
Confrontation
Courses

Rang 2 :

Weapon Upgrade: Pistol Magazine
Waterfalls: jump

Rang 3 :

Los Santos Custom: car modification
Stores
Fashion duel
Shooting range
Store robbery
Pegasus
Mission Versus: Rest
Mission Versus: Howling Engines
Mission Versus: Welcome Committee

Rang 4 :

Weapon Upgrade: Pistol Torch

Rang 5 :

Garage available for purchase
Car delivery: your mechanic will deliver your car to you
Cinema
Weapon upgrade: Pistol silencer
Weapon: Submachine gun
Mission: Currency of his coin (Simeon)
Mission: A rich manna (Simeon)
Mission : Rockford Roll (Simeon)
Mission: Take Back Justice (Simeon)
Mission: In enemy territory (Lamar)
Mission: Legitimate seizure (Simeon)
Mission Versus: Hippie Hunt

Rang 6 :

Arm wrestling
darts
Golf
Tennis
Pilot school
Striptease boxes
Missions : Death Metal (Gerald)
Mission: Deadly Flood in Los Santos (Gerald)
Mission: The mold and Pier (Gerald)
Mission: Deal Breaker (Gerald)

Rang 7 :

Mission : Meth'ivation (Gerald)

Rang 8 :

Vehicle improvement: Painted rear bumper
Vehicle improvement: Clear tinted tinted windows
Capture
Import-Export (Simeon)
Mission: No Bronca (Gerald)

Rang 9 :

Weapon: Combat pistol
Weapon Upgrade: Combat Pistol Magazine

Rang 10 :

Bounties: allows you to place a bounty on the head of another player (Lester)
Vehicle improvement: 20% armor
Mission: Ungrateful Youth (Simeon)
Mission: El Borrocratie (Simeon)
Mission: Charity work (Simeon)
Mission Versus : Top Fun

Rang 11 :

Weapon: Parachute
Weapon Upgrade: Torch for Combat Pistol
Weapon: Submachine gun
Parachute jump

Rang 12 :

Weapon upgrade: Combat pistol silencer
Rivalry Mode
Robberies
Mission : Explosion (Simeon)
Mission : Explosion 2 (Simeon)
Mission: Water in the Gas (Gerald)

Rang 13 :

Ammo drop (Merryweather)
Mission: Romantic Eternal (Ron)

Rang 14 :

Mission: Quarté in order (Gerald)

Rang 15 :

Weapon: Grenade
Weapon Upgrade: Submachine Gun Silencer
Weapon upgrade: Black smoke trail for parachute
Survival Mode
Daily Goals
Vehicle destruction (Lester)
Distracting Police Attention (Lester)
Smugglers plane to shoot down
Find a car (Lester)
Mission: Enemy Price (Gerald)
Mission Versus : Top Fun II

Rang 16 :

Weapon Upgrade: Red Parachute
Mission: Legitimate Seizure 2 (Simeon)
Mission: Data traffic (Lester)

Rang 17 :

Weapon: Sawed-off shotgun
Vehicle improvement: Lowered suspensions

Rang 18 :

Gang attacks
Weapon upgrade: Yellow smoke trail for parachute
Mission: On the List (Martin)

Rang 19 :

Armored vans
Weapon: Sticky Bomb (trying it is adopting it!)
Mission: Strategic shortage

Rang 20 :

Support helicopter (Merryweather)
Weapon: Tear gas grenade
Weapon: Gasoline Jerry Can
Vehicle upgrade: Bulletproof wheels (a must have!)
Mission: Theft of Evidence (Martin)
Mission: Fuel the Fire (Ron)
Mission: Cistern not on the way (Lamar)
Mission: Ca va péter (Martin)
Mission: Loss and Smash (Trevor)

Rang 21 :

Clear the search clue (Lester)
Weapon: Sniper rifle
Vehicle improvement: Xenon headlights
Vehicle improvement: Painted front bumper
Mission: Alone Against All (Martin)

Rang 22 :

Mission: One Contender Too Much (Lester)
Mission: Last Resort (Martin)

Rang 23 :

Weapon Upgrade: Striped Parachute
Vehicle improvement: Ventilated hood

Rang 24 :

Weapon: Assault rifle
Weapon upgrade: Orange smoke trail for parachute
Mission: Titanic Work (Lester)
Mission: Death from the sky (Martin)

Rang 25 :

Boat recovery (Merryweather)
Locate a boat (Lester)
Vehicle upgrade: Starter bomb
Mission: Combine business with pleasure (Ron)
Mission: A helicopter worth gold (Lester)
Mission: The Lost MC are lost (Lamar)
Mission : Turbine carabinée (Ron)

Rang 26 :

Vehicle improvement: Arceau

Rang 27 :

Weapon upgrade: Red smoke trail for parachute
Mission: Vol de base (Ron)

Rang 28 :

Weapon Upgrade: Parachute Hornet
Mission: Great Raid (Trevor)

Rang 29 :

Weapon: Assault submachine gun

Rank 30 :

Helicopter recovery (Merryweather)
Vehicle improvement: 40% armor
Vehicle improvement: Exhaust
Mission: Vol au vent (Lester)
Mission: Coastal Intercept (Ron)
Mission: Comics forbidden (Lamar)
Mission : Peace and love (Gerald)

Rang 31 :

Vehicle improvement: Dark smoke tinted windows
Mission : Explosion 3 (Simeon)

Rang 32 :

Weapon Upgrade: Parachute Patriot

Rang 33 :

Arme: Pistol perforant
Weapon Upgrade: Suppressor for Assault Submachine Gun
Vehicle improvement: Carbon hood

Rang 34 :

Weapon Upgrade: Piercing Pistol Magazine

Rang 35 :

Sending Mercenaries (Merryweather)
Locate a helicopter (Lester)
Weapon Upgrade: Torch for Armor Piercing Pistol
Weapon Upgrade: Silencer for Armor Piercing Pistol
Mission: Funeral home (Martin)
Mission: Fishing in Troubled Waters (Gerald)

Rang 36 :

Vehicle improvement: Street suspensions

Rang 37 :
Rang 38 :

Weapon Upgrade: Parachute Widowmaker

Rang 40 :

Invisibility on the radar (Lester)
Show invisible players (Lester)
Mission: Unpacking (Martin)
Mission: The Watered Sprinkler (Martin)
Mission: Fatal Correspondence (Martin)
Mission: A Vineyard Murder (Martin)

Rang 41 :

Vehicle improvement: Triple supply hood

Rang 42 :

Weapon: Rifle
Tattoo: Virgin Mary right arm

Rang 44 :

Weapon Upgrade: Rainbow Parachute
Vehicle improvement: Dollar rims
Mission: Protectionist Lazers (Martin)

Rang 45 :

Locate a plane (Lester)
Vehicle improvement: Wide bumper
Tattoo: Chest Trinity Knot
Mission: A beautiful mess (Martin)
Mission: No more joking (Gerald)
Mission: Sacking in dry dock (Martin)
Mission: Publisher and Thief (Martin)
Mission: Arsenal ambulant (Lester)
Mission: A Hint of Coke (Martin)

Rang 48 :
Rang 49 :

Vehicle improvement: Limousine tinted windows

Rang 50 :

Call robber (Lamar)
Airstrike (Merryweather)
Weapon: Machine gun
Vehicle improvement: 60% armor
Vehicle improvement: Remote controlled explosive
Mission : Extradition (Martin)
Mission: Trapped Like a Rat (Martin)

Rang 51 :
Rang 52 :

Vehicle improvement: Side exhaust

Rang 55 :

Mission: Coke Diversion (Ron)
Mission: Watch out for Degas (Martin)
Mission: Paid parking (Lester)
Mission: Meth in the water (Ron)

Rang 56 :

Weapon Upgrade: Black Parachute
Vehicle improvement: Sports suspensions

Rang 57 :

Tattoo: Chinese dragon left leg

Rang 60 :

Weapon: Grenade Launcher
Tattoo: Mermaid right arm
Mission: Hack'n Dash (Lester)
Mission: Parabolic Flight (Trevor)

Rang 63 :

Tattoo: Demonic Clown Chest

Rang 64 :

Vehicle improvement: Extended bumper

Rang 65 :

Mission: A jury in the pillory (Martin)

Rang 66 :
Rang 69 :

Tattoo: Torso Stone Cross

Rang 70 :

Weapon: Improved rifle
Mission : Protection (Martin)

Rang 71 :

Vehicle improvement: Competition suspensions

Rang 72 :

Tattoo: Los Santos Bill torso

Rang 75 :

Tattoo: Indian Ram Right Leg
Mission : Docks to stocks II (Lester)
Mission : Rooftop Rumble (Martin)

Rang 78 :
Rang 80 :

Vehicle improvement: 80% armor
Weapon: Combat machine gun

Rang 81 :

Tattoo: Snake skull right arm
Mission : Trash talk (Martin)

Rang 84 :

Tattoo: Skulls and chest rose

Weapon: Heavy sniper rifle
Weapon Upgrade: Heavy Sniper Rifle Scope

Rang 100 :

Weapon: Rocket Launcher
Vehicle improvement: 100% armor

Rang 120 :