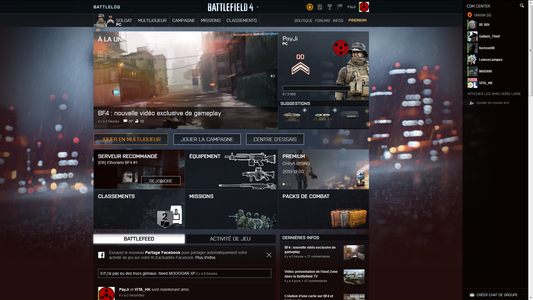 Since yesterday afternoon, it is possible to access the Battlelog 2.0 for Battlefield 4 and to pre-download the 24 GB of the game.
Contrary to what had been announced for the pre-download which should have been available only 24 hours in advance, the information displayed in Origin from 28 to 11am turned out to be accurate ... Too bad I did. pass two different pieces of information even if that is absolutely not dramatic. It should come as no surprise, however, that players get confused and that many topics are open on the forums on this subject. Patience is the mother of all virtues, I grant you, but some would have liked clearer communication. In any case, as announced in the introduction, 24 GB are waiting for you so I advise you to start the download now because it may take a little bit of time.
Finally, here is a small Origin video that promotes the dematerialized version and pre-download rather than taking a boxed version where you have to wait until the day of release.
On the occasion of the return of Battlelog 2.0, you will be able to take a look at the missions, the dog tags, the equipment. You can also open your first battlepacks if you are eligible. There is a black one for veterans if you own one of the previous Battlefields. You will have 3 Gold Battlepacks for the Deluxe Edition of the game and 3 Premium Battlepacks for the purchase of the Premium.
Emblems are also making their comeback with a notable difference for premium members who have additional patterns and a layer limit that has been reduced from 20 to 40! This is a complete game-changer and you will have to expect to see some really beautiful emblems especially when you see what people were able to do with just 20 layers. I'm thinking of creating an emblem gallery dedicated to premium players to distinguish between the two.