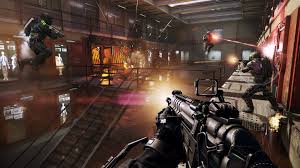 Activision announces that Call of Duty: Advanced Warfare is the biggest launch of the year in the entertainment industry, beating not only every other video game but also the biggest movies, albums and books released in 2014.
Bobby Kotick, CEO of Activision Blizzard:
Since Activision created the Call of Duty franchise in 2003, revenues have exceeded ten billion dollars in sales worldwide, far exceeding revenues from movie franchises such as The Hunger Games, Transformers, Iron Man and The Avengers. , all combined. Advanced Warfare is the biggest launch of 2014 in terms of revenue for 2014, surpassing all film, music album, and book launches for the year.
Eric Hirshberg, PDG d'Activision Publishing, Inc.
We put all of our hearts into making Call of Duty: Advanced Warfare an epic adventure, and we're thrilled with the outcome. Sales and time spent playing in the first week exceed last year's results, as do Season Pass sales. The game received very positive reviews in the press and the fan feedback has been fantastic. We have no doubts that Advanced Warfare will be the biggest hit in the video game this year, and we thank our fans for making it the best launch of 2014.
Activision also confirmed that Call of Duty: Advanced Warfare is the biggest digital console launch in history according to Xbox Live, PlayStation Network and internal Activision estimates.
The engagement on the latest addition to the Call of Duty franchise created by Sledgehammer Games studios, based on statistics from the launch week and according to internal estimates, represents more than 370 million games played in this first week and more than 200 million level wins in Advanced Warfare online multiplayer.