The announcement fell on Twitter today. Ocean Quigley, Creative director, Andrew Willmott, Lead Architect, and Dan Moskowitz, Lead Gameplay Engineer have left EA / Maxis to together create a new studio called Jellygrade.
We do a simulation on the appearance of life on earth, on lava, water, rock and the appearance of the first primordial creatures. We're kicking off the iPad with a radically different new simulation engine. I can't wait to start showing it.
And indeed, images have already been posted on Tumblr!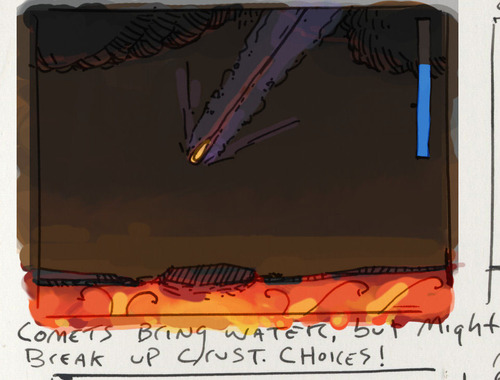 Asked why Polygon left, Ocean Quigley said he was disappointed with the failed launch of SimCity where EA insisted that players be online all the time without providing enough server capacity. However, he had had the idea of ​​embarking on a new project for a while:
I'm appalled at the poor launch of something I had given so much love and attention to, which made my start easy, but it undoubtedly would have happened anyway. Honestly, I think I would have quit whether or not EA's launch of SimCity was successful. It was my third SimCity. Indeed, I had participated in SimCity 3000, SimCity 4 and this new SimCity.
I've been a developer for a big studio for a long time, almost 18 years now. EA has a list of projects they want to do, it's a big company with a lot of momentum. If you have a new and original project, something totally personal, this is really not the environment to do it.
EA's forces work with hundreds of people, for well-defined goals. What I want to do now is explore new simulation themes and mechanics and do things that EA is not intended for. So don't criticize EA, they do what they do, but it was time for me and other developers, Andrew Willmott and Dan Moskowitz, to go out and try new things.
His project was too scientific and bizarre to discuss it with EA or Maxis, so he left, an official EA source confirmed. His project is indeed very focused on geophysics and biology:
In a simulation game you are always looking for an actual physical process to try to put it into the game. Working on the Sims is about interior design and in SimCity it is more about population density and economy. So the geophysics and biology of early Earth struck me as a rich and interesting topic for a game. I love science. I like to know what is really going on in the world and it seems to be a rich subject.
A new page is therefore opening for these developers that we will follow with interest! You can now join them:
on Twitter: @jellygrade
on their website: jellygrade.com
on tumblr