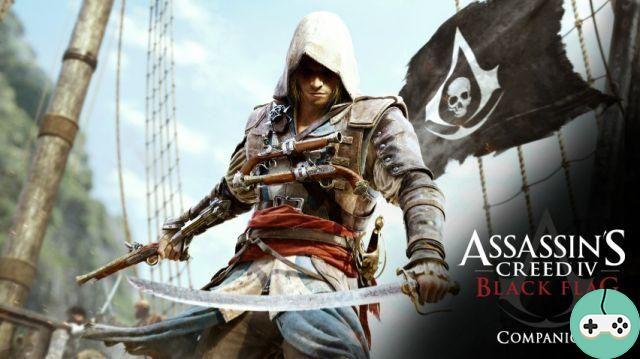 The "Companion" satellite app, as a second screen, gives you access to many features that will further immerse you in your actions as Edward Kenway. You can use it to accompany you in the game but also when you do not have access to your PC (or console) as the main support. For all this, however, you will need an internet connection (3G / 4G or wifi) and a compatible tablet.
Trailer
As usual for Black Flag, Ubisoft gives us a trailer for each of the game's features and the application was recently entitled to its small presentation.
Functionalities
Interactive world map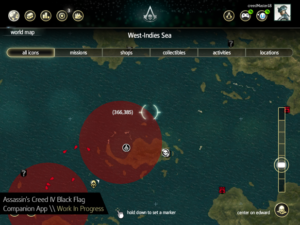 More exhaustive than the game map, it allows you to consult your mission objectives in real time without having to return to the game menus. Similarly, you can pin coordinates and thus mark an area where you want to return. A friend can use this app to serve as your steward and guide you on the seas.
Edward Kenway Fleet Management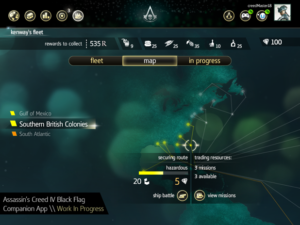 You can interact with Black Flag at any time of the day and week as long as you have a good internet connection. Many missions will allow you to occupy your fleet and find yourself enriched back in the game. You can also help your friends by securing their journeys and then earn new rewards.
Track success and your progress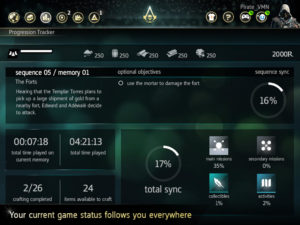 All your game data is stored in the app through Uplay. This will allow you to see your progress in the main missions .... Not essential but very useful for collectors like me who like to complete games 100%.
Treasure Cards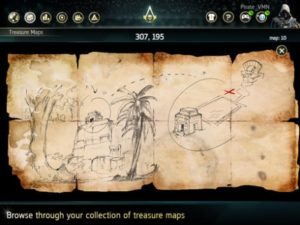 The treasure map is displayed on your application and off you go for the adventure.
Animus Database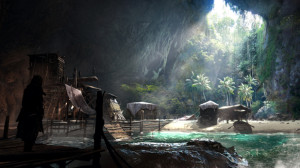 The app allows you to watch all the information from the Animus database, unlocked in the main game. There is a tremendous amount of content included in this section of the app, from the various local wildlife animals, to every famous character of interest to Assassin Credos.
Tracking Initiates
A new section (Initiates still in beta) where you can view your friends' messages and notifications and meet community challenges.
An essential tool that will become the standard in future AAA games, at least at Ubisoft, of course hoping that it will be compatible with smartphones and all tablets, which is far from being the case.

sources:
Sweet Potato Blog
Assassin's Geek
Download
The satellite Companion app is available on Android and iOS: