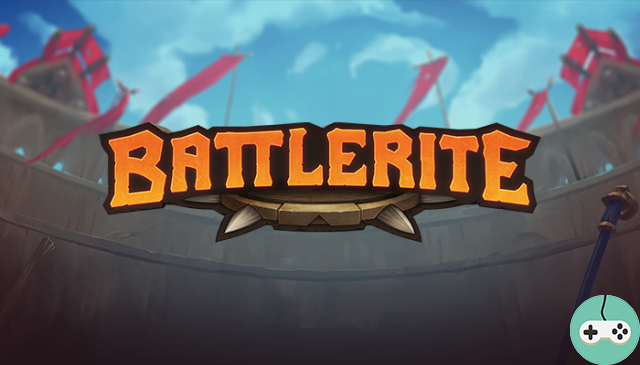 A new arena game has just been released on Steam: Battlerite. In addition to the keys currently distributed which give only one of the champions, I received a code from the publisher unlocking all the champions, current and future, to get an idea of ​​the game. hesitated to launch into the arena this weekend!
After creating a Battlerite account, the game greets me happily and then takes me to the tutorial, the very beginning of which is only mandatory. In the form of several PvE arenas, this campaign offers me challenges against the AI ​​to discover the gameplay of the character offered to new fighters, Jade.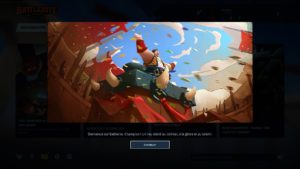 Beyond this scripted discovery, there is no story, I admit that I don't really know why I'm fighting or where my character comes from!
gameplay
Overall, it's pretty similar to other arena games in the industry when viewed from the top. The character moves on the keyboard using the ZQSD keys and turns in the direction of the mouse. He has skills related to mouse buttons, right click and left click, as well as the A and E keys (usually A is a spell to get out of a difficult situation while E is a control spell). Finally, by storing energy, it triggers the Ultimate to cast with F to inflict great damage by consuming 100% of the energy gauge. The Space key is linked to an evasion skill.
Two skills have secondary versions when pressing Shift, which consumes energy (one serving) and adds often devastating complementary effects (but less than Ultimate).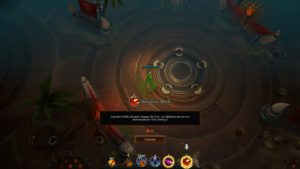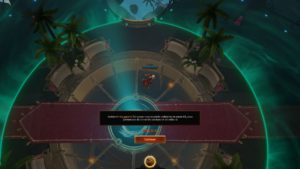 A rather special mechanism impacts life. When the damage taken is important, this reduces the maximum life points of the character in addition to effectively consuming the life points, thus penalizing our character in the long term even if a healer brings up the lost points of view. The first solution to restore your health bar is to collect small healing orbs, health shards.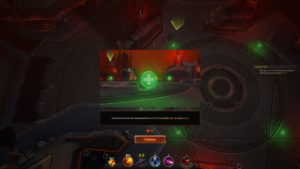 When a team stays in the center of an arena long enough, an orb appears. You have to inflict damage to make it explode, which offers a bonus to the team in charge while also raising the maximum health points.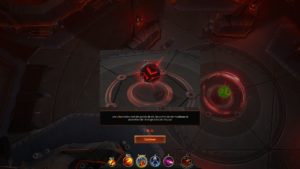 Third solution, when a Champion dies, he leaves behind orbs of life energy and maximum health points. It is really important to pay attention to this maximum health because it seems that no healer is able to heal this loss. And, inevitably, at some point, it is no longer possible to stay alive, even with the best healer in the world on your team.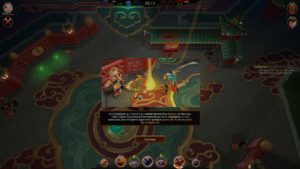 Finally, to move faster, the mounts are there, to be activated with W.
Game modes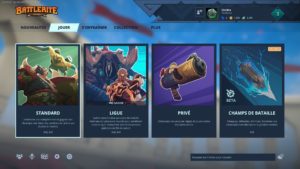 Whether standard, league or private, the arenas place two teams of two or three players in limited areas with walls to hide in. The first team to achieve all three wins wins. Periodically, shards of health appear and, by remaining in the center of the arena, it is possible to charge the orb (the central circle charges up as and when to give visual information of the advance). To prevent the fight from dragging on, after a few minutes, the area narrows with walls that move and injure anyone who passes beyond (beware of untimely bumps!).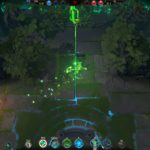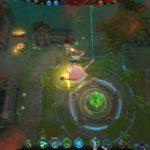 The battlefield (in beta) resume the rules of MOBA, with minions, bases and a jungle. At regular intervals, events are launched, asking to shoot down bosses or escort a vehicle. This offers bonuses for those who succeed and in particular triggers the loss of the enemy Guardian's shield. During this brief period of vulnerability, one team is in an attacking position facing the other defending team. After several phases of the Guardian's vulnerability, the winning team is the one that succeeds in taking down the enemy Guardian.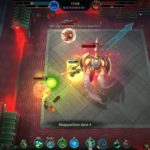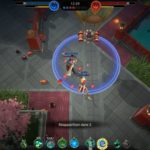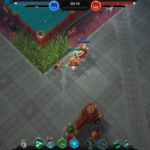 Different options also exist to fight with or against AI in a training objective without disturbing the other players during its training. The single-player champion test mode is very efficient, offering to change all match options with just one click. With mannequins, endless energy, and no cooldowns, it's really quick to go through everyone's styles to find the right one.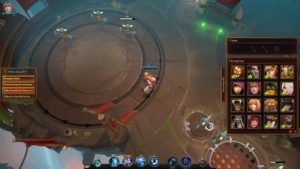 Champions & Collections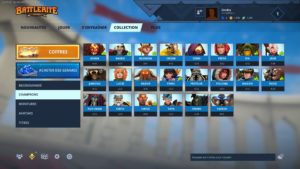 There are currently 22 champions, all of which show up with around XNUMX customizations (costume, weapons and poses).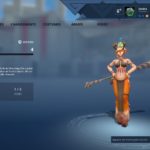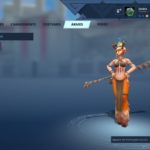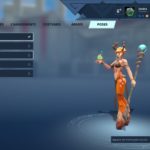 The game takes its name from battlerites, these elements which come to increase the power of certain capacities of the character, a kind of specialization to be made before each fight.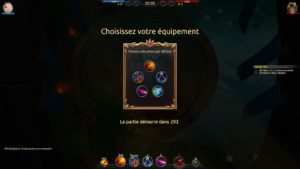 By default, a loading is created for each champion, then free to the player to create a new one by choosing from all the available cards organized into several types: support, mobility, control, survival, versatile and offensive.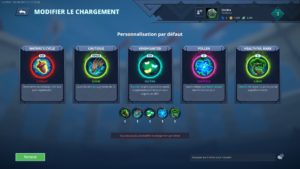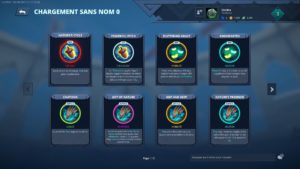 In addition to the costumes, weapons and poses of the characters already mentioned above, there are quite a few items to collect: avatars, titles, mounts.
Free-to-play ?
So yes, the game is free but you will not have access to all the champions without going through the cashier. Count € 27,99 to buy the "All Champions" pack that I have and which gives access to all the champions, a more than reasonable price when you really want to invest in a title.
In addition, the game falls into the current fashion with chests. There are different types (silver, gold or thorns), offering loot of varying quality, as well as tokens (green coins) to buy other cosmetic items. You will earn Money Chests for free by winning matches or exchanging them for Battle Coins (Gold Coins) by completing Daily Quests. For Gold Chests, the only way to get them for free is through Achievements or Weekly Quests.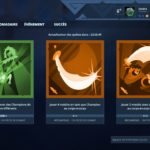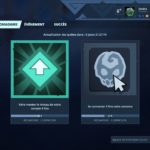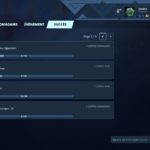 If you don't mind getting your hands on the wallet, the gems are on sale for real money, with the key to gold chests.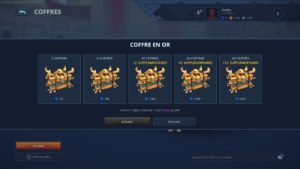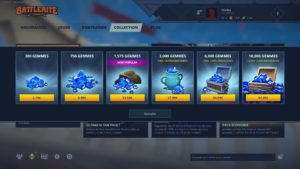 This premium currency also allows you to buy boosters that increase the XP gain of champions and account by 100%.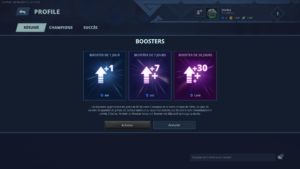 Finally, by advancing a champion in his levels, there are chests and different currencies earned at each level (except the title of level 20, the rewards are the same for each champion).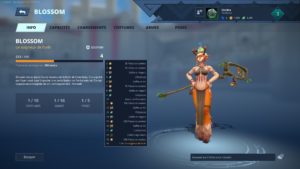 However all these elements are purely cosmetic, the only things impacting the performance in game, the Battlerites, are not purchasable. So, yes, the game is truly free-to-play, offering only cosmetic and comfort items in its shop.
Conclusion
Battlerite is a dynamic arena fighting game featuring colorful arenas. Champions are attractive and appear to be well balanced. The matchmaking is efficient, on average I did not wait more than 30 seconds before finding battle mates (I had a single "bug" with almost 5 minutes of waiting on a game, it did not happen. not reproduced afterwards, so this seems to be an unfortunate exception). There are currently five maps (Mount Araz, Temple of Orman, Ring of Heaven, Blackstone Arena, and Dargon Garden), doubling that number with day / night variations. It is still not much compared to the other competitors, but there is no doubt that they will continue to add more. The battlefield beta is a great thing, offering something new while retaining the edginess of the title.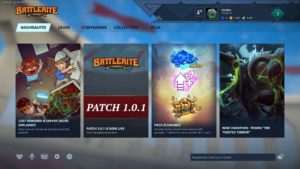 I'm not particularly a fan of this style of play - I like it when there is story and adventure, and not just raw fighting. However, I must admit that I was charmed by Battlerite, I always felt that I was able to do something with my character (I played mainly support) and contribute to the victory of my team. . Since the game is free-to-play, if the arena is your drug, get a key for Ashka then go for it without hesitation. You will see very quickly if you like it!