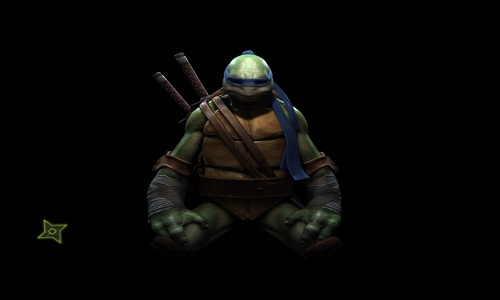 Teenage Mutant Ninja Turtles: Out of the Shadows are back in Teenage Mutant Ninja Turtles: Out of the Shadows, and it hurts!
I usually offer you at the end of the article a link to a demo of the game. But this time, I strongly advise against it. Because it is absolutely not representative of the game. In addition, I might as well say it at the outset, I prefer to warn you that the game suffers from many flaws: namely a camera not great, an AI a little picky, not super lively fights and a scenario not at all original. Here ! It is said!
In my opinion, the game is for turtle fans. You just have to look at the title screen to see that. Let me explain: an image of the turtles taken from the comics and the music from the first film of 1990. In game, you will also have the possibility to play in black and white for the classic mode and to find the turtles with their original headbands . That is to say red for everyone.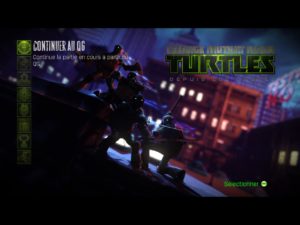 The game has four chapters. It's short, I know. Especially since it takes between one and two hours per chapter. But for a game at 15 euros, we did not expect more. On the other hand, the game has great replayability. It will take time to unlock everything: weapons, combo and upgrades. And luckily, the game is not limited to just 4 chapters. The dojo and the challenges will be the perfect means to train yourself and to discover your potential. But you will also have access to a most significant bonus: Arcade mode ... literally speaking.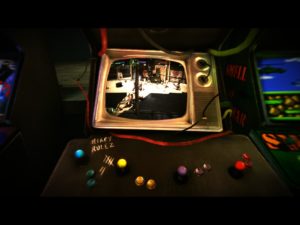 I warned you!
Arcade mode is a good way to play with horizontal scrolling, while taking advantage of the current graphics.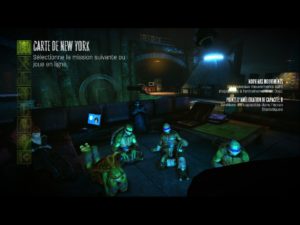 This is where it all begins !
Let's talk about graphics, the Unreal Engine does its job well and honestly, it's pretty cool. After all, it's all a matter of taste, some will not like to see turtles modeled in this way, they are almost scary sometimes elsewhere. I have also noticed that the sets can sometimes seem a little empty and give the impression of repeating themselves.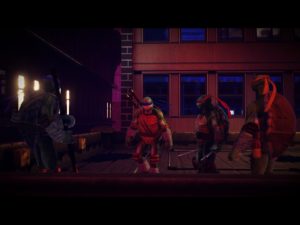 And here are the ninja turtles!
To conclude the graphics part, there is a big regret: the scenes between each chapter or chapter fragment. I don't know if you've read the original comic book or even watched the show, but the comic book scene idea was great and practically natural. But here, we must admit that it is .... let's say surprising. Wait, I show you: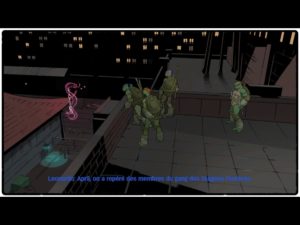 The fights .... What can I say? Many find the fights soft. This is only true for the beginning of the game where everything is not mastered and where everything has not been unlocked. I would like to respond to those who find slow fights that it is not enough to hammer the attack keys to progress (although it works, we are in a beat'em all). In combat, you can interact with the scenery for dodges and other acrobatics that bear the signature of the turtles. Moreover, for a total control of the combat, it is not necessary to control a single turtle but well all four. You have the possibility of changing turtles at any time. You can therefore start to make a breeze guard with Leo to follow up on quick attacks with Mikey to come back to Leo while Raph gets closer and make your final attack with Donnie. Said like that, one might wonder who could take it but you are sure to find tough enemies where a bit of strategy will come in handy.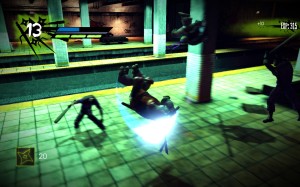 KAWABUNGA!
The fights are punctuated by turtles taunting each other or having fun at the situation. There are some that it could embarrass and others that it could amuse. The dialogue in itself is not disturbing but the subtitles a little more. Because yes, although the menus and the like are in spanish, the voices remain in the original version.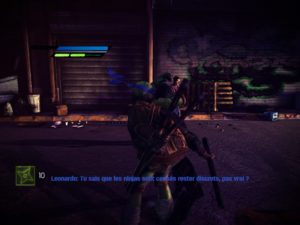 This is also what being a ninja is.
To finish on the fights, it is possible to favor the discreet approach. What could be more normal for ninjas? But we must admit that it is well thought out to vary the gameplay and quite unexpected for a beat'em all. In terms of games, we don't just fight, especially if we want to unlock everything.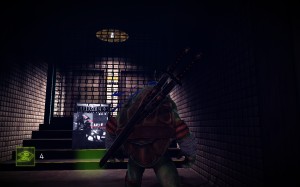 The purpose of exploration: This kind of object.
There is little downtime in your progress, between fights, with a hint of exploration to find all the hidden objects and a zest of unlocking doors. We love to see Donnie's gadgets in action, but we have to admit that it was perhaps not so necessary.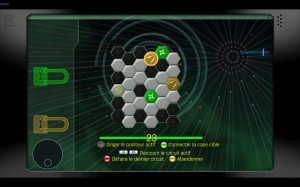 Finally, there is a multiplayer mode. Finally ... on paper only. It's not the most functional mode in the world to be frank. In fact, I was never able to join a game. But I know that for some it works. We must therefore take our troubles patiently until we can have a stable multiplayer version.
To sum it all up, I think it's a great game for fans. Not because it sounds like an average game full of fan service, but because it will take some time to understand and enjoy the mechanics of the game. It's like letting a pizza cool to enjoy it! You can find Teenage Mutant Ninja Turtles: Out of the Shadows for € 14.99 on Steam.