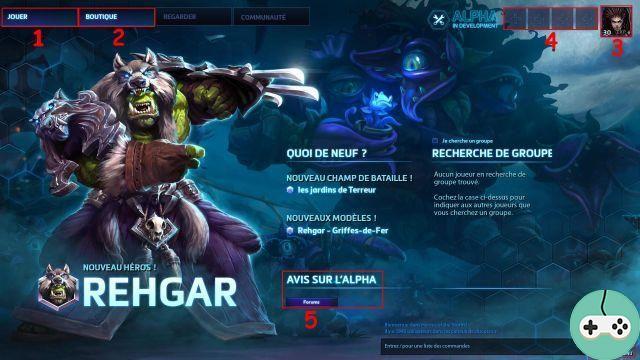 The arrival in a new game always requires to be done with the interface, with the mechanics of the game but also with its menus. The following guide will allow you to find information easily without getting lost!
Homepage
The home screen is designed to separate functionality.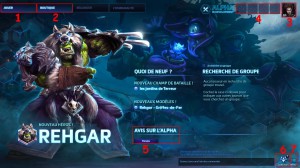 Play
Shop
Profile
Group creation and status
Forums: for the moment, they are used to give your opinion on the technical alpha
Contacts
Menu
Play
Window 1: Choice of game mode
By clicking on "Play" in the home screen, you come across a first window in which you will have to choose the game mode:
Standard: the modes are available from level 1.

Training: you play with and against characters controlled by the computer. You can still invite friends to join your team.
Cooperation: the 5 players on your team must be real players. The opposing team is controlled by the computer.
PvP: Both teams are made up of real players only. The system is designed to find you games with players of similar skill level to yours.

Personalized: Unavailable at the moment, personalized games will allow you to create private rooms in which you can choose the participating players and options for the games.
Classified: unavailable and no information at the moment.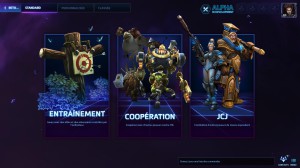 Window 2: selection of heroes
This is the last screen you will see before entering a game.
In the upper part, you can choose your hero knowing that they are sorted as follows:
Random Hero: You let fate choose your character. In principle, this is the way to find a game very quickly but you have to be ready to play one of the heroes at your disposal.
Heroes playable for free, in alphabetical order.
The heroes that you have purchased that are not playable for free, in alphabetical order.
The heroes you cannot choose, in alphabetical order.
By hovering over the portraits of the characters, some information will appear such as the type of character and its difficulty.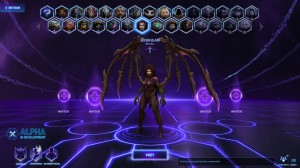 At the bottom left of the screen there are three buttons:
Models: These are the existing appearance variations for the selected hero. Padlocks show items you don't have access to, but you can still preview them. We differentiate between models (skins) and their variants (colors).
Frames: just like the models, this is where you choose your frame and its variant.
Information: it is a window that condenses a lot of information, ie all the talents that you can use in the next part (you have to unlock them with the progress of the heroes). There are three tabs: Basic Abilities, Heroic Abilities, and Talents by Acquisition Level.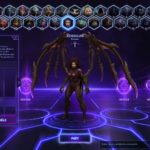 Models submenu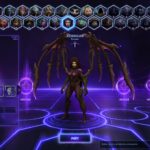 Mounts submenu
Capabilities submenu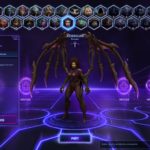 Heroic Abilities Submenu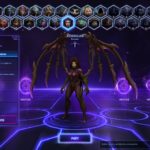 Talent submenu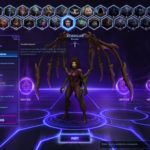 Talent submenu
You can also invite friends to your group directly from the menu by clicking on the purple "+" icons. Once you have made your choice, press the "Ready" button and you will then enter the queue. You can cancel the game search at any time by pressing the same button again.
Shop
The Store is where you can check out all of the in-game items and buy them in gold or real money if your wallet feels up to it.
"Heroes" tab
All the heroes are listed in this part. You can sort them according to several criteria: release date, increasing gold cost, decreasing gold cost and alphabetical. A search bar makes it easy to find a particular hero, and by checking the appropriate box, you make any heroes you already have disappear. There is also a sort function by role: warrior, assassin, specialist and support.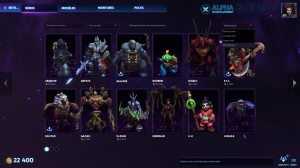 Be careful though: only the price in gold coins is displayed in the shop but you can still buy the heroes with real money. And for that, you have to click on a hero to open its dedicated pages (details below).
"Models" tab
Likewise, the window lists all models in the game. The sorting functions are the same as for heroes, except that the roles are replaced by a sort which allows you to display the models of the heroes you want. only have: what to avoid buying a model of a hero that you do not have ...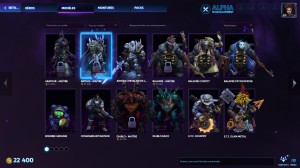 To have more details and to visualize in a more detailed way a model, you can click on one of the thumbnails and this will take you to the pages dedicated to the character.
"Mounts" tab
It is for the moment quite simple because there are few mounts. You can access and purchase a mount only with real money by clicking on a thumbnail.
"Packs" tab
Packs are sets consisting of multiple heroes and / or models at discounted prices. These are only available for real money. The details of the packs can be accessed by clicking on the corresponding thumbnails.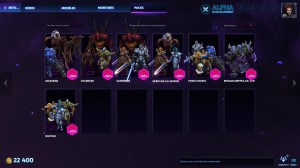 Dedicated hero pages
As mentioned above, everything there is to know about a hero can be found in the pages of the latter. Whether it's from the hero list or the model list in the store, it's important to know them.
There are three pages per hero:
By the way: a bit of history, basic and heroic abilities, hero prizes in gold and real money, and the chance to try out the hero with all unlocked talents.
Models: this is where you can take a tour of a model and / or a variant. There is also the price and the ability to try the model in-game.
Talents: A complete list of talents, more detailed than in the hero selection screen.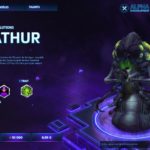 "About" sub-menu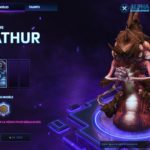 Models submenu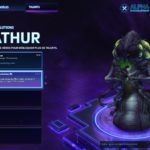 Talents sub-menu
Profile
The profile is a set of windows bringing together everything related to your progress: whether it is that of the account or that of the heroes.
Hero Progress: All heroes are grouped and sorted by decreasing progress. This window is relatively clear.
Rewards: These are what you receive as you progress through your account. There are two pages (the second is for levels 25, 30 and 35 and you then receive gold coins).
Daily Quests: Each day you receive a quest which you can complete for 200 gold. You can store a maximum of 3.
Hero progress window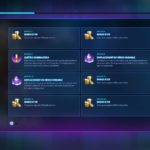 Rewards window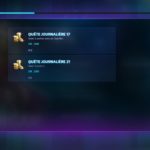 Daily Quest Window
As your heroes progress, at level 6 you will unlock the normal portrait of the hero in question and at level 10, the master portrait (golden frame). To change the portrait of your account, click on the gear at the top left of the profile window. You just have to choose from the list of available icons (by default you have the head of a knight).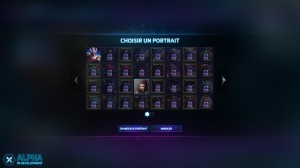 Contacts
This is where you manage your contacts and links with other players. There are several sections in this part:
Connected friends
Disconnected friends
Communication blocked: these are players that you have partially ignored, so as to no longer hear their nasty words.
Your Status: As in any Blizzard game, this is about your online status and your mood; public information.
"I'm looking for a band" button: this is a very useful function when playing alone and which allows you to find parts more quickly. It is a group search to plan a little your games with your teammates.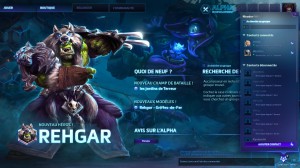 Menu
It is a more technical window which allows, among other things, to replay the tutorial, to go to the options, to disconnect or to quit the game.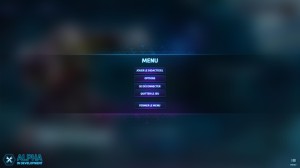 I hope that this guide will be useful for you to find your way there in the various windows that you will be able to cross in game. Do not hesitate to give your opinion and to add your tips!