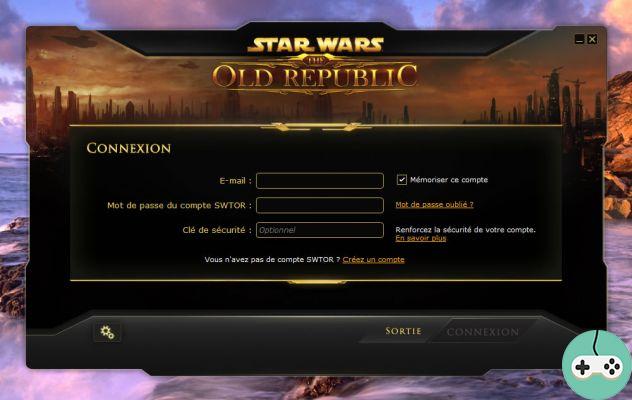 Here is the official patch notes in spanish taken from the official site of course. On the program: bug fixes and readjustment of Piracy gains. I let you discover below.
Hello everyone !
With this update, the first in a long series for Star Wars ™: The Old Republic ™, we have fixed some priority bugs. We implemented fixes for players who were having performance issues on Taris and fixed the issue that prevented from accepting pending rewards for certain missions. On top of that, the issue that made some pickup points impossible to harvest has been fixed, and you'll notice several bug fixes related to Warzones and Operations.
We are committed to providing the best MMO experience possible and will continue to roll out updates and fixes regularly.
Thanks for playing Star Wars ™: The Old Republic ™!
1.0.1 Patch Notes - 27/12/2011 Classes and Combat
Solving combat issues
Fixed an issue that could cause the cooldown to display incorrectly in the UI.
Capabilities requiring a partner now always require a partner to function.
NPCs no longer attempt to attack mini-pets.
Agent imperial
Secret agent
The tooltip for the Acid Blade now displays the correct information.
Partners
Partners
Kira Carson
Fixed an issue that could cause Kira's affection progress to be blocked.
Problems solving
Partner dialogues are now played at the correct volume.
Crew skills
Collection skills
Piracy
Hacking rewards have been reduced to balance them with other crew skills.
Adjusted incorrect values ​​for the mid-level box hack.
Problems solving
Fixed an issue that could cause some collection points to appear as un-harvestable.
Contentious Areas and Operations
Contentious areas
Mandalorian Raiders
Crowd control immunity has been removed for several enemy boarding party members.
Colicoid War Game
Fixed an issue preventing players from using certain turrets in this Flashpoint.
The Red Reaper
Dark Icoral now uses his abilities correctly.
Directive 7
Mentor now properly resets if he eliminates the group of players.
Problems solving
All players in a party in a Daily Flashpoint are now correctly rewarded at the end of the Flashpoint.
operations
Eternity Chamber
Fixed an issue that could kill players instantly when affected by Soa's knockdown.
Normal mode turrets no longer behave like hard mode turrets.
Players can now correctly obtain loot from chests.
Ancient Pylons now spawn enemies at the correct interval.
Karagga Palace
Players no longer need to reset this Operation if they don't defeat Bonebreaker.
Fixed an issue that caused players to get stuck at the throne room door.
Objects
Problems solving
Locked PvP Boxes can no longer be sold for credits.
Fixed incorrect item rewards coming from locked PvP level progression boxes.
Missions and NPCs
Missions
Empire
A New Master: Defeating Teeno no longer causes him to get over Phyne, making it difficult to interact with him.
General Faraire: All of Khourlet's Elite Guards are now accessible to the player.
Problems solving
Fixed an issue with a mission that could cause performance issues and a game client crash on Taris for some players.
NPCs
Problems solving
Fixed several non-interactive NPCs appearing and disappearing.
PvP
War zones
General
Warzone victory rewards have been increased.
Rewards for participating in war zones have been reduced.
Problems solving
The Void Star
Fixed an issue that could prevent players from entering the Nether Star.
Adjustments preventing attacking players from reaching the reactor core doors before the bridges are deployed.
User interface
Problems solving
Fixed a bug that could prevent players from accepting rewards from pending missions.
Targeting a Friendly Player no longer displays incorrect text in place of the player's name.
Fixed a bug that could cause an auction to end incorrectly.
The display of the dialog box is now no longer than the time it takes to validate changes when changing the resolution on some computers.
The loot master option now works correctly for items looted from chests.
The server selection screen no longer displays over character selection after being logged out for absence.
Fixed an issue that could cause mission markers to disappear on the map when obtaining a new mission.
Solving various problems
The special characters are now displayed correctly in spanish.
The remaining baby names have been added to the credits.
Fixed a link showing up for spanish and German versions when servers are unavailable.