During ESO Live on Friday 27 march, players were able to ask the development team several questions about many aspects of the game.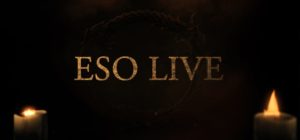 The Crown Store
Console gamers will need to go through PlayStation Store and Xbox Marketplace if they want to take an ESO Plus subscription and purchase Crowns.
A bug with the release of Tamriel Unlimited resulted in some players not receiving the correct amount of Business Model Conversion Crowns. The latter has been corrected.
Gameplay - PvE
There are no plans to change the color of Rabid Werewolves.
There are currently no plans to allow frames to accommodate more than one person.
Despite many requests, there are currently no plans to change the werewolf transformation system to become durable and at will.
Heals are not going to be reviewed and are deemed powerful enough for the current content.
There are no plans to increase the limit of players who can join a guild (currently set at 500 members).
Synergies remain and will remain possibilities to be achieved only if several players are present.
It is not intended to allow giving "good" or "bad" choices during quests. The fact that moral choices are ambiguous is voluntary.
Gameplay - PvP
The acquisition of ranks is deliberately long. However, the development team is considering the idea of ​​having these shared among all characters on the same account. But this is not expected for the near future.
Craft
New, more powerful item sets are planned.
The idea of ​​incorporating a recipe book for alchemy is of interest to the development team, but is not currently planned.
The development team is currently working on an upgrade to the sets already present in the game.
Diverse
The item with the rarest drop rate in the game is the Complete Dwemer Racial Style Book: "Cultural Motives 15: Dwemer" the team specifies that this is the entire book granting all chapters a one shot.
Trophies are not intended to grant bonuses to the character.
In the future, the server recovery time will be announced. However, the team wants to make it clear that this will only be an estimate and not an absolute truth.
Are you wondering why there are no children at play? This will require asking Hermaeus Mora, the keeper of knowledge and memory.
What do you think of these answers given by the development team on the current and future content of the game?