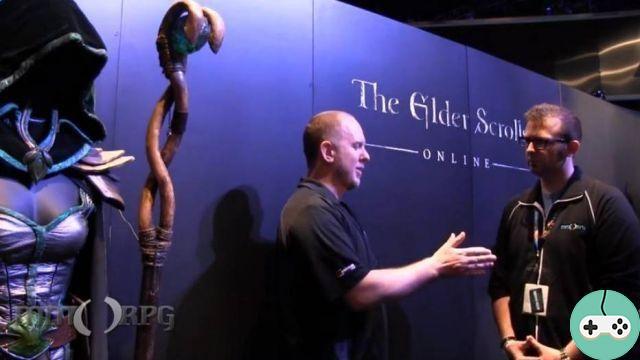 During E3, MMORPG.com had the opportunity to chat with Brian Wheeler, Lead PvP. Of course, the discussion revolved around PvP:
Here is what emerges from the video for non-English speakers according to Nicou and myself:
The date of exit is set for spring 2014 to allow for the best possible game.
All versions, all platforms, will be optimized even if the release date may not necessarily be the same.
They are currently in a polishing phase although there are still some functionalities to be done.
Le PvP is based on the war between the Alliances, mixed with PvE content.
The PvP area is very large, there will be a thousand players, with 200 characters displayed simultaneously on the screen (although they are looking to increase it).
A system of attention file will join his campaigns of Cyrodiil from level 10.
There will be many simultaneous campaigns (number still to be defined).
It will be possible to join another campaign asguest.
We can change the campaign, but that will come at a cost.
The zone will not reset completely between campaigns.
At the end of a campaign, depending on the investment compared to the others, we will receive Rewards. You would need to have earned enough Alliance Points to be eligible for rewards.
The mechanism to become Emperor is different.
La carte will highlight the battles in progress, as well as the dead to find out where help is needed.
The rankings will be on Alliance and Campaign and will be available by class.
There will be quests in PvP zone, public dungeons, war machines ...
When they approach the game in first person view, the developer replies that it could be practical for archery for example or to watch for an entrance from the top of a dungeon.