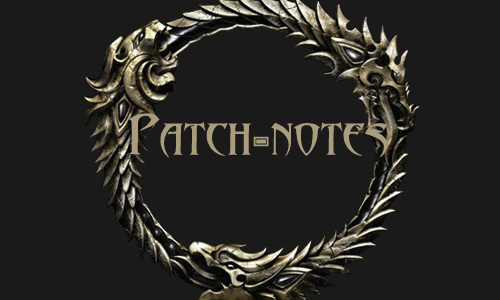 Following the maintenance of November 11, the update 1.5.3 was published, mainly focused on fixing bugs that occurred following the deployment of Major Update 5 and in particular, the problem of gaining experience for Veteran characters.
FIXES AND IMPROVEMENTS
Alliance War
General

Grand Soulstones can now be purchased from Siege Engine Vendors for Alliance Points.

Combat and Gameplay
General

Fixed an issue where switching weapons would lose stealth.
Fixed an issue where you could end up raising your fists instead of holding your weapon after equipping certain weapon types.

Templar

Illuminated recovery

Repentance (Restoration Aura morph): Fixed an issue where, if you were affected by this skill, black textures would still appear on the face and body.

Arms

Recovery stick

Healing Protection (Steadfast Defense morph): Fixed an issue where this skill was receiving shield healing every time it was re-rolled. The healing is now only applied when the shield expires.

Two hands

Momentum: Fixed an issue where the healing of this skill could be blocked or avoided.

Monsters

In preparation for the Champions system, we've adjusted the level of XP granted when killing low-level monsters:

You will receive full XP for monsters 1-3 rank (s) below you.
You will receive 75% XP for monsters with 4 ranks below you.
You will receive 30% XP for monsters with 5 or more ranks below you.
Note: This does not affect levels 1-50.
Note: This will adjust the experience received with Update 5.

Crafts and Economy
General

Fixed an issue that prevented talking to one of the Crafting Trainers after talking to another Trainer.

My Orders

Fixed an issue where Nirn's Temper Feature Stones would drop much more frequently in Raidelorn Ore Inspection Reports and too rarely in Raidelorn Cloth Inspection Reports.
Fixed an issue that prevented items from being traded correctly during some Crafting Order quests.
Fixed an issue where high level Sewing Order rewards were not granting the correct level of repair kits. Tailor's Saddlebags VII - IX now grant Grandiose Repair Kits.
Increased the gold rewards granted for crafting orders.
Crafting orders will no longer require you to deliver in other dimensions unless you have the ability to access them in a reasonable way (like Ice Haven).
There will now be only one Hazzeine in Belkarth.

Exploration and Objects
General

Collectibles found in urns, crates, bags, or cupboards in dens will now respawn more quickly when moving from one den to another.

It is still possible to exhaust the amount of lootable items, but the respawn interval and recovery rate have been increased

Dungeons and Groups
General

Increased the Indomitable reputation reward after completing the Indomitable Oaths at Silver and Gold levels.

Veteran Dungeons

Veteran Dark Shadow Caverns

This dungeon now grants the quickness achievement if you kill all bosses and mini bosses in the dungeon within 20 minutes.

hardship

holy Ophidia

Restored the health of the Serpent Image of Sanctum Ophidia to its normal level.

Raidelorn

Monsters that had become much too weak after the release of Update 5 have now returned to their usual power level.

Dragonstar Arena

Monsters that had become much too weak after the release of Update 5 have now returned to their usual power level.

Quests and Zones
Scree

Perilous Pools: You will no longer find yourself stuck in dialogue with Dedras.

Storm Haven

Haltevoie: Grigitte Dailon is no longer naked and bald.

March of the Camarde

Bad Pass: Shazah will no longer stop cleaning up corruption if an enemy gets stuck.
Towards Dune: You will no longer be stuck when completing this quest if it was shared with you by another player and you also completed the Fires of Dune quest.

User interface
General

Combining items in piles in your inventory no longer prevented your quests from updating correctly, including certifications and orders.
The UI window experience bar tooltip will now correctly display XP and more VP.
Fixed an issue where Guild Merchants would incorrectly display your last Guild Shop search instead of their normal Guild Shop.
Reinstatement of controls during conversations. You can now press E to select the first option and X to say goodbye.

Graphics and Animation
Animation

Fixed an issue where the emote / leanbackcoin animation would not display correctly.

Diverse
General

Paid on delivery messages and attachments will now expire even if the recipient does not sign in.
Fixed an issue where the game could crash when in a group with other players.
Fixed an issue with particle effects causing crashes during combat.