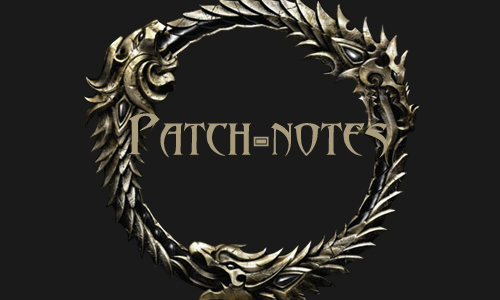 The maintenance on January 13 allowed the implementation of update 1.5.8 which mainly brought fixes and some performance improvements for Cyrodiil.
FIXES AND IMPROVEMENTS
Alliance War
General

In order to reduce the computational load on the server, which has to take into account the multitude of monsters in Cyrodiil, we have sent the deer to frolic in green pastures, far from the din of war. The flamingos joined them there ... even if they frolic less on their little paws.
Adjusted the population display scale (low, medium and high) in the campaign display window. It will now work correctly in conjunction with the population changes we made in Cyrodiil.
Combat and Gameplay
Templar

Illuminated recovery

Repent (Aura of Restoration morph): Fixed a residual issue where the effects of this skill would not disappear after resurrection.

Arms

Staff of destruction

Heavy attacks now restore magic when your target enemy blocks.

Two hands

Brawl (Cleaver morph): Fixed an issue where the damage shield of this skill was not reset to its correct value when you cast it twice in a row without the shield breaking.

Two weapons

Fixed an issue where your weapon could appear to disappear from your hands if you changed your weapons from your inventory.
Alliance War

Assault

Spikes: The visual effects of multiple ranks of this skill do not stack exponentially, which improves performance and effects displayed in large battles.
Dungeons and Groups
dungeons

Crucible of the Elders

Fixed an issue where Shadow Swamp Skeletons summoned by High Canon Oraneth would not confront you.

Madness Chambers

Fixed an issue where you would not receive credit for killing Ulguna Clive-Souls for the Oath or the Wind of Madness quest.
Wind of Madness: Gasteau will be able to complete this quest again after defeating the Architect.

Veteran Dungeons

Crucible of the Elders as a Veteran

Fixed an issue where you could not kill the leader and his minions after receiving the resurrection of a Soul Stone.
Quests and Zones
Desert d'Alik'r

March of the Ra Gada: You no longer need to interact with the shrines to summon the bosses for this quest. You just have to be near their spawn point.

Scree

Calm a Heart: You will no longer be prevented from completing this quest if you are the last in your party to search for the correct urn.

Estemarche

Frost Cave: You can no longer acquire loot from certain corpses in this cave.

Fangeombre

Trials of the Holy Scales: Fixed an issue where it was sometimes not possible to interact with Warriors you face in a duel after drinking Root Poison.
User interface
Mail

You will now have a confirmation window when you send a message with an attached subject or gold.
Diverse
General

Fixed an issue where you could crash into the Breach.