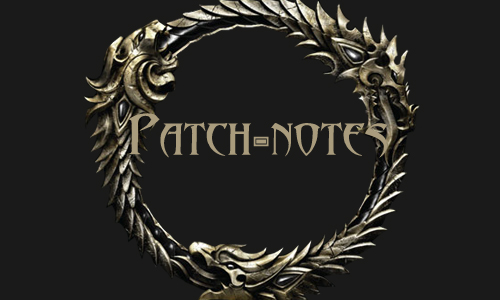 Wizards, especially in PvP, feared version 1.2 about the change to the Lightning Bolt spell. Well, they won't have to wait until 1.2 since the additional cost that is debated on the official forums will be effective as of today on our servers. Here are the patch notes:
GENERAL
Elder Scrolls Online version 1.1.4 contains additional fixes for gameplay and quests, as well as miscellaneous fixes, especially regarding achievements.
FIXES AND IMPROVEMENTS
Alliance war
General
Correction of a problem causing a performance problem - client and server side - in Cyrodiil on the two mega-servers.
Combat and Gameplay
General
Fixed an issue that resulted in support skills appearing grayed out on the hotbar if targeting a neutral creature, such as a rabbit or deer.
Alliance war
Assault

Continuous Attack: Fixed an issue where weapon damage for this skill would not display correctly on the character board after a loading screen.
Wizard
Call of the storm

Lightning Quickness: After using Lightning Quickness, the next use within 4 seconds costs 50% more.
Crafts and Objects
Enchantment
Adjusted the amount of inspiration required for rows 25 and 26 to have a more balanced curve between the two rows.

Note: This change will not cause you to drop a rank, no matter how much decrease you experience on this inspiration curve.
Dungeons and groups
hardship
Fixed an issue with treasure chests so that they can now be looted by more than one party member before disappearing.
Exploration and Objects
General
Fixed an issue where Veteran Rank Treasure Chests were not granting Veteran Rank Enchantment Glyphs.
Reduced Armor and Spell Resistance debuff for Wise Mage item set bonuses.
We have slightly reduced the drop rate for items in chests after completing Magical Anomalies in Raidelorn.
quests
Bangkoraï
Hircine's Gift: You will now be able to attack while in werewolf form during this quest.
Imperial Infiltration: This quest will no longer disappear from your quest log after discovering three spies.
The breach
The Fall of Sinmur: This quest will no longer get stuck in the "Kill All Worm Followers in the Area" step.
Oatmeal
The Lights of Meridia: You will now be successful if you choose to ally with the Warriors.
March of the Camarde
The Sorcery Division: You will no longer be blocked if you kill Einnel or Irgun before the announcer finishes the intro.
Raidelorn
Increased the reward in Veteran Points and Gold for the following Daily Quests: Magical Anomaly Crystals no longer grant experience or Veteran Points. The bosses that appear at the end of the magical anomaly remain unchanged.

Larda of Shada
Rahni'Za
Seekers Archive
Elinhir
Enchanted scar
Diverse
General
Fixed an issue where some quest achievements appeared to be gone after updating to version 1.1.2. Your success data was still present and was not tampered with, this was only a visual issue with the interface.
We will also notice a fix to Raidelorn which will prevent groups from chaining anomalies for a large amount of experience, since the experience gain has been reduced.