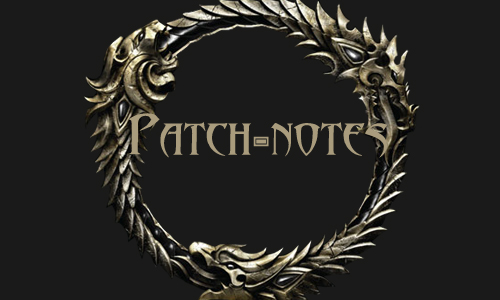 The game was recently updated to version 1.2.5. This version, in addition to fixing bugs for quests, interface and gameplay, sees the arrival of changes to the Veteran system to make it more accessible in solo. They also implemented performance improvements.
MAJOR CHANGES / UPDATES / NEW FEATURES
Veteran Rank Changes
This patch begins the first phase of our series of changes designed to improve the overall experience once you've crossed level 50. We have lowered the difficulty of the second and third alliance zones so that they are more in phase with the zones. from level 1 to 50. You will be able to continue the solo adventure more easily than before, although they will still offer a tall order. More changes are planned, so feel free to visit our site for more information.
CORRECTIONS AND IMPROVEMENTS
Alliance War
General
Fixed an issue where you could no longer repair another wall or door if you were already repairing a wall or door and it had recovered all of its health points.
Blazing Oil can no longer be used to deal damage to other characters through walls.
The new Alliance War Bounty quests have been reworked so that quest progress and monsters slain are credited to all party members.
Implemented a fix to slightly reduce server slowdowns in Cyrodiil.
Audio
General
Fixed an issue where, if melee and spell sounds were heard simultaneously, the melee sounds would be slightly offset.
Combat & Gameplay
Templar
Illuminated recovery
Tribute to the Fallen will now correctly restore Magicka if your target is over 50% healed.
Guilds
Warriors Guild

Silver Diamonds: Fixed an issue where this skill would trigger 100% of the time against werewolves while in their bestial form.
Crafts & Economy
General
You will now receive inspiration when mining Veteran Rank 11 and 12 glyphs.
Dungeons and group content
dungeons
Madness Chambers

Wind of Madness: Fixed an issue where Gasteau would no longer speak to you to advance the quest.
Veteran Dungeons
Darkshadow Caverns on Veteran

Fixed an issue with the Dwemer Challenge that allowed you to kill and loot monsters indefinitely without completing the challenge.
Diverse
General
Fixed an issue where visual effects and skills reduced your game's performance.
Fixed an issue where personal targeting skill effects would remain active indefinitely.
quests
Auridia
Towards Prime-Tenure: You will no longer be prevented from completing this quest if you complete and deliver the quests "Barriers Falling" and "Cut Bridges".
The Silent Village: Fixed an issue where the bears associated with this quest would no longer follow you after being enchanted.
Eye of the Ancients: You can no longer pick up the Welkynd Stone from Captain Maormer.
Oatmeal
The Mage of Joined Souls: Fixed an issue where you could no longer interact with debris to advance the quest.
Main quest
Worm Castle: Cadwell and the Slaves will now respawn if they get stuck.
Lord of Shenanigans: Fixed an issue where your soul was not spawning in Colored Chambers. We also fixed an issue that caused Molag Bal's Health to remain at 0%.
Fangeombre
Throw away the key: Jurni will now spawn so you can complete the "Bring Medical Supplies to the Tower" quest step.
Scree
Break the mirror: the altar is no longer blocked by an invisible object.
Protect the Room: You will no longer be stuck in the quest step "Defend the Room" if you kill the monsters too quickly.
Storm Haven
Relics of Azura: The Weaver of Vaermina will no longer disappear unexpectedly.INTERFACEGeneral

Fixed an issue where the EXP bar would not update after completing a quest.

Note: If you were affected by this issue, you would still receive XP. It was just a visual interface issue.

Fixed an issue where functions could not be bound to buttons 4 and 5 on Razer Naga and Logitech Wireless mice.

Group




Party members who tried to enter a different copy of the same dungeon as their party members were kicked out of the dungeon with no explanation message. There is now a message to explain the reason.