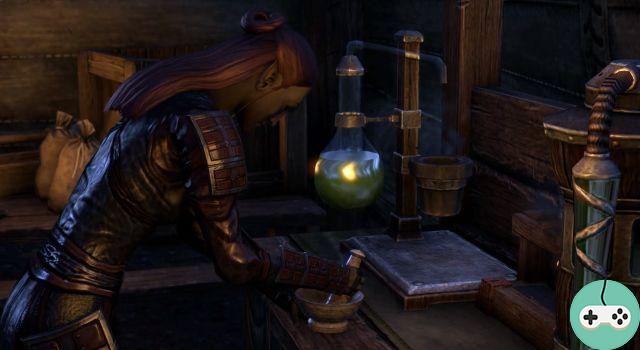 What could be better than a beautiful piece of equipment made by you, in the sweat of your brow? A beautiful piece of equipment crafted by you, with the sweat of your brow, and improved with a stroke! But what is a trait?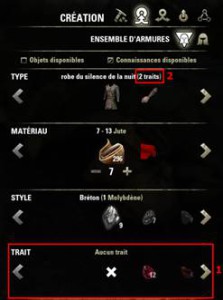 The line is the last possible customization parameter for the creation of a piece of equipment. By piece of equipment we mean weapons and armor (shield included). This is the only parameter that is optional. On the screenshot above you can see in 1 the area where you can select the line. The line has a double interest:
The bonus he grants, of himself, is significant.
Access to the creation of Sets (creation which is done in special craft camps) is subject to a certain number of traits specified in zone 2, according to the Set (ranging from 2 to… 8!). I invite you to redirect you to the guide published by thorspark: Making sets for more information on Sets.
What are the prerequisites for associating a trait with a weapon / armor?
Two requirements: to have learned the trait beforehand, and to have the precious stone corresponding to the trait.
Learning the stroke is done by doing what is called deconstruction / retro-engineering (in TESO, this is legal). First, you will need a piece of equipment that has already the trait you want to learn. And it will have to be sacrificed. By going to any workbench in your profession, go to the last tab (Research) of the craft window. There you select the item class concerned, you choose the trait to look for (the available traits are highlighted), you become aware of the necessary time when the stroke is released. And there, a window appears and asks you which of the objects already having the trait and being in your possession you wish to sacrifice. Select the item (which will be destroyed in the process). Validate, the search starts and… go for a walk. A long ride. Search time is always running out whether you're in-game or offline, so you can go and enjoy the IRL sun, too.
Items with traits can be of any quality and level. So instead, focus on deconstruction on your cheapest items, because don't forget, they will be destroyed in the process of research !
And so once the trait is known, it can be used as many times as you want, as long as you have the right stones. There are 16 stones in all. 8 for weapons and 8 for armor. Not jealous. These gems are obtained through deconstruction, loot in containers or drop on mobs. For weapons and armor, here is a small summary table: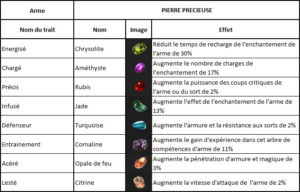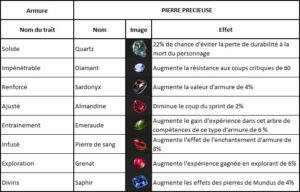 You are ready to go!
We are ready but it's long ...
Yes, the search for traits takes a long time. Especially if you are a collector. Because the search for a trait on the same item doubles each time:
first line : 6 hours
second line : 12 hours
third line : 1 day
fourth line : 2 days
fifth line : 4 days
sixth line : 8 days
seventh stroke : 16 days
eighth line : 32 days
I'm not giving you the thorspark calculations, more for fear of depressing you than of copying.
But luckily the devs thought about all those skill points you just didn't know what to do with. Identically, for the 3 tailoring skills Couturier, Blacksmith, Cabinetmaker (Woodworker is ugly) you will find a skill that allows you to add a location and reduce the research time at each level (3)
This time you are ready!
Mini Bonus
You will find here a small excel table. The usefulness of this table is to keep up to date the developed traits and / or the items that you have in stock and which will be used to be destroyed for research. Quickly, very quickly, in TESO you will find yourself running out of space. If you only play one character, this table will allow you to know which items you must keep, and which you can immediately deconstruct to increase your professional XP. And if you play multiple characters with different trades, you'll go crazy juggling and remembering who owns which item. You will not be able to store.
Small disclaimer: use the table, but do not print it! Crafting is done in quiet areas, so a little ALT + TAB won't cost you anything. Seriously, don't print it. There is really no need to kill trees unnecessarily. I know they are home to squirrels but leave the trees alone. We need them in coal-fired power stations to make electricity for our PCs!