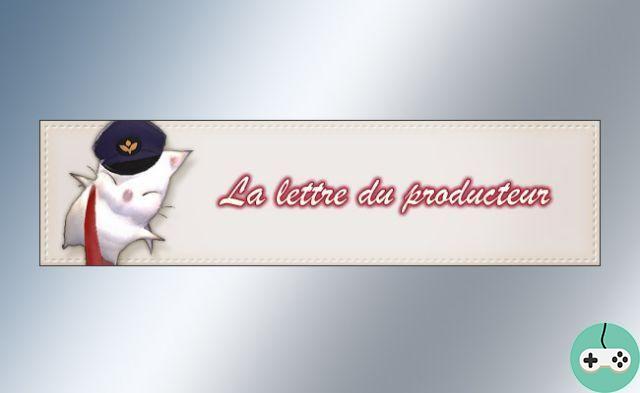 This 53rd Letter does not teach us anything new, but looks at the evolution of FFXIV, these small problems. A balance sheet for the end of the year in short.

53th Letter from the Producer
Hello everyone.
This is Naoki Yoshida, producer and director of FFXIV: A Realm Reborn. Today, I am delivering the 53th edition of my letter to you.
Despite a long wait, we have managed to bring you the first update of FFXIV: ARR, 2.1 called "A Realm Awoken". Although the development team and I are showing some signs of burnout, along with you we are walking through this awakened Eorzea.
Whether it is for you, who support us through the game, or for us, I have the feeling that 2013 has been a particularly long year. The alpha test started in 2012, followed by the beta test last February and the early launch that you enjoyed in large numbers around the world, and then let's not forget, the official release of the game in which you underwent a lot of inconvenience by our fault due to the clutter of the servers.
And to think that it's only been four months since official service started ... The passage of time can really be misleading.
In Update 2.1 we made a lot of gameplay additions and system changes, which unfortunately now causes some issues and maintenance. In addition, when it comes to the price of housing land, we keep an eye on the purchases of plots and make adjustments to the level of minimum values. We'll be sure to let you know as we make changes.
Three years have already passed since we reviewed the organization of the game's development in 2010.
I'm so relieved that we've been able to get through those three years to bring the game to you in its new form, and it's all thanks to all the Final Fantasy fans, all the FFXIV players, and the people in the media. Before that, as I was concentrating on game development and turning down interviews, I was not known at all, but just like the game, these three years have changed me completely. Without all of your encouragement and support I probably would never have made it this far and I will have surely given up by KO So I want to say a very big thank you to all of you. Really, thank you !
This letter from the producer also marks the end of our work for the year 2013, but in order to monitor the servers and ensure emergency follow-up, each of us will of course immerse ourselves in Eorzea as a Warrior of the Light (which doesn't really mean we're going to play ... but some Warriors of Light may stay in Eorzea ...)!
Once again, I thank you for your continued support during this year, and count on you for the one to come.
I look forward to seeing you in the next letter from the producer, or in Eorzea! See You Soon!