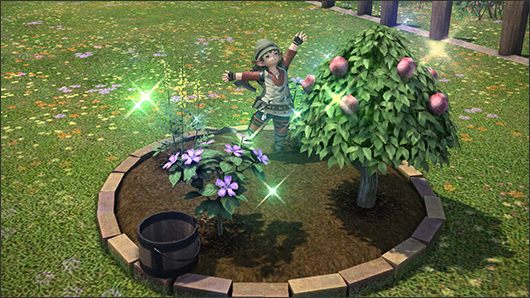 Gardening is, for some, strictly unnecessary. But hey, you still wonder what it is for. Well, with certain combinations of plants, we can gain access to certain resources not found in Eorzea. They also allow you to make crafts for the Mirage or even good meals for our adventures.
First of all, you have to set up a vegetable garden in your large company house.
Develop a vegetable garden
Vegetable gardens can be purchased from the merchants below and then laid out in the same way as garden furniture:
Mist (10,11)
Lavandière (11,8)
The Cup (11,9)
You have three different sizes:
Round vegetable garden : 4 locations
Rectangular vegetable garden : 6 locations
Luxury vegetable garden : 8 locations

Seeds
There are various types of seeds for gardening. They can be obtained by botanists. Seeds sometimes appear at fruit harvesting points. For example, Noscean orange seeds can be obtained where there are Noscean oranges.
For difficult seeds, as said above, a combination of seeds planted will yield other very rare seeds in the crop. Where to find these rare seeds:
Honey lemon seeds : harvestable from level 46 in botanist at 5am in Costa del Sol [Slot 1].
Prickly pineapple seeds : harvestable from level 46 in botanist at 9am in Costa del Sol [Slot 1].
Dzemael tomato seeds : collectable from level 46 as a botanist at 13 p.m. in Port-aux-Vins [Slot 1].
mold
It is necessary to use a particular potting soil for the different types of seeds. This substance can be obtained by minors. There are in each of the regions and at 3 different levels:
Noscéen soil : Improves the chances of getting high quality items when growing in the garden.
Sombrelinçois soil : Improves the chances of getting a bigger harvest when growing in the garden.
Thanalanese soil : improves the chances of obtaining hybrid products when growing in the garden.
Fertilizer
Fishmeal is made in the kitchen at level 5 with Limséen Anchovies. They are undoubtedly harvestable by fishing on the Martinet spot (level 10) in Western Noscea with Bloodworms (level 1) that can be purchased from the Tools NPC of Limsa Lominsa.
Limesean anchovy can be purchased from several vendors:
The fishmonger Holasfhis at Tillac, in Limsa Lominsa (10, 13).
The seller of free company housing materials.
Planting seeds
Select the location of the vegetable garden, then the seed and the soil.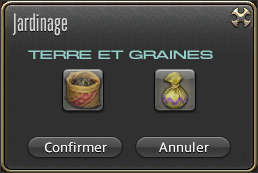 Cultivate
Once the seed is planted, it is necessary to put fertilizer and maintain the shoot so that it grows. The speed of growth and the time of harvest vary depending on the species cultivated.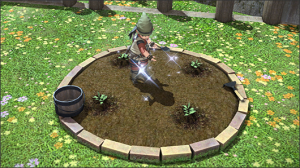 Apply fertilizer
This action accelerates the development of the plant.
Maintain the growth
This action consists of taking care of the plant and giving it water. If a shoot is not maintained, it will wither away.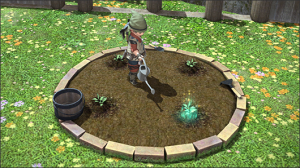 To harvest
Once a plant has developed sufficiently, it is possible to harvest. Depending on the care taken during gardening, the product may be of high quality (HQ).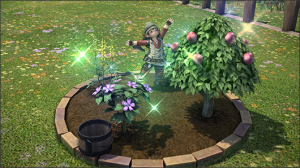 Hybridization
It may happen that seeds of a new type are obtained during harvest when different species are grown next to each other on the same vegetable patch. In addition, crosses can also occur between hybrid plants.
Here is a small table for a few combinations, there are still a lot of them, it's up to you to play and have fun making combinations.
You are finally ready to garden!