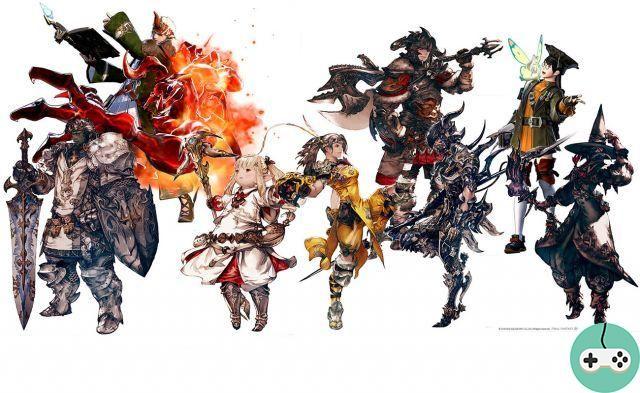 With the increase of the max level to 60, existing jobs have received new actions and even some modifications. The changes made to existing actions have not been detailed in the update notes.
We have updated all the Arsenal sheets and offer you a summary of the changes here.
Paladin
New actions
Nv. 52: Schiltron
Lv. 54: Gnawing Blade
Lv. 56: Divine Veil
Lv. 58: Clemency
Lv.60: Royal Authority
Modified actions
Lv. 12: Raging Blade
Lv. 30: Shield Riposte
Lv.40: Oath of the Shield
Guerrier
New actions
Lv. 52: Deliverance
Nv.54: Sape-fendeur
Lv. 56: Pure Intuition
Lv. 58: Balance
Nv.60: Décimation
Modified actions
Moine
New actions
Lv. 52: Slip Stance
Lv. 54: Meditation
Lv. 56: Field Elixir
Lv. 58: Sanitation
Lv.60: Tornado Kick
Modified actions
Lv. 4: Light Feet
Lv.30: Demolition
Lv. 35: Shoulder Strike
Dragon knight
New actions
Lv. 52: Fighting Litany
Lv. 54: Blood of the Dragon
Lv. 56: Fang-and-claw
Lv. 58: Spinning Breakthrough
Nv. 60: Geirsköqul
Modified actions
Lv.12: Powerful Breakthrough
Lv. 18: Breath of Life
Lv.30: Double Breakthrough
Ninja
New actions
Lv. 52: Smoke Screen
Lv. 54: Pierce Armor
Lv. 56: Shadow Manipulator
Lv. 58: Duality
Lv.60: Dream within a dream
Modified actions
Lv. 2: Absolute Dodge
Lv. 26: Wind Blade
Bard
New actions
Nv.52: Menuet du vagabond
Lv. 54: Empyrean Arrows
Lv. 56: Iron Jaws
Lv. 58: Pean of the Contemplator
Lv.60: Poisonous Wind
Modified actions
Lv. 30: Ballad of the Mage
Lv. 38: Flurry of Blows
Lv.40: Pean Martial
Lv. 45: Deadly Rain
Black Magus
New actions
Nv.52 : Manalignements
Lv. 54: Empowerment
Nv. 56: Enochien
Lv. 58: Giga Ice
Lv.60: Giga fire
Modified actions
Lv. 1: Ice
Lv. 2: Fire
Lv. 18: Extra Fire
Lv.45: Mur de Mana
Nv.50: Brasier
Summoner
New actions
Lv.52: Comb Bra
Lv. 54: Mega Ruin
Lv. 56: Tri-disaster
Nv.58: Transe-Bahamut
Lv.60: Inferno of Death
Modified actions
Lv. 10: Miasma
Lv. 30: Scourge
Nv. 46: Extra Miasmes
Lv.50: Galvanization
Mountain breaker (Titan)
Lv.20: Radiant Shield (Ifrit)
Lv.40 Blazing Shatter (Ifrit)
"Tri-Disaster" (Lv.40) has been renamed "Tri-Shackle"
Scholar
New actions
Lv. 52: Treatise on Perseverance
Lv. 54: Law of Boiling
Lv. 56: Deployment Stratagem
Lv. 58: Emergency Stratagem
Nv.60 : Dissipation
Modified actions
Lv.50: Law of Revivification
Lv. 20: Fairy Glow (Selene)
Lv.40: Fairy Light (Selene)
White Mage
New actions
Nv.52: Asile
Lv. 54: Mega Earth
Lv. 56: Seating
Lv. 58: Mega Wind
Nv. 60: Tetragramme
Changed Actions and Traits
Lv1: Earth
Lv.8: Shield
Lv.16: Improved Shield (Trait)
Lv. 22: Extra Earth
Lv. 30: Presence of Spirit
Lv. 34: Breastplate
Lv. 36: Improved Breastplate (Trait)
Lv. 45: Miracle
Lv. 46: Extra Wind
Lv.50: Extra Breastplate