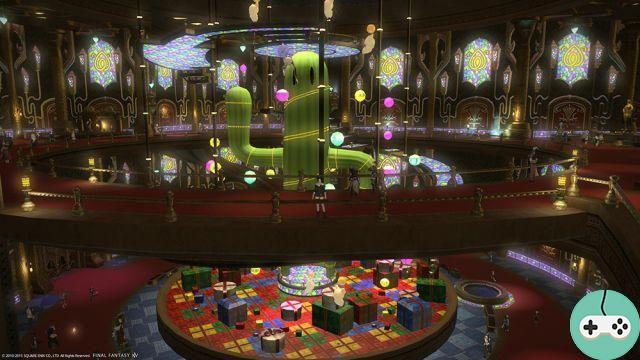 Yesterday was implanted the Gold Saucer in Final Fantasy XIV, bringing a new play area taking up the concept of a leisure park inspired by that of the same name of the famous Final Fantasy VII. For players who have not yet set foot in this complex not recommended for epilepsy, here are the important points to know to start at Gold Saucer!
Summary
Video
Access to Gold Saucer
Presentation of places
Currency: Point Gold Saucer
Rewards
Video
On the occasion of the release of the Gold Saucer, I started my adventure in these places on video! You can find it below and can see access to the Gold Saucer as well as a site visit.
Access to Gold Saucer
To get to the Gold Saucer, you will have to go to Ul'dah, in front of the Etherite Square where a lucky young man offers you the Destination Gold Saucer quest accessible from level 15.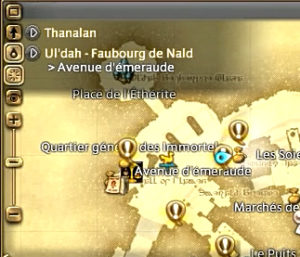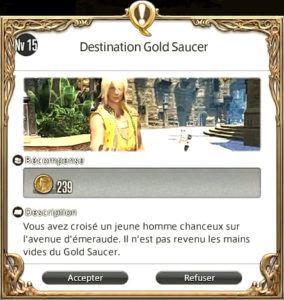 The quest will only ask you to go to Ul'dah Airfield through which you will be entitled to free and direct access to the Gold Saucer! You will no longer need to use this means of transport to get there, the Gold Saucer includes an etherite to which you can teleport.
Presentation of places
The Gold Saucer is a large uninstantiated resort offering a number of areas. The global map is defined like this: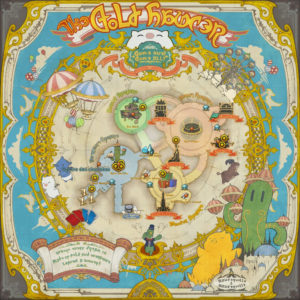 It is quite easy to visualize the various generally circular zones with corridors between each of them.
Lobby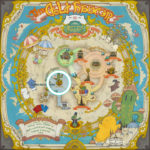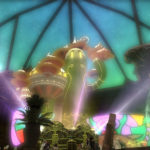 In the Reception Hall there are different NPCs:
Receptionist: he will welcome you upon your arrival.
Exchange agent: it will allow you to exchange your Gils for Gold Saucer Points (PGS), the currency of the Gold Saucer (see Currency: Gold Saucer Points).
Prize attendant: offers you items to exchange for PGS (see Rewards).
Cactpot Agent: it will allow you to participate in the Cactpot game of luck which is a mini-lottery of the scratch game type that you can play once a day (reset at 17 p.m. real time).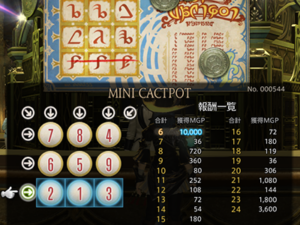 Cactpot
Northwest of the Hall is the entrance to Square Chocobo where the chocobo races take place.
Square of duellists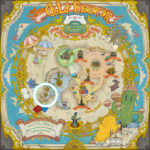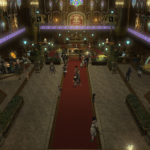 The games of Triple Triade, the card game added with the Gold Saucer, mostly take place at the Square des duellistes! A more in-depth guide to this game is expected soon.
Square of Wonders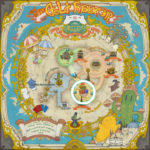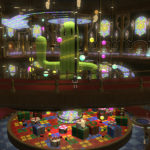 This Square is mainly frequented during certain JACTA (Creative Random Fun Type Game) events. These are special hazards that occur at specific times that are indicated by different event NPCs within the Gold Saucer.
Two mini-games are also available there: the Crystal Catapultour and the Bomb Launcher!
Square des spectacles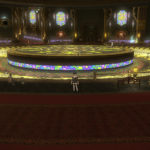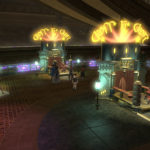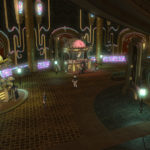 This Square is rather rich because different activities are offered there. The big central stage is subject to JACTA events but around it it is possible to participate in different games.
Concerning the mini-games, there is the Catch'Mog and the Gilg-a-Moche!

Mega Cactpot
Another location is also available where you can participate in the Mega Cactpot! Like the Cactpot, it is a lottery game but it can only be played once a week and consists of choosing 4 numbers and the operation is similar to the spanish lottery, your winning will be based on the number of good digits.
Square of the roundabout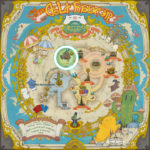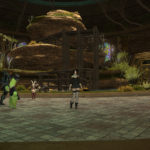 This area is only subject to JACTA events.
Currency: Gold Saucer Points
At Gold Saucer, it's all about Gold Saucer Points (PGS). When you arrive, you will be offered a few, but later you will have to get some yourself.
There are different ways to get it:
You can exchange them for Gils: 1 PGS = 10 Gils. You cannot use this process if you have a PGS number greater than 500.
Participate in Gold Saucer Activities: All activities cost PGS to be able to participate, but if you do positively you will get more back than you spent!
Be careful, you can convert your Gils into PGS, but the reverse is impossible! However, you will be able to buy lots exclusively recoverable with PGS.
Rewards
With the PGS that you will collect everywhere in the Gold Saucer, you will be able to buy various items from the Lot Clerk in the Gold Saucer Reception Hall. The lots offered are divided into several categories.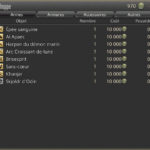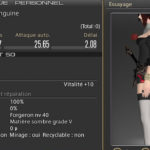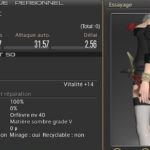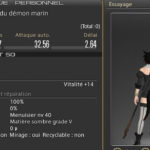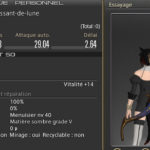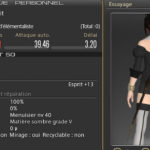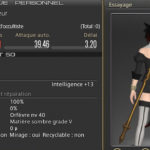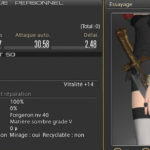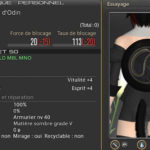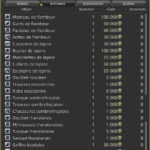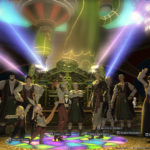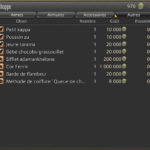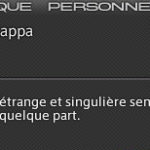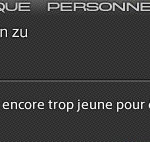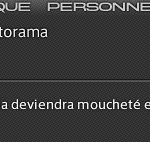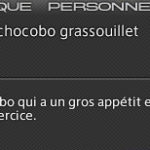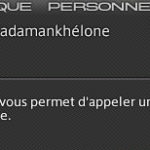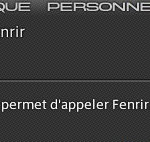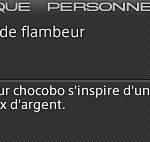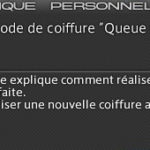 Here is the appearance of some of these objects: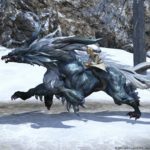 Col Fenrir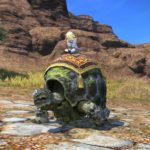 Adamankhelon whistle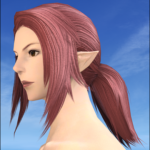 Hairdressing (woman)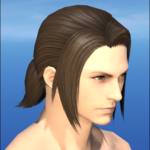 Hairdressing (man)
You will have noticed, you will have to spend some time at the Gold Saucer to be able to do big shopping!
I hope this overview of what Gold Saucer has to offer has been helpful to you. Other more in-depth guides on other points concerning it will be released soon.