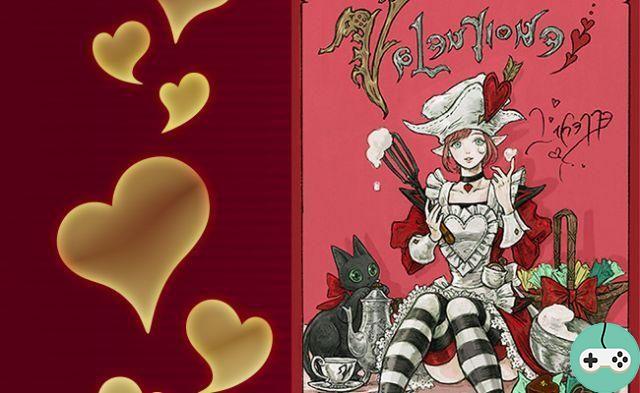 From Tuesday February 4 at 9 a.m. KST to Monday February 17 at 15:59 p.m. the Valention will take place. Love, chocolates and rewards are waiting for you!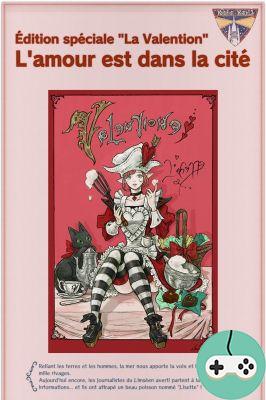 From courage is born love
Have you noticed the sweet scent that has been escaping the kitchens of the Limséens for a few days? Whenever I walk through the streets of the City, I can't help but peep through the windows to see what sweet delicacies are being prepared.
Many adventurers have made it to Vylbrand Island in recent moons and many are wondering why the silly smile spreads across the lips of Limsa Lominsa's men.
If our guys with strong character seem on a cloud today, it is simply because the season of Valention is approaching!
The Valention, kézako?
This event takes its name from a former Ishgardian Marquise, Arabelle de Valention, celebrated for having lived a great love at the risk of her life. It is in honor of his courage, which inspired many gallant worms, which we celebrate since the lovers, who offer each other chocolates as a token of affection, and this not only in Ishgard, but everywhere in Eorzea. .
This year, our City welcomes a distinguished guest in the person of Lisette de Valention. You guessed it, this damsel belongs to the line of beauty that once roamed the world in pursuit of true love. But why did this lady of high society choose to come and stay in a city renowned for its visceral aversion to nobles?
After all, the Limseans are free and indomitable people like the sea and they dislike the aristocrats and other big bourgeois who live by very strict principles. (Truth be told, it's only hackers who like them, and that's only for the purpose of robbing them of their possessions.)
It would appear, however, that our old sea dogs are not as indomitable as they claim. The beautiful Ishgardaise is also constantly harassed by three big fellows who fight to attract her favors. It would be almost laughable if it weren't so pathetic ...
I did not have the opportunity to speak to her personally, but from what I understood, Lisette would be looking for an assistant to help her with her work. I don't know the details, but I imagine it has to do with Valention.
With that, I'll leave you. My friend Yellow Moon gave me a chocolate recipe that I can't wait to try.
Hold up your hearts and long live love!
Yumah Molkot
Several reward items are planned:
Valentional Hat
Mitons of valention
Valention skates
Magic prism: right half
Magic prism: left half
An outfit for men:
Valentional Apron
Valentional Pants
An outfit for women:
Valention's apron dress
Valentional Skirt
To start these quests, you will need to contact Larsonient, which is located at Tillac in Limsa Lominsa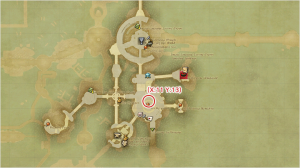 And for those who haven't found love, you might find your soul mate through Valention!