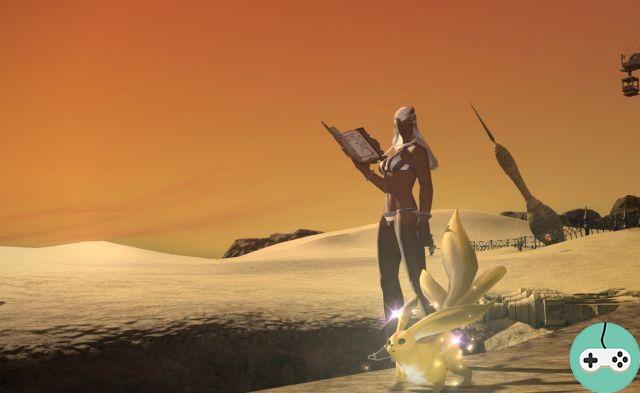 His mysterious codex is filled with runes allowing them to use magic and summon Carbuncle. Their arithmetic science originated from the southern islands.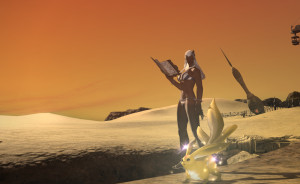 Arcanist Eledhwen Wynn on vacation.
Informations
Arcanist is a magic damage class.
The Arcanists' Guild is located in Limsa Lominsa.
The Arcanist can later unlock the Summoner and Scholar jobs.
It has two Carbuncles: Emerald for ranged magic damage, Topaz for tank behavior.
capacity
Lv1: Ruin
Lv. 2: Bacteria
Nv.4 : Invocation
Lv. 5: Medicine
Lv. 6: Aether Stream
Lv. 8: Energy Aspiration
Lv. 10: Miasma
Nv.12: Virus
Nv.15: Invocation II
Nv18 : Transfusion
Lv. 22: Resurrection
Lv. 26: Extra Bacteria
Lv. 30: Scourge
Lv. 34: Guardrail
Nv. 38: Extra Ruin
Nv.42 : Stimulation
Nv.46 : Extra Miasmes
Lv.50: Dark Eruption
Lv. 8: Improved Aether Stream
Lv.14: Improved Intelligence
Lv.16: Improved Intelligence II
Lv.20: Effectiveness of actions increased
Lv. 20: Improved Aether Stream II
Lv. 24: Ethereal Empathy
Lv. 28: Improved Virus
Lv. 32: Improved Intelligence III
Lv. 36: Improved Energy Aspiration
Lv.40: Effectiveness of actions increased II
Lv.40: Improved Aether Stream III
Lv. 44: Improved Guardrail
Lv. 48: Improved Stimulation
Gladiator Lv. 8: Flash
Gladiator Lv. 10: Convalescence
Gladiator Lv. 22: Taunt
Gladiator Lv. 34: Stagecoach
Elementalist Lv. 2: Healing
Elementalist Lv. 4: Wind
Elementalist Lv.8: Shield
Elementalist Lv. 12: Life
Hastmaster Lv. 6: Defensive Volley
Master of Hast Lv. 22: Motivation
Hastmaster Lv. 34: Thoroughbred
Marauder Lv. 2: Aguet
Marauder Lv. 8: Bloodbath
Marauder Lv. 26: Finishing Blow
Occultist Lv. 6: Lightning
Occultist Nv. 8: Stoicism
Occultist Lv. 26: Quick Magic
Pugilist Lv. 4: Light Feet
Pugilist Lv.8: Second Breath
Pugilist Lv. 12: Inner Release
Pugilist Lv. 42: Mantra
Carbuncle
In addition to his own actions, the Arcanist has a skill bar dedicated to Carbuncle:
Actions common to both Carbuncle :

Follow
return
Be pleasure
Expect
Defend
Passive
Free will
to obey

Actions dedicated to Carbuncle Emerald :

Gale
Ejection
Lv.20: Descending Blast
Lv.40: Shimmering Emerald

Actions dedicated to Carbuncle Topaz :

Claws
Sparkling Topaz
Nv. 20: Pelotonnement
Nv.40 : Charge