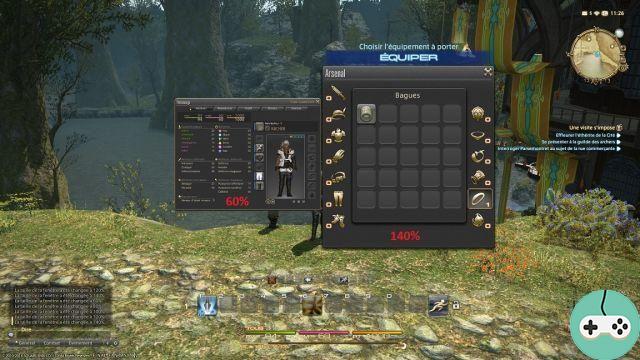 The term ATH (acronym ofAdisplay Tsummer Haute) comes from the acronym HUD (Head Up Display) in English. This is the option that allows you to modify the game interface (shortcut bar, chat, compass, etc.) such as the location but also the size of the tools. For the moment, it is not possible to modify the orientation (for the shortcut bars for example).
To give you an off-game idea, here's a HUD Simulator. Remember to translate the page to correctly select the Widget options.
It's all well and good, but how do I modify this ATH?
To change your ATH, it's very simple, you just have to go to the options System and select ATH.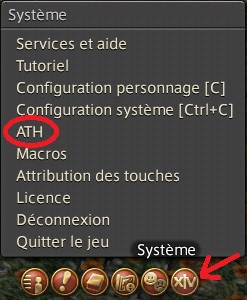 Once you have entered the ATH menu, you can directly move all the modules simply by selecting them.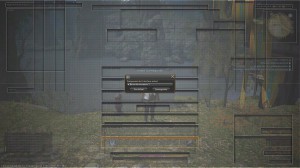 Not all display options are in ATH, such as being able to hide empty boxes in a shortcut bar, but we'll come back to that later.
I can move my tools but how do I change their sizes?
To modify the size of an object, you just have to make the key combination CTRL+HOME (default shortcut).

So you can change the size of your tool from 60% to 140%!

You can change the key combination in System> Key Assignments> System> Resize Window.
How do I change the location of my cat?
You have to exit the ATH editor and simply be on your normal game interface. Click and hold the general tab to move it where you want.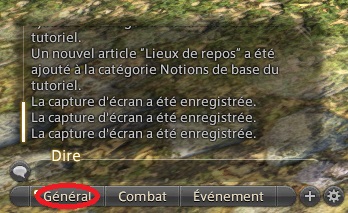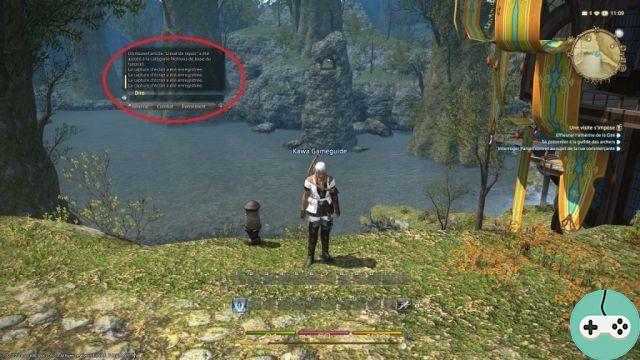 You can do this on your other tabs to, for example, display a combat log window at the same time as a chat window.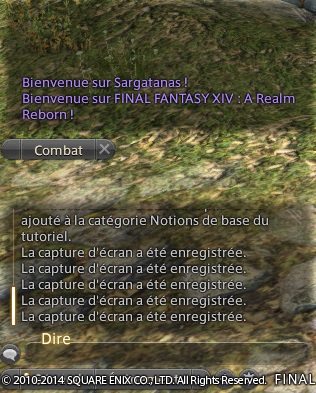 You can modify the log display options of the chat windows in the Character configuration> Log window menu.
And how do I change the options on my shortcut bars?
You still have to change menu to modify these options. This time, we will click on the nut located just to the right of our general chat window to enter the menu Character configuration.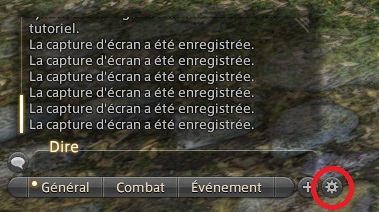 Once in this menu, you must select the tab Shortcut Bar.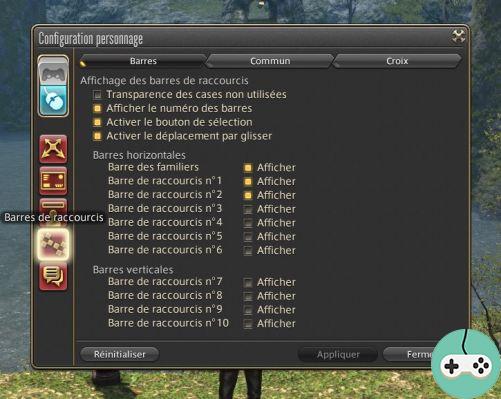 Here we see three new tab, namely bars / Common / Croix. In Bars, you can see the option Transparency of unused boxes.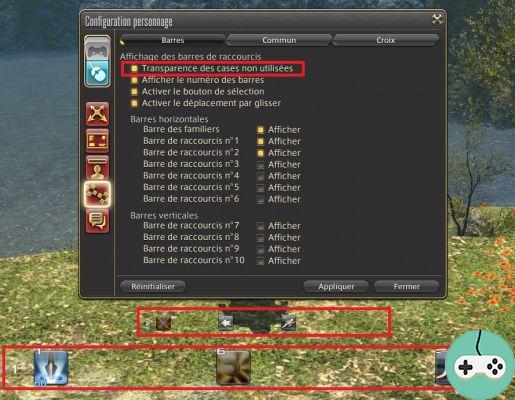 By the way go see in the tab Common, this allows you to have common shortcut bars with your different classes.
The size of some windows that you open when playing is really inconvenient. Moreover they are not in the ATH!
Absolutely, but you can just as easily change the size (from 60 to 140%) with the keyboard shortcut (by default) CTRL+HOME when your window is active.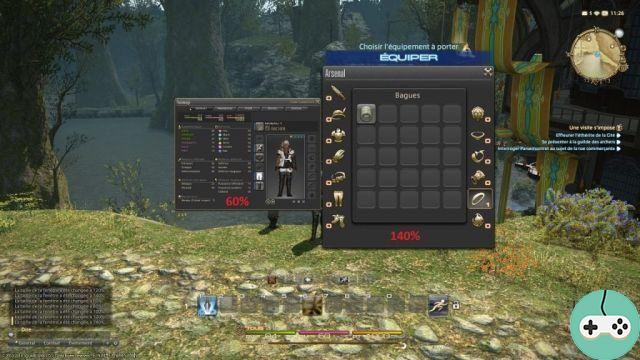 Here I have the interface of my dreams but if I change PC or character, I have to start all over?
Indeed, the options such as ATH, shortcuts, macros or even list of outfits are not saved on the server but on your PC. So if you change PC or character you will lose all changes to your UI / characters.
But you can retrieve these options in your folder DocumentsMy GamesFINAL FANTASY XIV - A Realm RebornFFXIV_CHR*************** . This folder is located right next to your Screenshot folder.
This is where all the options for your character can be found, ADDON.DAT being the file that manages your ATH. Useful for sharing your ATH with a colleague or copying it for another character.
I advise you to transfer your entire file to keep all of your character changes in case of transfer to another PC.
Conclusion
Finally I would like to add that there is no perfect ATH, there are only ATHs that look like you! I hope my little guide will help you make your gaming sessions more enjoyable or even more immersive.
What does your ATH look like?