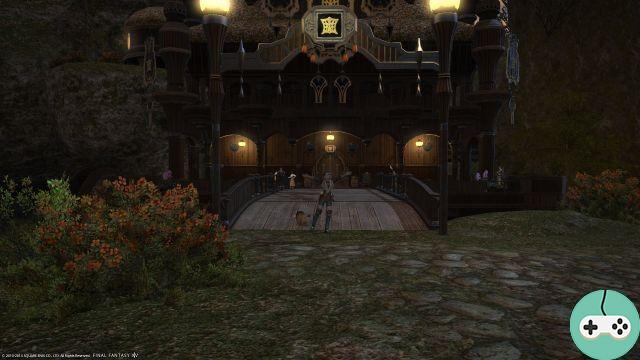 Today we will see the skin worker: the tanner. Be sure to check out the Crafting Mini Guide before reading this article. For information specific to the Tanner (location, spells), consult his arsenal sheet.
Class quests
As you already know, no matter what class you are going to take on FFXIV: ARR, you will have to complete a quest every 5 levels giving you gil, experience as well as a weapon (primary or secondary). ) and equipment.
Here is the list of quests to complete:
Nv 1: 1 Add
Lv 5: 3 Choker
Lv.10: 12 Rigid Leather
Lv 15: 1 Caligae and 1 Rigid Leather Choker
Lv 20: 1 Ibex Leather Leggings
Lv 25: 1 Toad Leather HQ
Lv 30: 1 Toad Leather Check HQ
Lv 35: 1 HQ Boarshide Strapped Paddles
Lv 40: 1 HQ Boar Leather Blacksmith Gloves
Lv 45: 1 HQ Raptor Leather Fingerless Gloves, 1 HQ Raptor Leather Targe and 1 HQ Raptor Leather Choker
Lv 50: 1 HQ Raptor Leather Jerkin set with Yield III Materia
Place of mandates
Nv 1/5: The bannock / Central forest
Nv 10: Brancharquée Ranch / Central forest
Nv 15: Hawtorne Hut / Eastern forest
Nv 20: Quarry mill / Southern forest
Nv 25: Quarry mill / Southern forest
Nv 30: Costa del Sol / Eastern Noscea
Nv 35: Observatoire / Coerthas
Nv 40: White Ridge Post / Coerthas
Nv 45: Find of Saint Coinach / Mor Dhona
List of mandates
Regarding the increase in experience, I advise you to focus on the mandates requiring leathers to be made. It is quite simple to do and relatively inexpensive. The ratio between the gain of the quest as well as the quantity made will give you much the same as warrants asking to provide an item of equipment for example.
Alternatively, you can also use theGames Managers tool regarding warrants to calculate how many items you need per tier!
To your knives and awls!