Since Naoki Yoshida took over Final Fantasy XIV, he has been addressing the community directly through letters. The 47th was released yesterday, here's what we learn:
The team works hard on all your feedback and the most pressing bugs. Many critical reports concerning in particular the PS3 were studied and the corrections were made.
Half of phase 3 of the beta has been reached! We will be able to test the mission tool. The 4 phase will arrive very quickly, the team is counting on it to check the stability of the servers over a long period.
Despite the dose of work, Yoshi managed to play a bit during phase 3 (I wonder when he sleeps) he explored the dungeons in Elementalist, mingling with the other players. No loot for him during these dungeons!
Yoshi will be present at the Japan Expo. He will present FFXIV: ARR and give interviews. He is not very enthusiastic about flying, but he is eager to meet the European fans again.

I take this article to let you know that Square Enix warns you against account theft. Many attempts have been reported. Fraudulent sites masquerade as the official site in order to retrieve your credentials. So stay cautious and follow the recommendations given here. And the news is running because we already know the date of the next beta phase that will start this
Friday July 5 at 11 a.m. in Spain
. As promised, during this beta we will have the opportunity to try the
mission tool
, a system for grouping together for the various missions in the game.
Note that the engagement tool may not be available at the start of this phase as the QA team is still testing the system. It can therefore be included during an update during the beta. We will know more soon!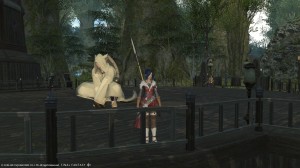 Patience, patience...
source
Find the 47th letter in its entirety here