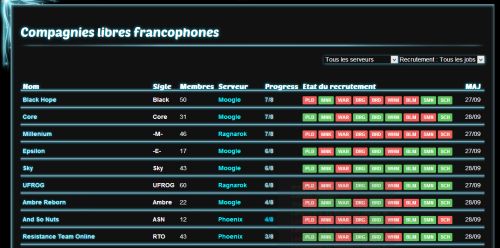 I was sent an email yesterday to introduce me to a tool created specifically for the spanish-speaking guilds of Final Fantasy XIV: Progress.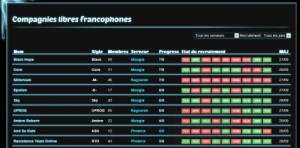 The idea is to offer a simple and practical listing of all the Compagnies Libres Fr with precise information such as:
the server where the Compagnie Libre is located
the number of members it has
its progress in PvE by stages (future stages will be added as patches)
the state of its recruitment by class
Although I invite you to subscribe to our own directory, you will certainly appreciate the additional features on offer, regardless of your player profile.
Solo players will be able to find a FR guild that recruits their class much more easily than by searching on different forums. He will then be able to ensure that the mentality of the guild corresponds to his expectations via the information he can read on FFXIV Progress. If this tool is useful for players looking for a guild, it is also useful for guilds looking to recruit. They will have the opportunity to gain visibility thanks to this clear and precise listing and will be able to keep other players informed of their progress in the game.
Finally, guilds like to know their position in relation to the whole community, it is also a way for everyone to know if they are in the average, a little above or a little below. Everything is a question of point of view and interpretation, each one plays at the rhythm that he hears, and does not have to judge the performances of others either (this tool was not created for this purpose). in any case).

For users just wanting to check it out, just click here. For guild leaders who wish to add their guild and keep it up to date, all you have to do is click on the Manage my free company button at the top right of the page. The rest is a snap, and if you still have any problems, please do not hesitate to contact us. You will have the possibility to leave a presentation of your guild there, as well as a recruitment message.
Do not hesitate to contact a guild if it interests you, this tool is there to make your life easier!