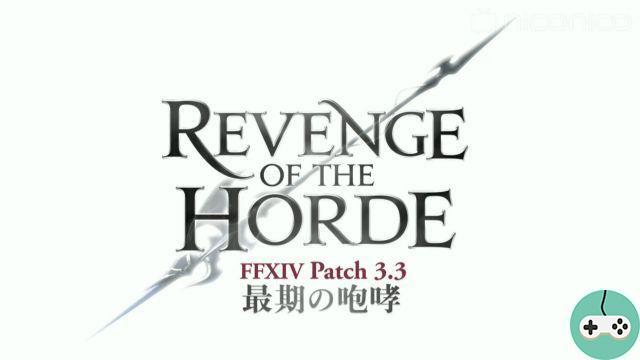 An event always eagerly awaited by the community of FFFIV players, this 29th letter took place during the Niconico Chokaigi 2016, in the company of the CEO of Level-5 and friend of Naoki Yoshida: Akihiro Hino. The latter did not come empty-handed!
Update 3.3 is immediately discussed. Entitled Revenge of the Horde (in reference to the Horde of Dravania), it will bring the continuation of theepic as well as side quests.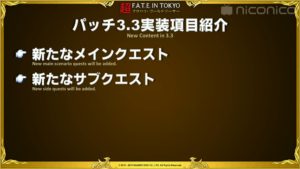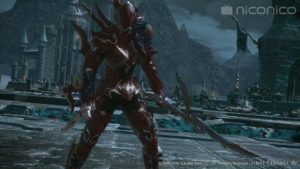 The side quests will have several themes with the Anima weapon first: we can modify their statistics (without having to resort to alexandrites and materia). There will be possible bonuses like getting a point or more than one at a time.
As expected, Hildibrand will be back to help his new adventure companion!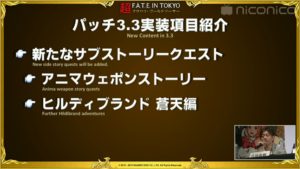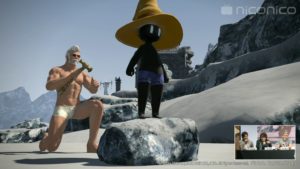 There will be new tribal quests featuring Mogs and Dragons. The reputation of the mogs is to be improved, as announced during the live at Pax East! With these quests, the team tries to bring them some love again. We will find the mogs of L'Écume Des Cieux De Dravania. Side rewards, there will be a mount. Hoping that the latter does not get lost like the mogs!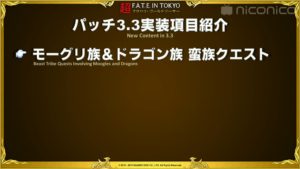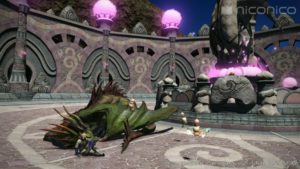 There will be two new dungeons : Sohr Khai, part of the epic and a brutal version of Krevecarene Island. The music will be from 1.0. From a historical point of view, the island is currently used for training. Two new challenges, about which we do not yet know much, will also be present!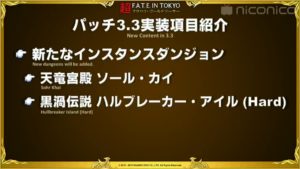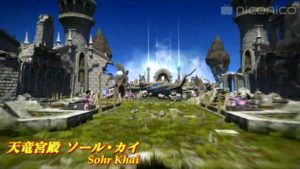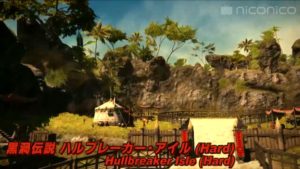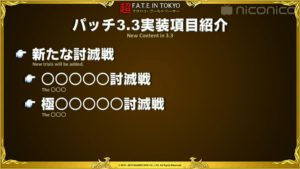 The suite of the ark of nothingness will also make an appearance! Entitled "The Weeping City of Mhach", this raid will have an environment that will change and evolve as you advance in it. This city was destroyed during the 5th Umbrella era.
En parallèle, the raid tool will allow you to choose various prerequisites in order to participate in them. It will be possible to choose several functions, for example, a request for training on the latter, choose on which phase you want to train or simply search for a team to accomplish the raids.
Akihiro Hino returns to the team finder, hoping that it can be inter-server too. Yoshida absolutely wants this to be possible and he hopes it will be added to 3.5.
Interaction between servers could be even more important since the producer-director wants players from any server to be able to communicate. Maybe by creating inter-server rooms to chat.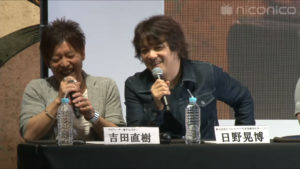 The Level 5 CEO explains that he completed A5 and A6 via Team Finder and believes the Raid Tool will help find players more easily. He takes the opportunity to ask if we will continue to have a Normal and Sadist version for raids. He had a preference for the more exciting Bahamut system.
Yoshida doesn't answer yes or no. In fact, this choice is difficult to decide. It was a shame that some players fail to complete Bahamut and therefore cannot access this part of the story.
A new option is being considered in order to give players a sense of accomplishment by completing raids. The fights and the equipment are fine, but Yoshi wants more cutscenes!
New question from Akihiro: will the sadistic versions have different equipment? Nothing is certain for the moment: different appearance of the equipment depending on the difficulty? Possible.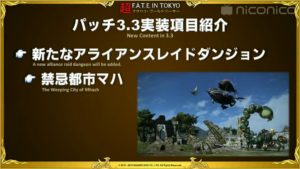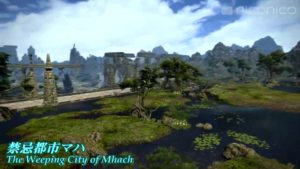 For those fond of PvP, a brand new card, Field of Glory, will also appear and make you fight in a snowy area!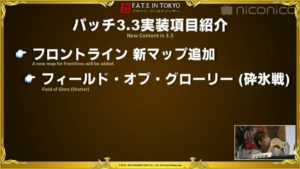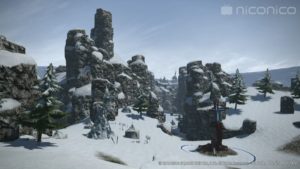 The treasure hunt will have a resurgence of activity, in particular thanks to the appearance of «Aquapolis», the "treasure hunt dungeons" area. It will be a dungeon that will appear randomly through the "Old dragon skin cards". Occasionally a door leading to Aquapolis may open (20% chance). This mysterious location will feature multiple rooms and require players to have to fight all enemies in order to get a reward! Up to eight players will be able to enter. Some rooms will open, others will not. Monsters will be able to escape and they will have to be stopped otherwise no treasure! On the loot side, we're talking about crafting materials for new recipes and other things. The structure of the dungeon is not random, only the rooms that open are.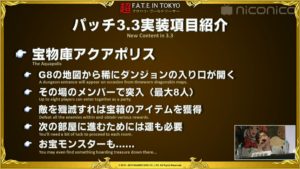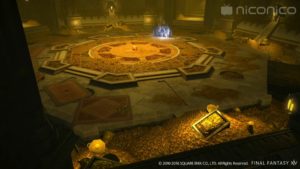 Great novelty that has already been announced during PAX is « The Deep Dungeon — The Palace of the Dead ». New information was communicated today in addition to the reminder of that already given.
This dungeon will be very different from those we currently know on FFXIV. Indeed, first of all, the environment will change as the players advance in it.
Second, the equipment. The latter, especially weapons, will evolve as you progress through the dungeon. Once these have reached their final stage, you will be able to collect them and use them outside the dungeon. Regularly, you will arrive in areas where it will be possible to use certain objects only in these specific places. In addition, throughout this dungeon, many surprises will await players, for example, transforming monsters.
You can also interact with lamps granting you a bonus or the opposite.
This dungeon also has the particularity of being carried out solo or in a group of 4 players. However, the difficulty will be the same and there is therefore little chance of survival if you go solo without having prepared in advance!
You will need to be Lv. 17 minimum to enter.
The dungeon will have "levels", allowing you to save your progress. If you are defeated, you will respawn at the last tier. And to top it off, special bosses will be present and some will have to be faced on several floors!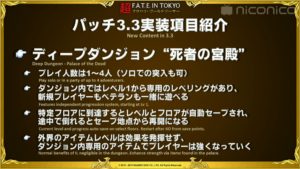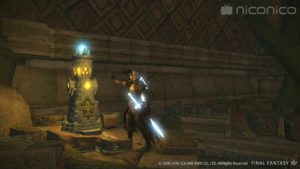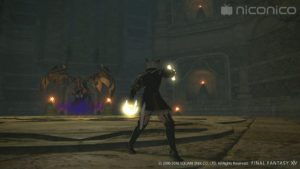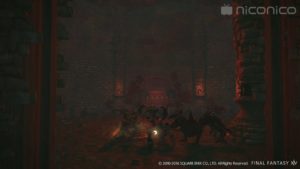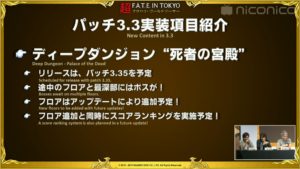 Adjustments will be made to housing with, in particular, an adjustment in the price of a large number of sites. There will also be new locations.
Planters are also making their appearance. They will allow you to collect flowers that will only be available in this way. However, Yoshi clarifies that this is not gardening and that it will not be possible to cross different species.
Akihiro Hino takes the opportunity to give his opinion: for him housing is great, there are beautiful objects but there is no real reason to go inside the houses.
The team is looking for a way to motivate people to visit other houses. This is a real problem for developers.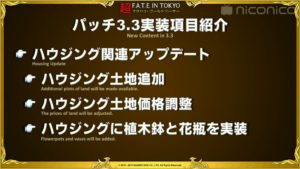 There will be new equipment for Hand and Earth disciples. The functionality to automatically equip the best equipment (according to its ilvl) from our inventory will be added.
Another small novelty to come: the possibility of saving different HUDs.
The next LL will come back to several points in more detail with perhaps a little more gameplay.
Yoshi then announces a collaboration with Yo-Kai Watch. An event will be available in-game with, at the key, equipment, a mount and a bunch of new pets.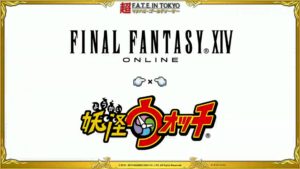 There is, for the moment, no precise date for the release of this event. The latter will take place "during the summer", at the same time as the release of the game Yo-Kai Watch on Nintendo 3DS. Yo-Kai Watch will host the Chocobo (with the attack: Chocobo Beat Rush) and the Mogs (with the attack: Ultinyan Magic).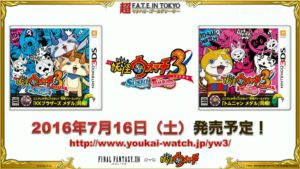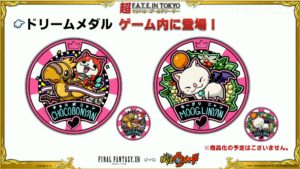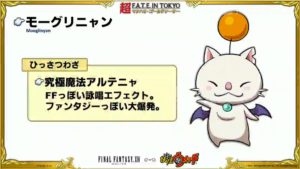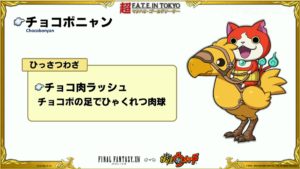 Yoshi informs us that the pets will be easy to get, but the weapons will be a bit more difficult. The first weapon will be easier to obtain, the others will take longer.
There will be medals to collect and exchange to obtain pets and armor.
Weapons - Tank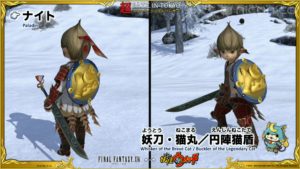 Paladin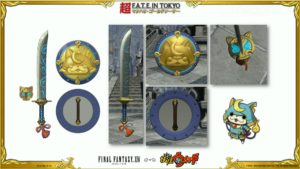 Paladin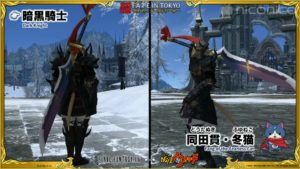 Black Knight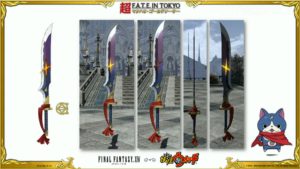 Black Knight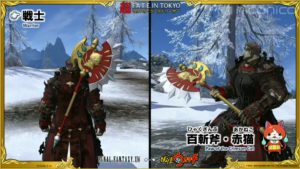 Guerrier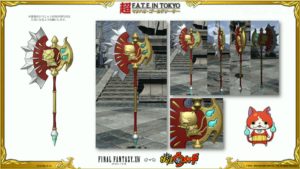 Guerrier
Weapons - Healer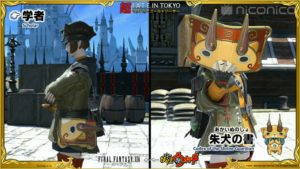 Scholar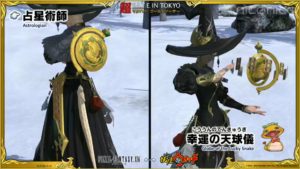 Astromancy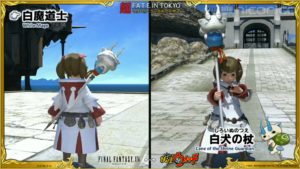 White Mage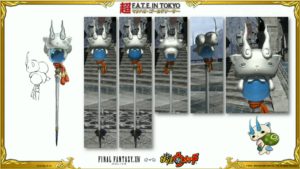 White Mage
Weapons - Damage Class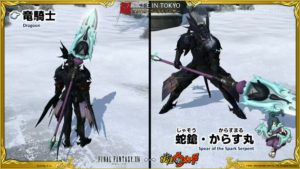 Dragon Knight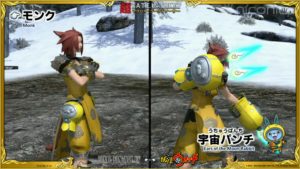 Moine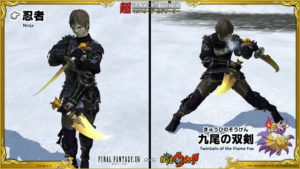 Ninja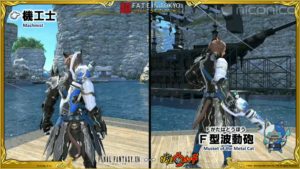 Machinist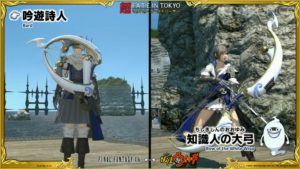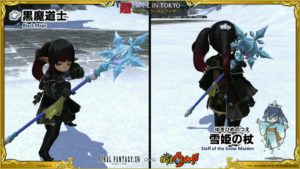 Black Magus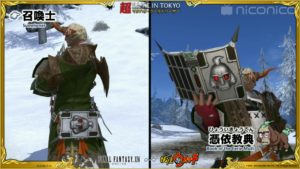 Summoner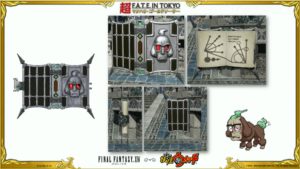 Summoner
Mascots
Blizzaria, Jibanyan, Komajiro, Komasan, Kyubi, Hovernyan, Manjimutt, Noko, Robonyan F-type, Shogunyan, Usapyon, Venoct and Whisper with 13 mascots for the 13 jobs of FFXIV!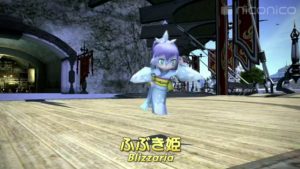 Blizzaria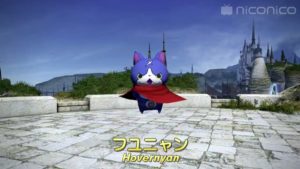 Hovernyan
Jibanyan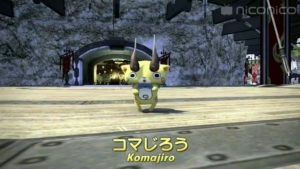 Komajiro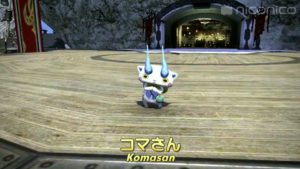 Komasan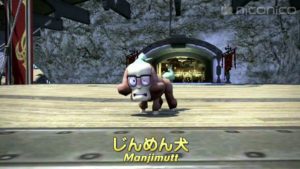 Manjimutt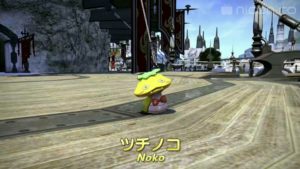 Noko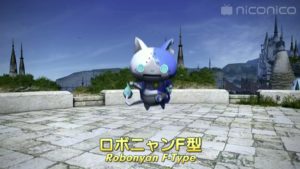 Robonyan F-Type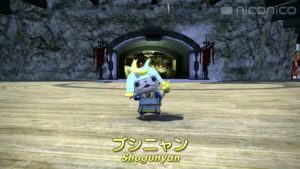 Shogunyan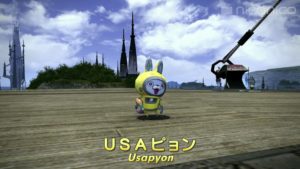 Usapyon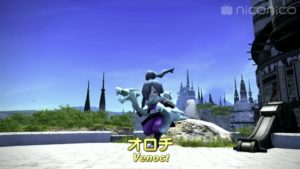 Hunter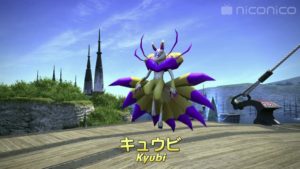 Kyubi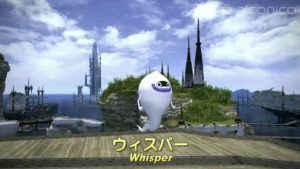 Whisper
Frame and Accessory
The watch was a must have accessory since it is important in the game / anime. It will also be required to do certain things during the quests ...
The mount will be obtained by having all the pets.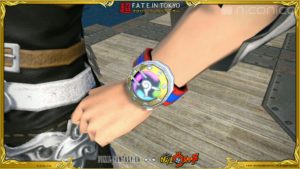 Accessory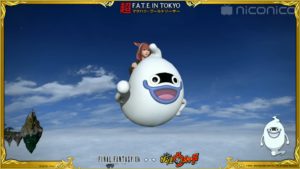 Mount
Of course, an event worthy of the name will explain to us what the Yokai do in Eorzea!
That's all for today, as for Pax East, Yoshida must respect the time slot for her show so no overflow! The second part of this LL is scheduled for May 22.
In the meantime, think of Naoki Yoshida on May 1st, it will be her birthday. He also received a Yokai medal from Level5.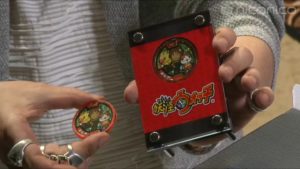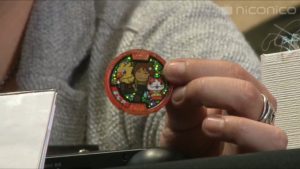 On Twitter, the update was talked about ...
Prepare for Patch 3.3—Revenge of the Horde! #FFXIV pic.twitter.com/QsivFKQC3h
- FINAL FANTASY XIV (@FF_XIV_EN) April 29, 2016
.@FF_XIV_EN Revenge of the... what? pic.twitter.com/W1MmQtbwvs
— World of Warcraft (@Warcraft) 29 avril 2016
.@Warcraft Don't worry, we are prepared. pic.twitter.com/dnYVR9JXF2
- FINAL FANTASY XIV (@FF_XIV_EN) April 29, 2016
Notes and Sources
This article was written by Azashar and Kathlyn.
sources:
Official translation on Lodestone,
Unofficial translation on Reddit
Dualshockers Videos