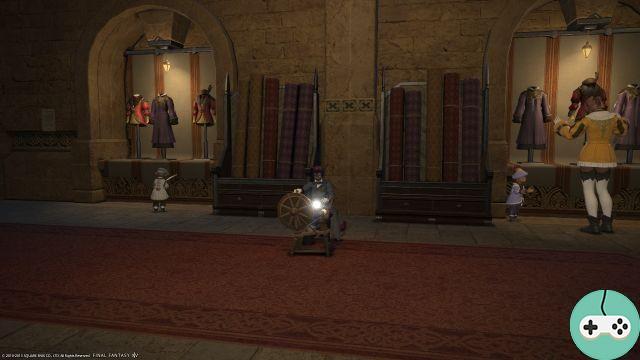 Often played by women, tailoring is one of the craft classes that make up Final Fantasy XIV: ARR. But what is it made up of? Be sure to check out the Crafting Mini-Guide before reading this article.
For information specific to the designer (location, spells), consult his arsenal file.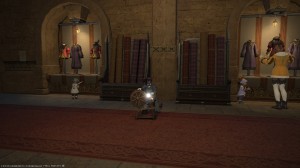 Class quests
Like any class in Final Fantasy XIV: ARR, every 5 levels you will have to complete a quest (not mandatory) but which will give you pieces of equipment, namely a tool (main or secondary) as well as a piece of armor:
Nv. 1: 1 * Hemp thread
Nv. 5: 3 * Braies
Nv. 10: 1 * Etoffe de chanvre
Nv. 15: 1 * Cotton Shepherd Kits + 1 * Cotton Scarf
Nv. 20: 1 Arming cotton doublet set with a random materia
Nv. 25: 1 * Etoffe de veloutine HQ
Nv. 30: 1 * HQ Velveteen Gaiters
Nv. 35: 1 * Chemise and lin HQ
Nv. 40: 1 * HQ wool tights
Nv. 45: 1 * HQ woolen Grégues + 1 * HQ wool bathrobe + 1 * HQ wool beret
Nv. 50: 1 * Bolèro de patricien HQ + 1 * Calot de patricien HQ + 1 Bas-de-corps de patricien HQ
Mandate
Place of mandates
List of mandates
As explained in the advanced guide, there are several ways to level up. Mandates are one of them. There are two places for the Mandates: the city where the guild of the class is located and the outside. The city where the Tailors Guild is located is: Ul'dah. External mandates are located at the following locations:
Nv. 1/5: Around point des scorpions / Thanalan occidental
Nv. 10: Horizon / Thanalan occidental
Nv. 15: Desiccated Bone Camp / Thanalan Oriental
Nv. 20: Quarry mill / Southern forest
Nv. 25: Quarry mill / Southern forest
Nv.30: Costa del Sol / Eastern Noscea
Nv.35: Observatoire / Coerthas
Nv.40: White Ridge Post / Coerthas
Nv.45: Find of Saint Coinach / Mor Dhona
To make it easier for you in your ascent of experience, here is the list of the different mandates by level with what you need as an object as well as the amount of experience per "normal" mandate.
Quick rise of experience
For those who want to quickly go up without breaking their heads, I have made several tables that will give you the number of mandates required per level. You will just need the help of a friend to provide you with the items for the different warrants (be careful, the items are in high-quality 100% more experience per returned warrant). From level 1 to 20, it will be necessary to use the mandates giving the most experience to maximize the experience / mandate ratio.
With this setup, you will have a perceived overflow of 9016 experience points.
Then, there are two main ways to get to level 50: either we use the mandates providing the greatest number of experience or we use the mandates stamped "Big Order".
If you have a good craftsman friend who can help you in your task, I advise you to turn to the mandates giving you the most experience (they will always be in Ul'Dah and will necessarily require you to travel to Eorzea) because they are more difficult to perform because they are higher level than the current level. Conversely, if you have no friends, turn to the "Big Order" mandates. They are more affordable in terms of difficulty and the number required per mandate, as well as the components to be made being in greater number, you may fail on some High-Quality renderings. This will have little or no impact on the total number of experience obtained.
With this setup, you will have a perceived overflow of 14416 experience points.
With this setup, you will have a perceived overflow of 48980 experience points.
If you have any suggestions on the next design class guides, don't hesitate!