In his 57nd letter, producer-director Naoki Yoshida returns to several recent issues in the news:
The new class and job: Ninja and Surineur, it was difficult for him to keep the secret of this addition until E3.
Hunting contracts : he explains in detail how the contracts work.
He confirms that 2.3 will be well established on July 8.
Find the full letter below:
56th Letter from the Producer
Hello everyone. This is Naoki Yoshida, producer and director of FINAL FANTASY XIV: A Realm Reborn. It has been a while since I wrote to you (really sorry!) But here is finally the 57th edition of my letter!
On the occasion of E3 which took place last month in Los Angeles, I had the chance to meet various people from the video game industry, the media, as well as many FFXIV fans with whom I had a great time.
It was also during this event that we unveiled the new superineur class as well as the job of ninja, and I must say that the reaction of the players was heartwarming to me.
Knowing my penchant for revealing too much confidential information in my media stints, the rest of the team pressured me for long weeks to hold my tongue out until E3 regarding the new job and its associated class. Now that all of this is behind me, I feel a lot lighter.  Of course, we still have a lot of work to do until we implement these new features in Update 2.4, but you'll have plenty to do with 2.3, trust me!
By the way, you have surely been able to see the special trailer presenting the many additions of this update entitled "The protectors of Eorzea", which also screened at E3. I have completed my personal checks, and thanks to the team's continued efforts, preparations are progressing well. Unless there is a big unexpected problem, everything should be ready for July 8th. Still a little patience !
I would like to take this opportunity to talk to you about 2.3. Between the new content, the practical improvements and the new items added, I'm sure you're in the middle of a discussion with your free company members to decide what to focus on first after the update is complete. Have you thought about the Hunt? Allow me to present to you in detail this new system which is particularly close to my heart.

Hunting is an activity where you can fight different types of monsters to obtain rewards. You will be able to complete hunting contracts which are displayed in the headquarters of large companies or even compete against "elite targets", such as for example the beautiful baby that you can admire in these pictures: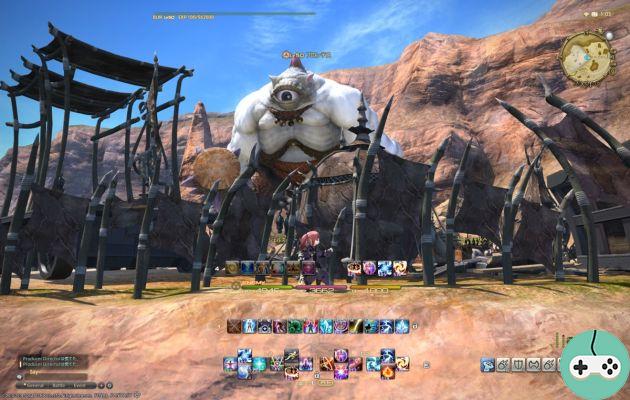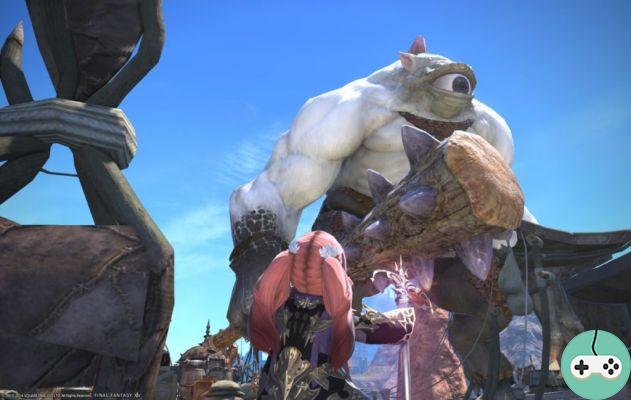 What do you think ? It doesn't look convenient, does it? (After taking these screenshots, I was reduced to a pulp by a big blow with a club, hehe.) Elite targets are extremely dangerous monsters and you will need to be very vigilant when you get out of the way. will measure up to them.
These enemies have a chance to appear in various locations in Eorzea when certain conditions are met or based on player actions. Speaking of which, you can learn more about these exceptional creatures from nearby NPCs.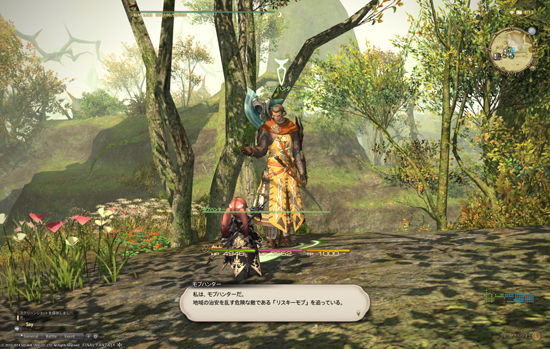 Make sure you get as much information as possible before you go on the attack!
Those of you who manage to defeat elite targets will be presented with "Allied Badges" which can be exchanged for various items at major companies.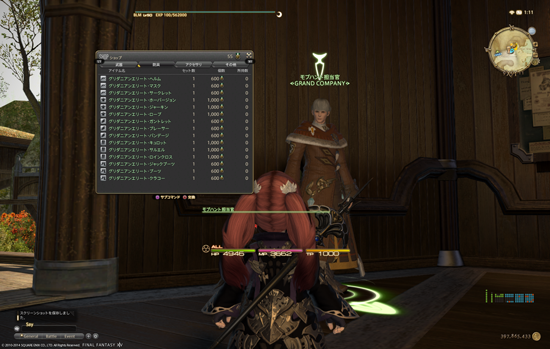 There's no limit to the number of Allied Badges you can get in a week, so don't hesitate to go hunting for elite targets, for the sake of Eorzea!
By the way, I've heard of your concerns about exclusivity on these monsters and the bickering that might ensue, so I wanted to reassure you that there are no restrictions and anyone can join the battle. at any time. As some elite targets have immeasurable power, it is strongly recommended that you howl to call for help from adventurers passing by. Moreover, I have heard that some particularly rare monsters can drop very interesting objects ... The number of participants does not reduce your chances of being rewarded, I hope that you will be able to collaborate to achieve victory!
Now that you have grasped the concept of elite targets, let me tell you about the Hunting Board and the Hunting Contracts displayed there.
In order to ensure the security of the territories in their custody, the large companies have decided to call on the help of adventurers. For this, they have placed contracts on the heads of monsters deemed harmful and will offer a reward to those who manage to defeat them. These contracts, displayed on the hunting board at the headquarters of each major company, are of two different types:
Hunting contracts, renewed daily (their content differs for each player)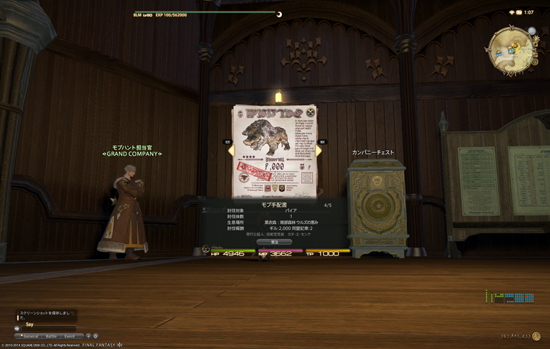 Elite contracts, renewed once a week (common to all players)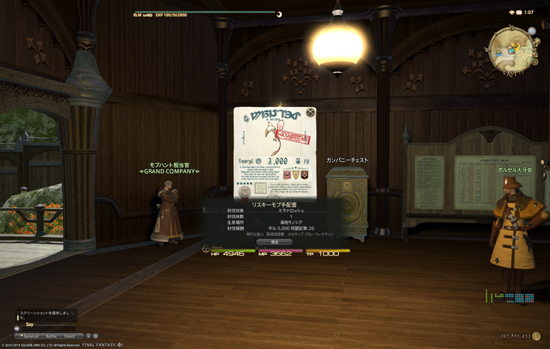 Hunting contracts are for ordinary monsters. There may be times when the boss of a FATE is targeted, but you will never be asked to defeat an elite target to get your reward. Elite contracts, on the other hand, will pit you against the less dangerous elite targets, and once the monster (s) is defeated, you will receive allied badges regardless of the type of contract completed. As these are renewed daily or weekly, you should quickly amass a large number of badges, as long as you play regularly. To sum up, you can go hunting for elite targets to earn an unlimited number of badges. allies (as long as you can live up to it ...), but those of you too busy to hunt down those enemies who don't show up easily may prefer to check the hunting board regularly to complete contracts and accumulate badges slowly, but surely. So much for the Hunt. I find it an interesting system that I hope will satisfy you, whatever your playstyle. Personally, I look forward to seeing a large number of adventurers allying themselves to succeed in defeating the targets of Most Fearsome Elite Of course, Update 2.3 isn't all about Hunting. As I write to you, the debate is raging in my free company to decide what novelties will be our priority. Going to let off steam on the Front, trying to be the first to defeat Ramuh Extreme, attacking the Crystal Tower or making a fortune through recycling, these are not the choices that are lacking ... For the moment, impossible to agree!
Between us, as I've been enjoying the pleasures of playing as a tank lately, I must admit that I would rather be interested in high level equipment to improve my character ...

In short, 2.3 will have something to keep you busy for a while, in my opinion! By the way, I didn't tell you, but I'm writing this letter from Paris, just before my return! I was passing through Japan Expo where we organized a Battle Challenge, the first to take place on spanish soil. I also had to answer 12 interviews in two days, so needless to say, I didn't have time to go sightseeing. On the other hand, I took great pleasure in meeting and exchanging with the spanish fans of FFXIV! Here it is for this time. I look forward to seeing you at the release of 2.3 to read the patch notes, then on the occasion of "FATE in SENDAI" in Japan, but perhaps also in the aisles of China Joy 2014.
See you soon!