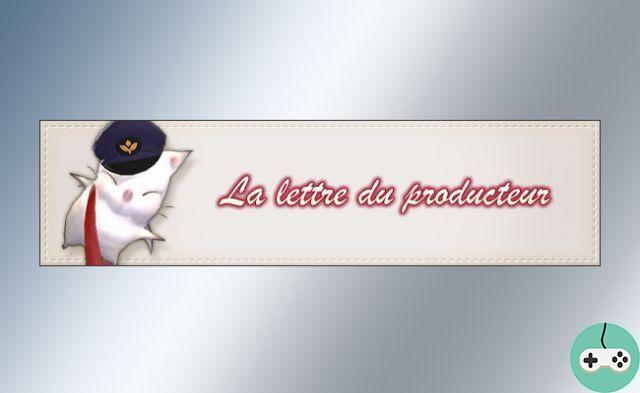 It's today that Final Fantasy XIV blows out the second candle of its rebirth, an ideal date for a letter from the producer!

In two years, a lot has happened: updates 2.x, Fan Festivals and the first expansion, Heavensward. Yoshi and his teams would like to thank all the adventurers who contribute to this great adventure.
After these few thanks, the producer-director talks about Heavensward: the fourth level of sadistic Alexander fell on August 24, it is the free company Elysium which won this first victory, followed a few hours later by Lucrezia. We learn that raids will now have two difficulty levels, normal and sadistic, as soon as they are implemented.
The letter ends with the Feast of Commemoration event which begins today. Have fun !
Find the entire 61st Letter from the Producer below:
61th Letter from the Producer
Hello everyone ! This is Naoki Yoshida, producer and director of FINAL FANTASY XIV. Today, August 27, 2015, we are celebrating the second anniversary of Eorzea's rebirth!
Since the official launch of the service, exactly two years ago, we have been able to bring you the series of updates 2.x until its conclusion, Fan Festivals on a global scale, which was particularly close to my heart, and finally the first expansion you've all been looking forward to, Heavensward.
All of this would not have been possible without the unconditional support of the Warriors of Light. On behalf of the development and management teams, I thank you from the bottom of my heart! I sincerely hope that you will stay with us to continue to experience exciting adventures.
Coming back to Heavensward, it's been two months now since the adventurers took over the holy City of Ishgard, and one month since the most reckless of you began to take on Alexander in sadistic fashion. I would like to congratulate Elysium, the first free company that managed to overcome the fourth level, on August 24 at 9:08 am (JST) exactly! Kudos also to the members of Lucrezia, who accomplished the same feat just 14 hours later.
The combat team worked hard to find the ideal balance for levels 3 and 4 and provide a worthy challenge to the best companies in Eorzea. I must say that we are each time more impressed by the efforts made by each of you and the unfailing coordination you show to meet the challenges that we present to you. Congratulations again to all! (I will never tire of watching the videos where you scream your joy at the instant of victory, I believe a new decibel record has been broken this time around, haha!)
As is the case with Alexander, raids will now have two difficulty levels upon implementation: Normal and Sadistic. In this way, we hope that both casual and intensive gamers can find something to their liking. Of course, we will always listen to your comments to offer you content that meets everyone's expectations.
And then, who says birthday says celebration of Commemoration! This year, we have prepared a somewhat special event that smacks of old FINAL FANTASY. The festivities begin today, I hope you have fun! (There was once talk of being able to "hit" certain characters, but the idea was fortunately abandoned ... You will understand by playing, ha ha!)
See you soon, and see you for the 2015 Tokyo Game Show. See you soon! ?