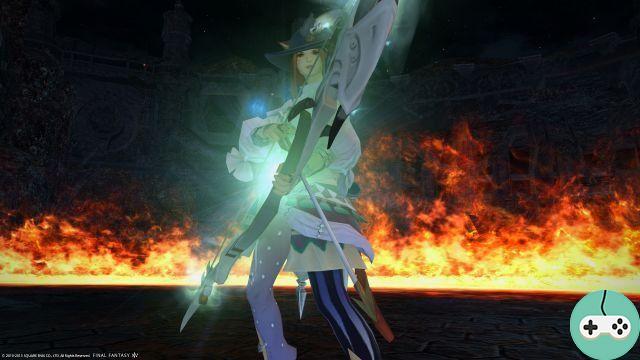 A festive atmosphere, music until the end of the night ... This is the scene that we imagine when talking about a Bard while they fully master their bow. In the past, their songs dispelled fear, served as a prayer for victory, and paid homage to fallen combatants on the battlefield. It is also rumored that songs could terrorize enemies.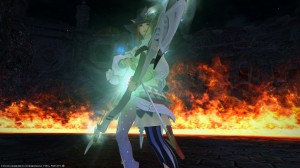 Informations
The Bard is a ranged damage job but can also provide support to the group through his chants (his Transcendence has the same effects as that of a Healer).
To unlock this job, you will need to be a level 30 Archer and a level 15 Pugilist.
capacity
The Bard has the Archer's actions:
Nv.1: Powerful archery
Lv. 2: Straight shot
Lv. 4: Furious Shot
Nv.6: Poisonous bite
Lv.8: Completion
Lv. 10: Shadow Shackle
Lv. 12: Bleeding
Lv. 15: Repelling Shot
Lv. 18: Lightning Bolt
Lv. 22: Quick Song
Lv. 26: Falcon's Eye
Lv. 30: Bite of the Wind
Lv. 34: Silent Strike
Lv. 38: Flurry of Blows
Lv. 42: Traumatic Arrow
Lv. 46: Flaming Arrow
Lv.50: Merciless Blast
And actions specific to the job:
Lv. 30: Ballad of the Mage
Lv. 35: Enemy Requiem
Lv.40: Pean Martial
Lv. 45: Deadly Rain
Lv.50: Combat Voice
Nv.52: Menuet du vagabond
Lv. 54: Empyrean Arrows
Lv. 56: Iron Jaws
Lv. 58: Pean of the Contemplator
Lv.60: Poisonous Wind
Lv.8: Improved Mighty Archery
Lv.14: Improved Dexterity
Lv16: Improved Dexterity II
Lv.20: Damage of actions increased
Lv. 24: Improved Venom Bite
Lv. 28: Improved Furious Shot
Lv32: Improved Dexterity III
Lv. 36: Improved Lightning Bolt
Lv.40: Damage of actions increased II
Lv. 44: Improved Flurry of Blows
Lv. 48: River of Blood
Hastmaster Lv. 2: Feint
Hastmaster Lv. 6: Defensive Volley
Master of Hast Lv. 22: Motivation
Hastmaster Lv. 34: Thoroughbred
Pugilist Lv. 4: Light Feet
Pugilist Lv.8: Second Breath
Pugilist Lv. 10: Haymaker
Pugilist Lv. 12: Inner Release
Pugilist Lv. 42: Mantra