Bahamut ... The very one who alone is the origin of the seventh plague that ravaged Eorzea. Its story is very interesting and also, quite important compared to the events that take place in A Realm Reborn and even Heavensward.
The next major update (3.4) will mark a turning point in the epic. Although we do not know the details, we do know that a connection to the famous Bahamut raid will be present. Moreover, the dialogs will change according to the progression player's personal in the Bahamut Raid, as announced on the third anniversary special.
On this occasion, and also because the players did not necessarily discover / realize the raid, I decided to tell the entire story of Bahamut as well as to show all the cutscenes of the 13 floors and the two cutscenes. conclusion of this magnificent epic. Of course, what will follow has many revelations as to the very history of Bahamut, its origin and the raid itself and part of the story concerns the epic of the game's V1, which does not is no longer available.
The cinematics of the Bahamut raid will be available on video. Quest dialogues taking place outside of the raid will be in writing. Good reading !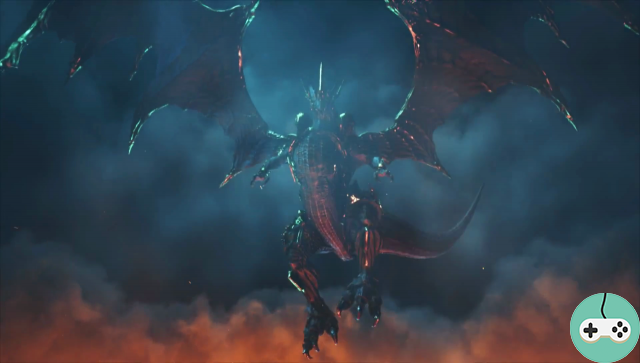 The genesis of Bahamut
Bahamut has not always been a priority. Originally, he was one of the Seven Dragons of the very first brood of Midgardsormr, the King of Dragons.
During the Third Astral Era, approximately 5 years before the Seventh Plague, Meracydia, a forgotten region south of Eorzea, was invaded by the Allagan Empire, led by Emperor Xande allied to Cloud of Darkness. . During this conflict, Bahamut perished during one of the invasions. Following her death, Tiamat, another dragon from the first brood (also beloved of Bahamut) mad with rage, causes all the dragons of Meracydia to summon Bahamut in the form of a Primordial to return. "To life" help his people. Unfortunately, the summoned Bahamut has nothing to do with what it once was.
Despite the efforts and the power of this "new" Bahamut, Xande and the Allagan Empire, with the help of the Ascians, succeed in mastering it thanks to a new Allagan invention, the Omega Weapon. Once captured, Bahamut is locked in an artificial satellite that the Allagan tomestones built in order to collect energy for their benefit. Thus was born Dalamud, the red moon.
In order to ensure that Bahamut remains in place, the Allagan Empire is building a huge network in the Dalamud, placing all the dragons there in a state of stasis they can, so that they perpetually summon Bahamut.
Final Fantasy XIV V1
The Allagan Empire is long gone and history has become legend. The origins of Dalamud have been lost and all believe that it is a real moon, which has always been present in the sky.
5 years have passed since, Garlemald's Empire controls most of the continent and wishes to invade Eorzea. He attacked, initially, the city-state of Ala Mihgo which quickly fell under the military power of Garlemald. The other three city-states, Ul'dah, Limsa Lominsa, and Gridania prepare for war, but Garlemald's Empire has encountered an unexpected army in Mor Dhona, a dragon army. Led by Midgardsormr himself, this army destroys Garlemald's largest warship, the Agrius. The Empire decides to turn around.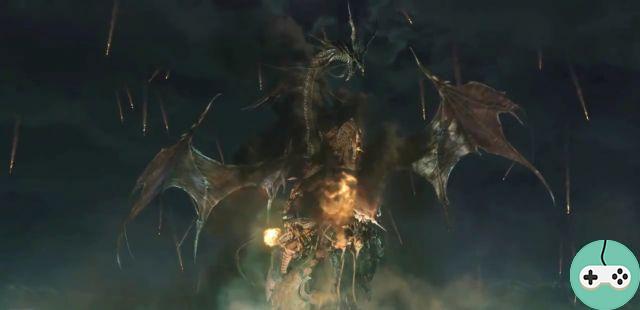 It was then that the general of the 7th Imperial Legion, Nael Van Darnus, decided to submit a plan to end it in a radical way: to burn down the whole region thanks to a meteor, and more exactly one of the two moons of 'Hydaelyn, Dalamud. This is how the "Meteor Project" was born.
If Nael offers this solution, it is because his family has a great deal of knowledge about the Allagan Empire. This allows Garlemald's Empire to build a lunar transmitter, Castrum Novum, in order to attract the Dalamud to Eorzea. However, faced with this growing threat, the City-States decided to re-establish the Large Companies and, thanks to valiant adventurers, the system was destroyed.
Unfortunately, the fall of Dalamud has already started and the destruction of the device has not ended its fall. Garlemald, or more precisely Nael, mad with rage following the assault on Castrum Novum and the destruction of the device, continues to do everything to carry out his plan and the Meteor project. Thanks to this, Nael builds a second machine on an island that she flies using Allagan technology.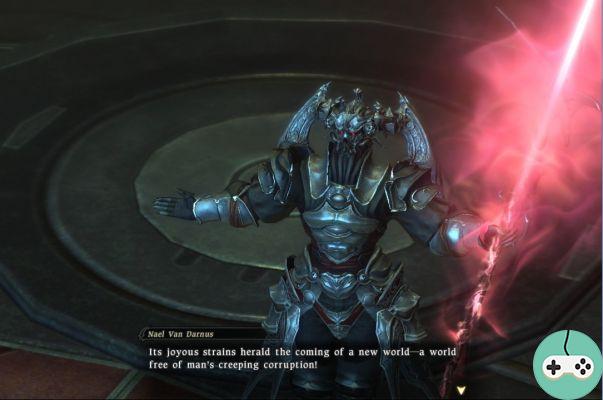 Cid Nan Garlond, one of Garlemald's most brilliant engineers betrays his country after learning about his projects (and in particular the Meteor Project) and decides to help the City-States in their battles against Garlemald. He builds an aircraft that he places at their disposal, thus allowing a group of adventurers to reach the floating island. The adventurers finally manage to defeat Nael and destroy the second device. However, the Dalamud is already too attracted and his fall can no longer be stopped.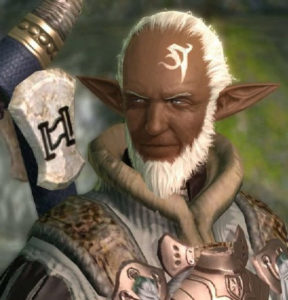 Louisoix Leveilleur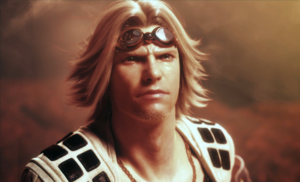 Cid In Garlond
Not knowing what to do, the three City-States decide to call on Louisoix Leveilleur, a great scholar from the City-State of Sharlayan. The latter proposes an extreme plan and which is not certain of success: invoke the twelve gods of Eorzea in order to stop Dalamud, namely Menphina the Beloved, Thaliak the scholar, Nymeia the Spinner, Llymlaen the Navigator, Oschon the Drifter, Byregot the Craftsman, Rhalgr the Destroyer, Azeyma the Guardian, Nald'thal the Traders, Nophica the Mother, Althyk the Contemplator and Halone the Conqueror.
However, this plan carries a huge risk for Eorzea as a whole. Indeed, to succeed in such a large invocation, an immense and massive amount of ethereal energy is required, which will weaken the earth itself. Unfortunately, Dalamud could cause much more damage and the only solution is to cure evil with evil. The second big problem with this plan is that the invocation must be performed at the point of impact of Dalamud: the plain of Carteneau, located in Mor Dhona. The very place where the whole Garlemaldais army gathers ...
A terrible battle ensued between all the City-States, the adventurers hired by the Large Companies and the Garlemald Empire ...
This is how the epic of FFXIV V1 ends ...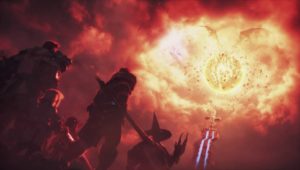 Five years have passed since the Battle of Carteneau and the mystery still remains as to how Bahamut was defeated, what happened to Lousoix, of which only fragments of his staff were found and above all, why Eorzea managed to escape. regenerate as quickly despite the attack on Bahamut and the invocation of the twelve deities ...
This is where the Bahamut raid quests begin, revealing the end of this story ...
The Labyrinthe de Bahamut

A New Threat
Urianger
The seventh sun ... the birth of a new star, of a new day. Do you remember the earthly cry that saw him born shaking the earth? We have studied the phenomena related to the Primaries of each region to understand the mysteries of the barbarian deities ... Among them, there are some that were unknown to us ... in other words, there is perhaps a new Primordial. The three Primordials already fallen returned to the ether. However, the first signs of the appearance of a new Primordial are being felt ... tremors make the earth dance, which resonates and rumbles more than reason. Many essences have joined the ether during previous operations ...
Yet each country seems not to have found the ethereal bond it should have. Each nation is still the plaything of the vile barbarians ... And faced with this growing threat, stands a brave young person, ready to defeat this new Primordial ... and this person asks for your help. Our manager agreed to this collaboration, especially since this person is not unrelated to the Heirs. Go find her in Port-aux-Vins, she is waiting for you there.
Alisaie
Good evening, happy for you ... Ah! We already know each other. You were at the ceremonies, weren't you? I am Alisaie Leveilleur. I heard about you through my twin brother, Alphinaud. I was waiting for you. You helped destroy the Ultima Arma, and defeated the black wolf, Gaius van Baelsar. You have to recognize that you know how to be effective. It is precisely for this reason that I asked Urianger to send you here. You can help me. And if I called you, it's because I want to know more about Castrum Occidens. The "Meteor" that caused the Seventh Plague five years ago has deeply impacted the earth. The ground still bears many scars of the disaster. The basement of the Castrum itself is crossed by a network of galleries. However, if Gaius entrusted the supervision of this Castrum to Rhitahtyn sas Arvina, it is precisely so that he invests these galleries. In other words, Occidens is not really an outpost ... On the contrary, we can assume that its raison d'être is the presence of these galleries. As you battled the Primordials, an unknown ethereal reaction manifested itself, and we noticed some particularly significant activity on the Occidens side.
The remains of the Meteor which sleep under the base are certainly related to these observations ... even to the presence of an unknown Primordial. Louisoix Leveilleur, my grandfather, called on the Eorzean Gods to stop Project Météore during the Battle of Carteneau, five years ago. Sadly, he disappeared into the light of the invocation, along with Bahamut, the Primordial came out of the Dalamud satellite ... and ultimately many questions remained unanswered after that fateful day. But I want to find these answers. To know what happened to my grandfather, to understand the secrets of the rebirth of our world ... and of the seventh plague. This truth, I will discover it, I swear it. Because that's how I want to protect Eorzea.
I want to mount an expedition and enter the heart of the ruins of the "Mark of the Meteor" to unravel its secrets. This is why I need your help. I want to conduct my investigation myself, without the Heirs or the big companies. I'm not sure I can count on them, after all ... I vowed to myself to stay true to my methods and not to compromise my principles. Despite everything, I am aware of my limits. If you are not afraid of danger, I would like you to help me. Would you accept to be my escort, my blade in this enterprise? I see that your reputation as a heroine is not misused.
I must say that I prefer people who act on the ground, like you, rather than those who try to use reason and politics to achieve their ends. Let's not waste time, then. I will first ask you to recognize and secure the route we will have to take to reach the basement once we have infiltrated Castrum Occidens. Once this work is done, you will have to report to J'brohka in Port-aux-Vins. This should not be a problem for someone who has overcome General van Baelsar ... It's up to you to show me the potential of the adventurers of Eorzea.
J'brohak
It seems you've managed to explore Castrum Occidens? Really, you are not usurping your reputation! If even the Empire does not scare you any more, then there ... Pardon, I get lost! I work for Miss Alisaie, although I am also a member of the Maelstrom for certain reasons. At his request, I was able to find a shortcut to the underground and I can guide you there.
Mademoiselle Alisaie prepares herself; when you are ready, come back to me and I will send you to the basement of Castrum Occidens! The "Mark of the Meteor", nickname of the galleries which extend below, is an unknown territory. They are claimed to be even more dangerous than the imperial bases themselves! Recruit seasoned comrades and prepare well before entering.

The Oath of Alisaie
Urianger
Ah, the triumphant return of the heroine of Eorzea! Miss Alisaie told me about your success. Mademoiselle Alisaie is the granddaughter of our master, Louisoix Leveilleur. I tried to warn her about the danger of this expedition, but it seems that everything went without risk. Thanks to the key you have collected, we can hope to open the door that will allow us to shed light on many mysteries.
Alisaie
Very well, so we'll come back to the results of our expedition. Urianger, you have things to tell us too, I think?
Urianger
While you were underground, an earthquake heralding a Primordial was felt. The epicenter was in the northern part of Thanalan, in the region of Mor Dhona ... more exactly, under the plain of Carteneau.
Alisaie
This is very curious. There is, however, no tribe having proceeded to an invocation, over there ... But then ... it was under the plain of Carteneau, that we saw Bahamut?
Urianger
It is a strong possibility, indeed.
Alisaie
We thought Bahamut had disappeared five years ago ... In truth, he had thrown himself into the ground, and was hiding here, under the plain, waiting for someone to wake him up again.
Urianger
This disturbance of the ether which we have followed ... If it came from the ground where Bahamut is located, that would explain several points. Bahamut, the ancient Primordial ... Aspiring the life of Eorzea into its underground lair, it will undoubtedly end up springing back to the surface ... and this time it will truly be the end!
Alisaie
We must not give up! I won't give up ... After all, my grandfather survived, too. Ah ... But then, is Grandpa down there to continue to contain Bahamut?
Urianger
What! Louisoix Leveilleur, alive !? It would be a miracle! It would be ... unexpected. But it's impossible ... He has yet ...?
Alisaie
I know I saw it! I'm sure it was him. He fled to the depths of the labyrinth, but ... There are two more Dalamud fragments stuck in the ground. I'm sure we'll see him again. We will find a way to infiltrate it, no matter what! And we will find grandfather!
Urianger
Well, even if we don't do anything, Alphinaud will not hesitate to go and do something interesting and let them know. He seems to believe that he will be able to rally all the peoples of Eorzea into a magnificent sacred union, anyway. Urianger, you must help me continue my research on Bahamut. We must find grandfather, and bring him back! Only then will the truth come out! You too are going to have to do. We will need you! Or rather, our world needs you. Because Eorzea is not yet out of danger ... She needs a hero to be her blade, and to slay Bahamut. Only then will she be saved. I have the impression that the atmosphere is different at Refuge des Sables ... I told Urianger that we had succeeded. Now, it's time to recap in more detail.
The Meanders of Bahamut
Plunged back into the abyss
Urianger
You have plunged headlong into this enigmatic Labyrinth which extends its galleries under the plain of Carteneau ... and thanks to your expedition, we have been able to dispel part of the mystery which surrounds these underground lands which shelter the terrible Primordial. But these revelations raise many new questions, as is often the case. And the abyss once again draws those who have the soul of explorers to it ... Today, a new destiny awaits them, to seek answers in the depths of the Meteor Mark. Mademoiselle Alisaie will be back soon, so it will be time to make a new start ... to lift the veil on truths intimately linked to the best kept secrets of our existence.
Alisaie
Sorry, I kept you waiting. I am happy to be able to count on you for this new mission. Without further ado, let's take stock of what we know about the remains of Meteor ... the Bahamut Labyrinth. We previously looked at the possible presence of a Primordial in the depths of the remains, and the only way to have an answer was to explore the galleries. As you will remember, in this vast underground maze we made a stunning discovery: not a new Primordial, but Bahamut itself, or what's left of it. And not only that, but we saw a man who everyone believed died in the cataclysm five years ago ... the hero who saved us, I mean Louisoix Leveilleur, my grandfather.
Urianger
As you know, Dalamud is an ancient remnant of the mythical Allag civilization. In the aftermath of this astounding revelation, I set out to ask Rammbroes, a distinguished colleague from the Saint-Coinach Foundation, if he knew more about the subject. According to him, Dalamud was created to accumulate the power of solar radiation and concentrate it towards the Crystal Tower. Using as its core the dreaded Ancient Primordial Bahamut, whose power was capable of generating a Megafission ...
Alisaie
Do you remember what we saw deep in the Labyrinth? The body of Bahamut, connected to immense Allagan installations, which was apparently being revived ... As in the documents of the Foundation, we too call these naves "Ragnarok type vessels" . However, these vessels apparently have a double function: on the one hand, to keep Bahamut prisoner in order to accumulate solar energy ... But also to maintain the Primordial ... that is to say to leave it permanently in a stable state between life and death, so that it does not disappear.
Urianger
So the dragon would have been a prisoner for thousands of years ... and yet this system still works.
Alisaie
Because something kept the Primordial alive, despite the total absence of faithful during all this time ... I think that the devices which are connected to it fulfilled this function ... Now, if it is only these ships that it maintain in our world, then it might be enough to destroy them to make it disappear.
Urianger
You noticed, during our previous expedition, that these vessels were three in number. However, one of them seems to have sunk into the Darkshroud Forest, and is connected to the remains of Dalamud.
Anaelle
Let's be discreet ... I am aware of Mademoiselle Alisaie's plans. I am currently lending my arm to the Order of the Twin Adder as a lieutenant. I suppose Mademoiselle must have informed you ... We want to ask you, this time, to explore the ruins of Dalamud by the entry point located at the sources of the Alder. As in La Noscea, we have reason to believe that formidable monsters are lurking there. One of my comrades is waiting for you near the fragments of Dalamud, southwest of here; he will tell you more.
Alisaie
My duty is to destroy these naves, for the salvation of our world but also to honor my grandfather and his fight.
Lambda NPC
An adventurer? What are you doing here? The place is infested with golems who have lost their masters ... you shouldn't linger. Ah! But you are ... forgive my mistake! Mademoiselle Alisaie informed me of your visit. Take a look ... Here are the places you will need to explore. This is another entrance to the Bahamut Labyrinth. The Imperials do not seem to have discovered this place yet, it is virtually unexplored ... no one knows what awaits you in these depths.
We just cleared the entrance to this underground universe, but we didn't venture further. I repeat: we do not know what you will find deep down. You will have to reach the control systems that must be somewhere deep in these meanders. That's all I can tell you. Mademoiselle Alisaie must have already arrived at the Raft of the Calabash. Return to Anaelle without delay. Prepare as much as possible and be very careful in the depths. Mademoiselle Alisaie must have already arrived at the Raft of the Calabash. Get back to Anaelle as soon as possible. Make sure you are prepared as much as possible, and be very careful around the twists and turns of these galleries.
Anaelle
So, Lady, have you seen the fragments of Dalamud? Even we soldiers by training had all the trouble in the world to clear this entrance. Know that the dangers that await you behind are undoubtedly even more formidable. Ah! Madem ... No, Monsieur Alphinaud! But what are you doing here?
Alphinaud
I learned through Urianger that a new expedition was on its way, which is why I came to speak with our friend. ... I can hardly admit it, but my dear sister had an even greater admiration for our grandfather than mine. This is precisely why she always goes too far when it comes to honoring her memory. Even today, she feels invested with the mission to save Eorzea, all because of the heritage of our ancestor.
Alas, I fear that his obsession will eventually win out over his sanity. If she relentlessly pursues our grandfather's ghost, Bahamut might just make her head spin, I'm afraid. My sister needs a deep reason to fight ... because an important decision awaits us in the future. Then we will have to know why we are struggling, and what we are willing to sacrifice, and that is a decision she will have to make on her own, without the support of our grandfather. That's why I'm in your hands ... watch over my sister.
If she has to find the meaning of her fight, it will be by your side. As was the case with me ... Now I must retire. I wish you success. By the way, Lieutenant, I count on your discretion ... I prefer my sister not to know of my coming here.
Anaelle
Mademoiselle Alisaie will soon join you ... Lady, my thoughts will be with you.

Inconvenient truths
Alisaie
We managed to resurface ... in North Thanalan, once again. Thank you again for everything you did on our expedition. I would like to ask you to report to Urianger, to the Refuge des sables. I will join you a little later ... I need to rest a little. I would like to ask you to report to Urianger, to the Refuge des sables. I will join you later, I need to rest a little.
Urianger
The triumphant return of the heroine ... I see that you have succeeded in your mission, once again. The naves which kept Bahamut between life and death, they sink and no longer float. But I can feel the turmoil clouding your mind ... Perhaps these wandering mood vessels have left you with some uncertainty deep in your heart. So tell me what's bothering you ... I see ... So the silver raptor has flapped its wings one last time. And you saw our master ... Or at least, what you believed to be Master Louisoix. His aether envelope was manipulated by Bahamut, as was that of Nael van Darnus, he had made them his subjugates.
But puppet that he was, facing the ghost of his own grandfather must have been a terrible ordeal for Mademoiselle Alisaie ... Even I, who was only the old man's disciple, would have been deeply affected. . Perhaps it is time to convince Mademoiselle to give up this fight ... She is far too young to carry such a burden.
Alisaie
No need to worry about me, Urianger. I have resolved to defeat our enemies at all costs. But let's go back to our discoveries.
Urianger
Very good. It seems to me that the highlight is the discovery of Nael van Darnus ... As you know better than anyone, Nael was supposed to have died five years ago, when Dalamud fell. You remember the transmission tower, don't you? Nael had built it in place of the Crystal Tower, to control Dalamud. It's a safe bet that it was by manipulating her that Nael found herself in the grip of Bahamut.
Alisaie
After thousands of years, Bahamut had finally succeeded in placing a new subjugate under its yoke. But even when Nael was defeated, Bahamut did not let her perish ... he retained the unhappy in this world, preventing her from turning into ether. Did Bahamut have others, subjugated? It's hard to know now. The cradle of cherished children that Nael spoke of ... Perhaps these were words tinged with madness ... but perhaps she was referring to other followers of the Primordial. I am intrigued by this ... It will probably have to be concerned if we are to deactivate all the ships ... and fight them.
Urianger
Miss Alisaie ... Are you ready to face again the one who was your grandfather?
Alisaie
I am more determined than ever. The salvation of my grandfather is intimately linked to the destruction of Bahamut ... I will try to find clues as to the possible existence of others, subjugated. You will be able to rest before our next expedition in the depths of our planet. We have to be on our toes, but for now everything seems to be going well.
Urianger
Even after five years, the loss of our master remains an open wound ... especially after what we know today. O master ... What did you not survive to show us the way today? Why are we doomed to suffer in search of answers? Where is this truth that escapes us? I have always believed that this quest for answers was my duty as a Sharlayanais. But if it is to plunge us into an abyss of suffering and dereliction, or hurt other people, then maybe I should step back ...
Alphinaud
Alisaie ... This decision is yours. If you are resolved, then you will have to use the key ... I mean the key to truth, the one we have, which neither belongs to the Heirs. A key is used to open the doors, but also to close them. Close a door on the past that Bahamut represents, for example ...
The abyss of Bahamut

Replies
Urianger
The seventh plague still holds countless puzzles, my friend. Whoever embarks on the path of the search for truth takes the risk of finding more new questions than answers. Many trials and sufferings await her ... But Mademoiselle Alisaie seems determined to continue on this perilous path. Armed, I hope, with a sharp blade in the person of a valiant adventurer of my acquaintance who will know how to defend her ...
Alisaie
Oh, there you are, too!
Urianger
Miss Alisaie! What are you doing here ?
Alisaie
I'm having some difficulty with preparations for the next foray into Ragnarok-type ships, but it's not progressing much. I wanted to ask you some advice ... Since is here, now is the perfect time. First of all, let's recap what we already know. As you know, the enemy to be defeated is Bahamut. During the seventh plague, he escaped from the star Dalamud by literally charring the surface of Eorzea. Bahamut was certainly defeated, but he is still alive. It is in fact under the plain of Carteneau, and unbeknownst to all ... it is regenerating itself through these naves. If he completes his recovery, it is very possible that he will come to the surface. That's why our duty is to defuse all Ragnarok-type ships. It is these Allagan tomestones that regenerate Bahamut and keep it alive.
Urianger
There is another way to hinder the resurrection of this monster. We must eliminate his faithful ... those who strengthen him with their prayers. Bahamut counted among its subjugates Nael van Darnus, general of the Seventh Legion of the Garlemaldese army, who had disappeared at the dawn of the Seventh Umbral Era only to return in subjugated form. You ultimately defeated Nael, but his words suggested there were still other worshipers left in Bahamut.
Alisaie
Yes, we know that there is still at least one other subjugated ... I mean my grandfather, Louisoix Leveilleur.
Urianger
Miss Alisaie ... The Master gave his life fighting Bahamut, all to avoid an announced catastrophe. His return in the form of a subjugated is only a fleeting trace of the past. Her words are deceptive, her speech is fallacious ... Her trapped soul must be in great difficulty seeing what has been done with her.
Alisaie
I know it well. And, whoever my opponent is, I will never back down! I must continue grandfather's fight and save Eorzea! It's the only thing I can still do in his honor! Unfortunately, my investigation has stalled ... There is no doubt a connection between the last two ships, but I have not found any way to penetrate the fragments of Dalamud.
Urianger
Perhaps you should inspect the surroundings of the fragments. Even if the way forward is not always obvious in the face of an ordeal, this confrontation sometimes reveals an unsuspected path. Unfortunately, as far as I'm concerned, I have to stay here, I'm waiting for a visit related to another matter.
Alisaie
Another matter ...? Finally, it is true that I could return near these ruins. After all, I haven't been there for a while. Can I ask you to come with me, then? The fragments in question are found in eastern Thanalan and Mor Dhona. Let's start with eastern Thanalan. The place is near the Glowing Wall. One of our men is already there, you can contact him.
Alisaie
Good evening. Did you manage to find an entrance to the Dalamud Shard?
NPC Lambda A
I'm sorry, Miss, but we haven't made a significant discovery, despite our intense research. The fragment may be quite visible from here, the topography of this area makes research difficult. There is obviously a strong ethereal current running through the basement, which must have been hit by the impact of the Dalamud Shard when it stuck in the ground. This caused a leak of ethereal energy. The ether which thus escaped from the breach turned into corrupted crystal and formed earthly structures all around the shard. These trainings make access to it extremely difficult. We are conducting our research as close as possible, alas, we have not found anything yet.
Alisaie
It's frustrating, but I guess I have to take my pain patiently. I hope you will find it soon ... I'm afraid looking at the fragment from here won't work. We had better go see the other fragment, in the valley called Pierrechantantes.
NPC Lambda A
Mademoiselle, if you will allow me, it just so happens that the soldier stationed at Pierrechantantes did not report on time. This place has been infested with ogres for a long time. Our man could very well have been the victim of a stroke.
Alisaie
How? 'Or' What !? All the more reason to get there as quickly as possible, then! Let's go to Pierrechantantes and find him as soon as possible!
NPC Lambda A
The place called Pierrechantantes has been infested with ogres for a very long time. Our comrade could very well have been the victim of an attack ... I beg you, save him and watch over Mademoiselle Alisaie.
Lambda B NPC
Thank you ! Ogres attacked me and I found myself stranded here.
Alisaie
I'm sorry you had to put your life in danger for the mission I gave you. Have you by any chance discovered the access point we were looking for?
Lambda B NPC
Ah! It's you, Mademoiselle Alisaie! My clumsiness forced you to move here! II am confused! The fragment I was inspecting is over there. As you can see it is sunk deep into the ground. Only a small part is visible on the surface. There is no opening ... Sure, we could dig around the shard, but who knows how many yalms we would have to go down before we found something? And this ground is gorged with crystal. Even with an Imperial-made drill, that would be a colossal job. My professional opinion is that it is almost impossible to hope to find an entry point at this location.
Alisaie
It is regrettable. What are we going to do ? As we strive to search, Bahamut is regenerating itself. Time is running out, and our chances of success are increasingly low ...
Urianger
Hello? Here Urianger ... Pardon me for using the Héritiers channel to contact you. During your expedition, I tackled another problem, and I may have discovered a way to get into the last ships ... I will explain the details to you face to face. Let's meet at the North Thanalan ceruleum factory, and bring Mademoiselle Alisaie with you.
Alisaie
What! Has he found an entry point? But how did he do it !? ... whatever! He wants us to meet him at the ceruleum factory ASAP, right? So on the way!
Lambda B NPC
Do not worry about me. I will fall back if you confirm that you have found a way to get into this fragment. Join Mademoiselle Alisaie to the ceruleum factory!
Urianger
Sorry to have you come from so far away ... This is the only place where I could implement this plan.
Alisaie
Here, in northern Thanalan, when there is no fragment of Dalamud in this sector?
Urianger
But there is a path beyond our visual perception. Do you remember that in the past you got out of a containment vessel when you came out here? This proves that a path exists, and that it is taken by ethereal currents. And it is precisely these currents that we are going to use to achieve what is commonly called "teleportation". It will really be a question of navigating the ether flows.
Alisaie
I see ... These Claws of Dalamud were connected to the naves by a current of ether! By going up the flow from the Claws, it is surely possible to access the remaining ships, then! Is that the idea?
Urianger
According to my research, there are only two avenues that are still unknown to us. There is no doubt that these are paths connected to the last two vessels. This is why I called on my knowledge of Sharlayan technology to set up a simplified etherite transport network.
Alisaie
It's wonderful, Urianger! Here it is, the entry point we were looking for! But why do you have the existence of this technique until now? I imagine this idea crossed your mind a while ago.
Urianger
... Let's say that I'm just paving the way, I'm just an emissary who conveys a message… To connect the different facets of truth together.
Alisaie
What do you mean ? However, there were only three of us investigating the ships: you and me. Hmm, let's get to the Dalamud Claws first. After all, as long as we can put an end to the regeneration of Bahamut, it doesn't matter where that idea comes from.
Urianger
I am only paving the way, I am just an emissary who transmits a message ... To connect the different facets of the truth together.
Alisaie
So these men are preparing the transfer etherite ... But, these uniforms, are they soldiers?
Alphinaud
They are Immortals, certainly, but before that they are servants of the Leveilleur family. You are not the last to use the services of the companies, am I wrong?
Alisaie
Alphinaud !! But what are you doing here !?
Alphinaud
I had to come. I asked Urianger not to say anything, but ... it was I who came up with the idea of ​​the etherite transfer, and who initiated the preparations for it. Rest assured, I will not mix political issues with this exploration mission. I know how much you hate them. And I agree that it is better not to involve the Eorzean powers in all of this, if we want to prevent things from taking a more complicated turn. On the other hand, everything must be done to stop the regeneration of Bahamut, if it continues. So you can think of this ethereal transporter as a service ... It's the best I could do personally to help you.
Alisaie
But then ... Urianger, you had already told my brother everything !?
Urianger
I'm sorry, Miss Alisaie. But ... you intended to confront Master Louisoix. Even if this Louisoix was only a puppet or an illusion, I judged that your brother in blood and soul should be warned of this project and this terrible reality.
Alisaie
Listen to me, Alphinaud! I will kill the subjugated that our grandfather has become, and put an end to the regeneration of Bahamut! You won't be able to stop me! I will save Eorzea in my own way, with or without your consent. These are grandfather's last wishes, and I will accomplish them no matter what!
Alphinaud
Grandfather, grandfather ... You only have that name in your mouth! But where are your own convictions in there? You never reveal them!
Alisaie
Stop playing the lesson-giver for a bit, Alphinaud! And then, you too, you affirmed to work for the salvation of Eorzea! Me, I fight to defend this land, like grandfather! That's why we left our homeland to come here, right?
Alphinaud
I haven't changed my goal. But you, my sister, you are only chasing the shadow of grandfather ... Is it really Eorzea that you want to save? And what Eorzea are you talking about? I am not sure you can answer these questions. Either way, stopping Bahamut is the number one priority. Even if, for that, we will have to face our grandfather, or rather the subjugated who lives in his body ... Alisaie ... would you accept that I accompany you? As a member of the Leveilleur family, I want to know what's going to happen. I have the right ...
Alisaie
If you want. But this battle is ours! Refrain from making comments.
Erkenrad
Miss Alisaie, my name is Erkenrad. I took charge of installing the Ethereal Transport Device. The transporter will be operational soon. I ask you to prepare yourself and your team. I'll be waiting for you at the ceruleum factory.
Alisaie
I will prepare myself, too. And fear not ... This operation is entirely my own decision. I'm sure I made the right choice, with you by my side.
Erkenrad
Ah, I was expecting you. Everything is ready for the transfer. The last vessels are connected to the fragments of Eastern Thanalan and Mor Dhona. You will be transported directly inside the ship thanks to the etherite device. Be aware, however, that its exploration will not be less perilous. When you have completed your preparations, I will start the transfer process. Your first destination will be the East Thanalan nave. I will pray for the success of your mission.
And if you want to try to tackle Bahamut, do not hesitate to browse our guides!