Long ago, the peoples of the East developed a whole panoply of secret methods to survive and protect their property during times of conflict. This is now called ninjutsu.
Skillfully using the energy that travels the sky, the earth and even the body of men, ninja perform their techniques through esoteric symbols. They are never transmitted except from teacher to pupil, in the hidden villages they have established in the depths of the mountains of their distant lands ... However, the presence of a common enemy could well lead them to share their secrets with new allies.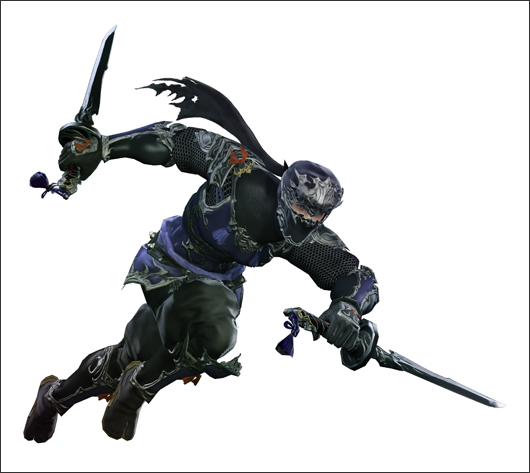 Informations
Ninja is a melee damage job.
To access the quest unlocking the job, you will need to be Stacker Lv.30 and Pugilist Lv.15.
capacity
The Ninja has all the actions of the Surineur:
Lv. 1: Spinning Blade
Lv. 2: Absolute Dodge
Lv. 4: Tailladant Whirlpool
Lv. 6: Wasp Kiss
Lv.8: Mutilating Attack
Lv. 10: Concealment
Nv.12 : Assassinement
Nv.15: Robberies
Lv. 15: Throwing Daggers
Lv. 18: Sting
Lv. 22: Sneak Attack
Lv. 26: Wind Blade
Lv.30: Viper's Kiss
Nv.34 : Jugulation
Lv. 38: Dancing Blade
Lv. 42: Fatal Rose Garden
Lv. 46: Shadowfang
Lv.50: Sneak Attack
And actions specific to the job:
Nv.30 : Ninjutsu
Nv.30 : Ten
Nv.35: Chi
Nv.40: Shukuchi
Nv.45: Jin
Nv.50: Kassatsu
Lv. 52: Smoke Screen
Lv. 54: Pierce Armor
Lv. 56: Shadow Manipulator
Lv. 58: Duality
Lv.60: Dream within a dream
Lv.8: Improved Dexterity
Lv. 14: On His Paws
Lv.16: Improved Dexterity II
Lv. 20: Vive Allure
Lv. 24: Improved Dexterity III
Lv. 28: Improved Sting
Lv. 32: Shadow Prowler
Lv. 36: Improved Wasp Kiss
Lv.40: Improved Viper Kiss
Lv. 44: Improved Mutilating Attack
Lv. 48: Improved Fatal Rose Garden
Master of Hast: Lv. 2: Feint
Hastmaster Lv. 6: Defensive Volley
Master of Hast Lv. 22: Motivation
Hastmaster Lv. 34: Thoroughbred
Pugilist Lv. 4: Light Feet
Pugilist Lv.8: Second Breath
Pugilist Lv. 12: Inner Release
Pugiliste Nv. 42: Mantra