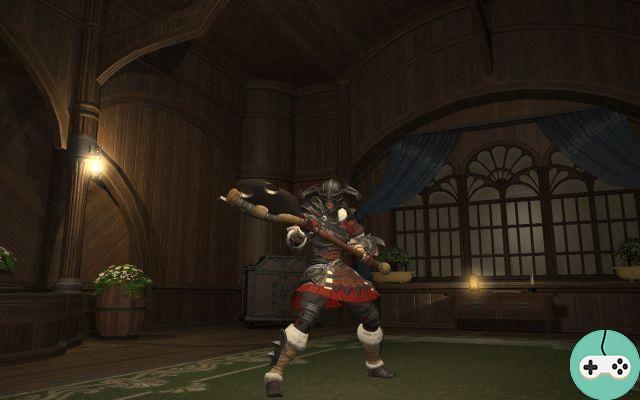 The Warriors originate from the mercenaries inhabiting the northern part of the Abalathia range. They are fighters who stop at nothing, reversing the outcome of many battlefields. As wars between city-states are no longer relevant, the profession is no longer as represented as it once was.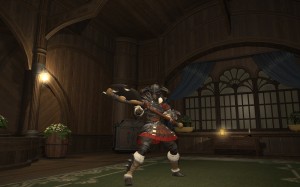 The Warrior Yoru Ashura
Informations
The Warrior is a tank job.
To unlock this job you must be a level 30 Marauder and a level 15 Gladiator.
capacity
The Warrior has all of the Marauder's actions:
Lv. 1: Mighty Blow
Nv.2: Aguet
Lv. 4: Skullbreaker
Lv. 6: Fracture
Lv.8: Bloodbath
Nv.10 : Swing Brutal
Lv.12: Domination
Nv.15 : Tomahawk
Nv.18: Mutilation
Nv.22 : Berserk
Lv. 26: Coup de Grâce
Lv. 30: Butcher's Block
Lv. 34: Thrill of Battle
Lv. 38: Cleaver of Justice
Nv.42: Holmgang
Lv. 46: Retaliation
Lv.50: Eye of the Storm
And actions specific to the job:
Lv.30: Challenge
Lv. 35: Inner Beast
Lv.40: Postage
Lv. 45: Iron Cyclone
Lv.50: Enrage
Lv. 52: Deliverance
Nv.54: Sape-fendeur
Lv. 56: Pure Intuition
Lv. 58: Balance
Nv.60: Décimation
Lv.8: Improved Vitality I
Lv.14: Improved Watch
Lv.16: Improved Vitality II
Lv.20: Improved Bloodbath
Lv. 24: Improved Vitality III
Lv. 28: Improved Fracture
Lv. 32: Improved Brutal Swing
Lv. 36: Improved Berserk
Lv.40: Improved Finishing Blow
Lv. 44: Thrill of Battle Improved
Lv. 48: Improved Mayhem
Gladiator Lv4: Savage Blade
Gladiator Lv. 8: Flash
Gladiator Lv. 10: Convalescence
Gladiator Lv. 22: Taunt
Gladiator Lv. 34: Stagecoach
Pugilist Lv. 4: Light Feet
Pugilist Lv.8: Second Breath
Pugilist Lv. 10: Haymaker
Pugilist Lv. 12: Inner Release
Pugilist Lv. 42: Mantra