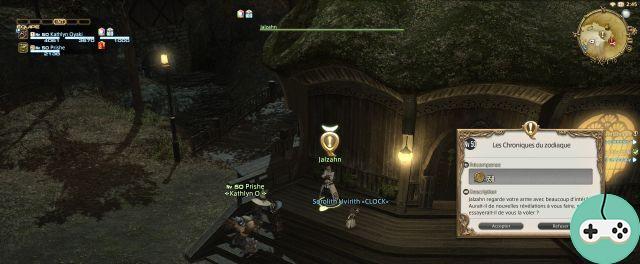 During your passage to level 50, you logically went to recover your relic weapon from Gérolt then transformed it into a more powerful weapon called Zenithean. Update 2.2 implemented two new quests to make this weapon even more powerful.

The Soul of Arms
This quest can be found in the northern forest from Gerolt (30:20). This one tells you the legend of the heroes of the zodiac and asks you to travel through Eorzea in search of the 12 Atma which can be recovered from any ALEA in the region. Note that you must be equipped with the Zenithean weapon to speak to Gérolt and that the follow-up of the quest can be found in the "completed quests / additional stories" part of your journal.
Noscea central: atma of the ram
Noscea occidentale: atma of cancer
Basse-Noscea: fish atma
Haute-Noscea: atma of Aquarius
Outer Noscea: lion's atma
Central Forest: Atma of the Virgin
Eastern Forest: Capricorn Atma
Foret du nord: atma du sagittaire
Western Thanalan: atma des gémeaux
Thanalan central: atma de la balance
Thanalan oriental: atma du taureau
Thanalan meridional: atma du scorpion
Once your quests are completed, go see Jalzahn in the Northern Forest (29:19) to change your Zenithean weapon to an Atma weapon. You notice then that nothing has changed except the iLevel and the color. Indeed, the only way to increase the stats of your weapon is to finish the second quest.
Legend
According to legend, whenever the world was threatened by Darkness, valiant fighters inhabited by the Light rose up to repel them. These heroes of old, known as the "Braves of the Zodiac", wielded weapons of unparalleled power whose brilliance shone brightly. A Near Eastern alchemist named Jalzahn dreams of recreating these "zodiac weapons", but he needs an assistant to help him in his task.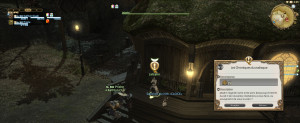 The chronicles of the Zodiac
If you thought the first quest was long, know that the second is just as long. Mastering the Animus weapon requires a very special education for which you are not yet prepared. But luckily for you, a number of manuals are available from G'jusana in Mor Dhona for only 500 martial martial arts. Each book brings you a gain of 2 points on a statistic defined in advance by it. So all you have to do is chain the dungeons together!
Once a book is in your pocket, open it by right clicking. You will then notice that nothing has happened. Indeed, as if that was not yet long enough, you are asked for each book to kill 10 monsters 10 times, to complete 3 dungeons, to recover the gold medal on 3 ALEA and finally to accomplish 3 mandates. Once your journey is complete, the weapon is automatically increased. Repeat the operation with the other books to improve your weapon as much as possible. Once the nine books are finished, return to Gerolt to change your Atma weapon to an Animus weapon.
For those who don't like to count, know that the Animus weapon will keep you occupied for a while:
4 Martial
900 Enemies
27 Dungeons
27 ALEA
27 mandate
Good luck!