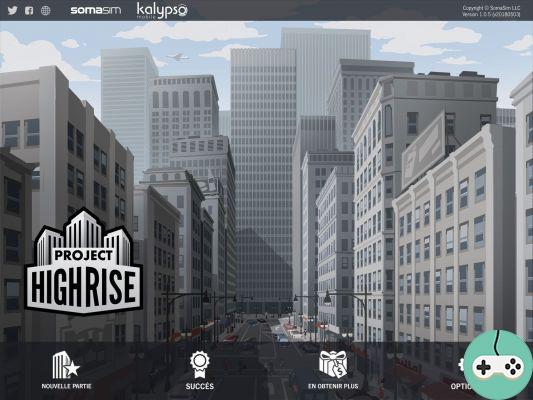 Released in 2016 on PC, Project Highrise is a skyscraper construction and management simulator that returns to the forefront with its release on Android and iOS tablets in mid-April. I was able to test the game in its iOS version on an iPad Air 2.
Game modes
At launch, the player has three possibilities: tutorials to understand the basics, the sandbox to create buildings without constraint and scenarios to build with semblance of quests.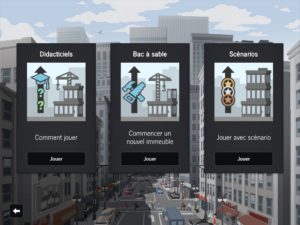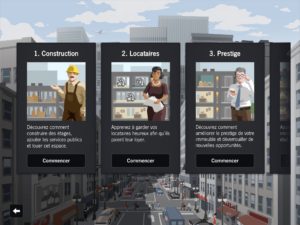 If you haven't played the PC version, I advise you to start with the first one which covers all the basics necessary to get started with the game through short missions where text inserts explain the things to do, and what not to do, for a successful project.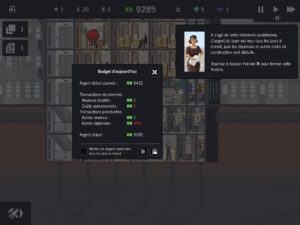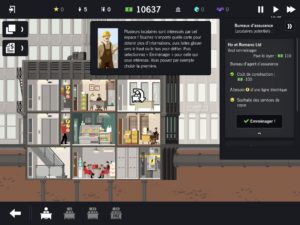 The sandbox is configured according to two parameters: difficulty and space.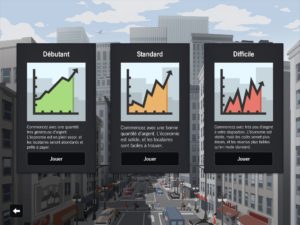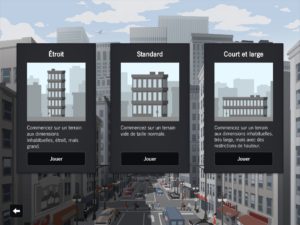 Finally, the scenarios are launched on maps of which only the first is free, downtown Chicago, while the others are purchased through micro-transactions with other neighborhoods in Chicago (North Side, South Loop and West Loop ) and Tokyo, at a price of € 1 to € 3 per unit.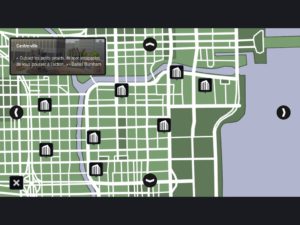 Rooms and floors
The tower is created freely thanks to a guide limited in width and height according to the parameters of the part which can be enlarged in game by spending influence points.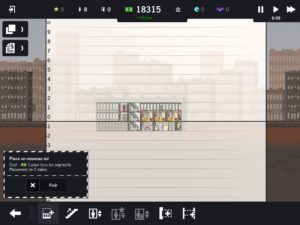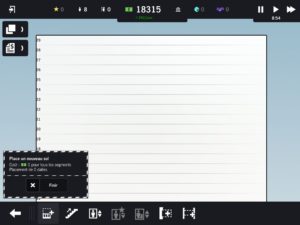 The floors are drawn using a tool that allows you to draw horizontal tiles, which must then be served with elevators and stairs. Of course, it is not possible to create floors longer than the one just below.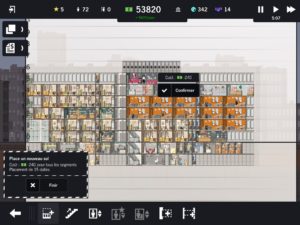 Then the floors are filled with different blocks that represent rooms with various purposes: offices, apartments, shops, hotel rooms, event venue, casino ...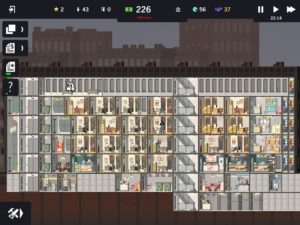 Of course, this is not enough, it is also necessary to add rooms to provide all the services expected by the inhabitants, whether they are in the offices (photocopy, mail, concierge ...), housing (daycare, cleaning, laundry automatic ...), or in hotels and more generally in all homes (vending machine, pay phones, waxing station, common areas).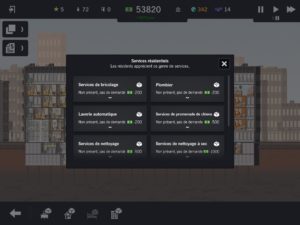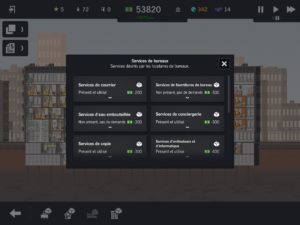 And that's without counting on the more general services related to the building itself: maintenance office, mover's office, construction office, garbage cans, access to public transport, storage room, broom cupboard ...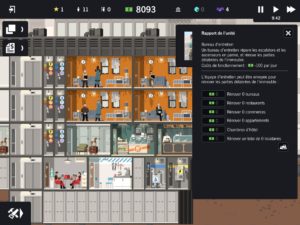 Then there are cosmetic elements to add: painting, works of art, lobby, lighting. Nothing in itself compulsory, even if it brings an undeniable cachet and contributes to the prestige of the building.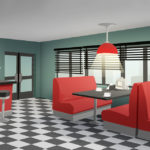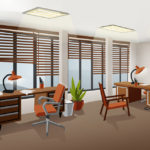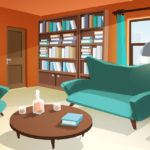 Calculation of progress
All the numbers that define construction success are summarized on the top banner and include:
prestige: the more stars it has, the more it unlocks access to advanced coins. Prestige is gained in particular by putting pretty decorations in the building, but also thanks to contracts.
population: permanent residents, employees and residents.
visitors: participants in an event, tourists or hotel and casino guests.
finances: money owned, as well as the result of the last day (accounts are done every night at midnight).
media buzz: points earned during actions such as shopping in stores or eating out in restaurants, to be spent on marketing operations.
Influence points: generated by happy tenants, influence is spent with consultants who unlock various improvements for the building.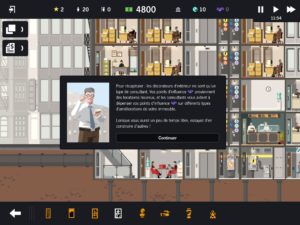 There are also tables which show these figures in great detail, so that you can understand and analyze each area of ​​expenditure and, if necessary, make the necessary adjustments. With so many parameters, rents and services, the building can quickly become loss-making. It suffices to invest in equipment that is too important, which will put a strain on the charges, to end up with a negative daily income. Cables and conduits in particular can be quickly overpriced without proper network optimization (not all rooms need a telephone or water, for example).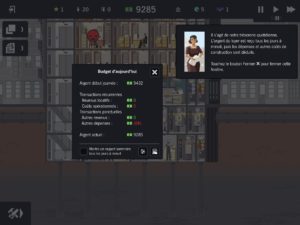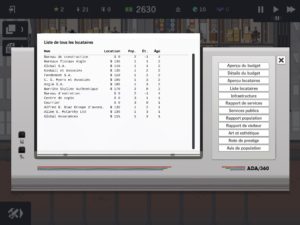 Various contracts are added with optional objectives which often offer nice rewards such as prestige or money.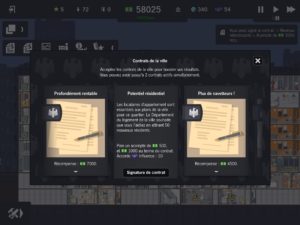 Conclusion
With only the base game and downtown Chicago, Project Highrise delivers quality entertainment for almost infinite length of time. As the press release so aptly put it, a building is more than just an assembly of steel and glass, each one is unique, with a multitude of choices and options for organizing things. Once it could be a building full of offices, the second time it will sparkle with casino rhinestones. A fragile ecosystem, it won't take much for the ambitious luxury real estate project to turn into disaster and become a dump where no one wants to live and work. But it will be these mistakes that will allow you to become the great architect of tomorrow.
Supported by pleasing graphics and low-key music with fun ambient sounds (including elevator music), Project Highrise is a tabletop game for all management / construction fans. You will find it on both mobile platforms, but note that the game only works on tablets, so don't expect to enjoy it on your smartphone:
iPad : 4,49€
Android : 4,49€
And if you prefer the PC version, it's still available on Steam!